Five takeaways from Indiana's loss to Iowa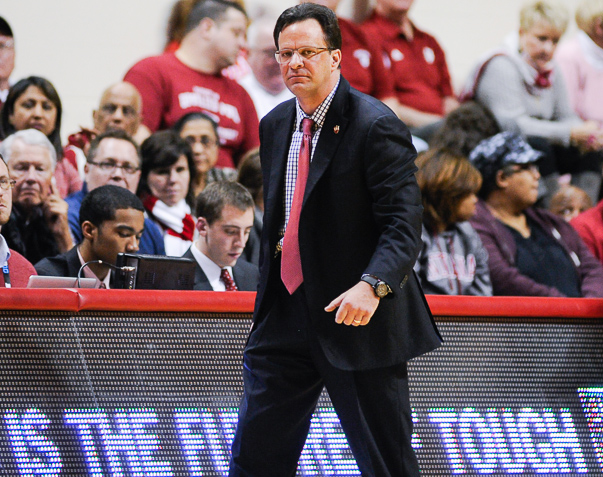 Indiana fell 77-63 to Iowa on Tuesday night at Assembly Hall and the loss dropped the Hoosiers to 19-11 overall and 9-8 in Big Ten play.
Here's a look at five takeaways from the loss to the Hawkeyes:
· Indiana needed to play with urgency and it exhibited none: On a night where Indiana needed to raise its level of play from where it was for most of last Wednesday's game in Evanston, the Hoosiers simply failed to respond to the challenge. A win would have likely put Indiana safely in the NCAA tournament and quieted talk, at least for a night, that this team was folding down the stretch.
Instead, Indiana was humbled against an Iowa team that, quite frankly, didn't even need to play its best game to beat the Hoosiers handily in Assembly Hall. This was a significant departure from IU's losses earlier in the season at home to Eastern Washington and Purdue. Once Iowa took control early in the second half, it never relented because Indiana never put up a fight.
In Sunday's pregame press conference, both Tom Crean and Yogi Ferrell both said that Indiana had practiced well and appeared ready to meet the challenge. That may have been true at the time the words were spoken, but none of it carried over to the court and it left Indiana fans who were in attendance annoyed at what they were witnessing. That feeling was understandable.
· Indiana's offense, once a strength, has gone stagnant: Through its first 13 conference games, Indiana's offense only failed to reach one point per possession once – in a loss at Michigan State. Since then, the Hoosiers have put up back-to-back offensive clunkers at Assembly Hall. Indiana managed just .98 points per trip against Purdue and Tuesday was even worse as IU put up just .94 points per trip against the Big Ten's 10th best defense.
In both instances, Indiana struggled to finish against length at the rim. The Hoosiers shot just 37.4 percent on 2s last night and without a way to generate easy baskets, the offense stalled out. Crean was asked about the team "standing around" on offense, but disputed that was the case.
"I don't agree with that. We're running actions to get movement, our chin action, and we're trying to get the court spaced," he said. "I think when you're playing against big teams, you've got to play through those corners. And that's a matter of getting movement, getting those guys going."
Regardless of the intent, this is a group that needs to score efficiently to win and that didn't happen against the Hawkeyes.
· For the second straight game, Assembly Hall lacked atmosphere: Filling every seat in Assembly Hall has been a challenge this season and Tuesday was no different. Here's a couple of looks at the building from right before tip and then towards the close of the game:
Crowd photo #iubb pic.twitter.com/uk2thiNrQI

— Alex Bozich (@insidethehall) March 3, 2015
This is a current look at Assembly Hall. #iubb pic.twitter.com/o8p8TxblcU

— Alex Bozich (@insidethehall) March 4, 2015
This is significant for two reasons: 1. Indiana has enjoyed a huge home court advantage in Assembly Hall in recent seasons, particularly as a result of student support.
And 2. It shows that the support from a decent segment of fans is diminishing. At a program like Indiana, that's a problem.
· In terms of who put up a solid effort, two guys stand out: Indiana brought six guys to the postgame press conference, an usually high number, and Crean said he wanted the five guys who were on the court at the end of the game, plus Hanner Mosquera-Perea, to "come in and deal with it together."
Of those six players, only Nick Zeisloft and Troy Williams turned in solid performances.
Zeisloft, as challenged as he is athletically and defensively, competed hard and knocked in five of his seven attempts from behind the 3-point line. And Williams, who really struggled to finish at the rim, collected a game-high 13 rebounds, dished out four assists and didn't have a turnover.
· Indiana's NCAA tournament hopes are hanging in the balance: Neither the players nor Crean wanted to talk big picture or look further ahead than Saturday's game against Michigan State, but Indiana's chances to reach the NCAA tournament took another step back last night.
Most projections still have the Hoosiers in, but on the current trajectory, an appearance in the big dance would likely be short lived. Indiana hasn't put together solid, back-to-back performance in over a month and it's unrealistic to believe that will change.
Saturday's game with Michigan State presents Indiana with a chance to stop the negative momentum and close out the regular season with a strong performance. Or it could be more of what happened against Iowa, which would signal that this team doesn't have much fight left in it.
As I wrote on Twitter last night, it's one thing to play well and get beat. The type of performance Indiana had against Iowa, however, is inexcusable.
Filed to: Nick Zeisloft, Tom Crean, Troy Williams, Yogi Ferrell