Hoosiers rejuvenated after six-day break between games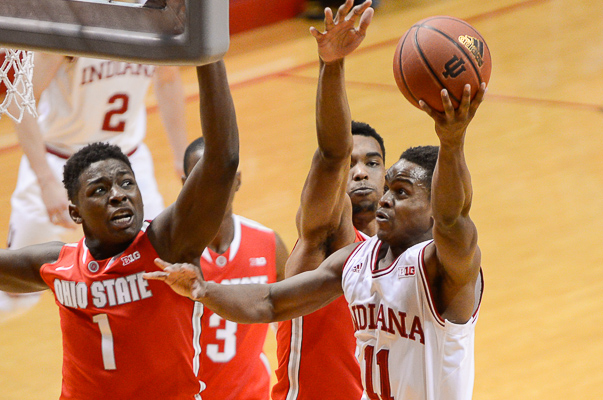 Each year, Big Ten teams get two byes in the 10-week, two-game-per-week schedule the league currently uses.
Indiana's first came following its first conference game of the season between Dec. 31 and Jan. 5. Its second, however, came just this past week following last Wednesday's loss at Northwestern.
After six days since playing a game, the Hoosiers (19-10, 9-7) will take the court at Assembly Hall tonight for a matchup against Iowa (19-10, 10-6). And they are feeling rejuvenated after their break in action.
"It was a nice stretch," junior Yogi Ferrell said. "It was good for us, a good time for us to get back, build our bodies up and get ready for these last two home games and try and come out 2-0."
The six-day break started with a day of rest on Thursday following the Hoosiers' 72-65 loss at Northwestern. But from there, Indiana coach Tom Crean said "it's really just been getting ourselves acclimated with where we need to improve."
It allowed them to achieve a period of self-reflection, actually.
"I have got a plan and a strategy," Crean said. "But if you're not willing to adjust it and be flexible, that's not any good. We've looked at exactly what we've needed to do. We've pinpointed what we could improve upon and on Thursday, we spent a lot of time looking at what has to happen for us, what can we do, what can we improve upon. How close is this? How close is that? And at the same time, we are getting ready for the games."
In that span, the Hoosiers worked on situations in practice. They worked on their transition game, their rebounding, their defense and ball screen coverage. And they made sure things were kept at a high tempo.
They also had more time than usual to install their game plan for tonight's Iowa game. And it's one in which the Hoosiers have to achieve what they have practiced on — quickly getting back in transition and matching up. After all, "they are as fast after your made basket as they are after your missed shot," Crean said.
"It's the test of skill, the test of will and the battle for endurance," he said. "Not to sound cliché but that's what it is. You've got to have that constantly. That's what were working towards."
Crean said that the Hoosiers also have been practicing finishing defensive possessions with rebounds — something he stressed will be especially important against a Hawkeyes offense that ranks second in the Big Ten in offensive rebounding percentage. He noted that in games the Hoosiers have won, their rebounding margin has been plus-eight. In their losses, it has been minus-five.
But in a game that will require a high level of energy — the Hawkeyes are the fifth-quickest scoring team in the Big Ten — the Hoosiers feel as prepared as they have been all season.
And with just two games to go until the postseason, that, the Hoosiers believe, is a good sign.
"We can use it to our advantage," Ferrell said. "Going into these last two home games, we have the most energy we've had all season. We know that these last two games for us are big, so we want to go out there with the most energy we've had all year and get the energy from each other, get the energy from the crowd, just do everything we can to do well out there."
Filed to: Iowa Hawkeyes, Tom Crean, Yogi Ferrell