What to Expect: Iowa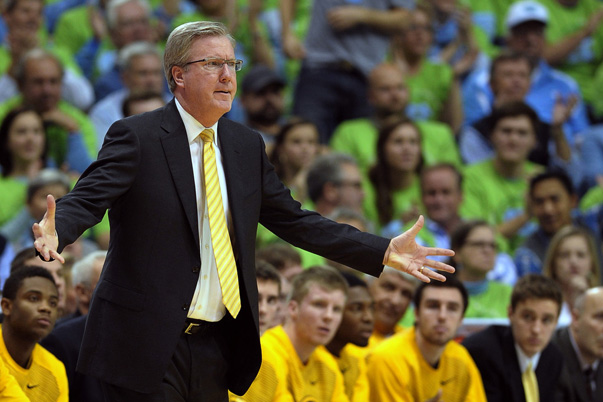 Indiana returns to Assembly Hall on Tuesday evening following a split of a two-game roadtrip that included a win at Rutgers and a loss at Northwestern. The Hoosiers will host Iowa, which is 19-10 overall and 10-6 in Big Ten play.
The game will be broadcast on ESPN at 7 p.m. with Mike Tirico and Dan Dakich on the call:
Wednesday's loss at Northwestern was costly for Indiana. It was the sixth for the Hoosiers in their last 10 contests and also the first damaging loss in terms of the RPI. The Wildcats are outside of the top 100 in those ratings, which are used by the NCAA tournament selection committee.
But all is not lost for Indiana even as it slides closer to the tournament bubble. There's a chance to right the ship this week as Iowa and Michigan State come to Assembly Hall. A win on Tuesday will go a long way in solidifying Indiana's footing for the tournament as the Hawkeyes are in the RPI top 50 and it would also be IU's tenth league win and 20th win overall.
Indiana isn't unblemished at home this season, but the Hoosiers have been tough to beat on Branch McCracken Court with a 15-2 mark and the losses coming by a combined six points. The final week of the regular season is here, Selection Sunday is less than two weeks away and the spotlight is shining bright on Assembly Hall.
MEET THE HAWKEYES (All stats are for conference games only)
Iowa is one of the toughest teams in the Big Ten to figure out. The Hawkeyes own a road win over North Carolina and swept their season series with Ohio State. But this is also a team that has some head-scratching losses. Before its current four-game winning streak, Iowa lost to Minnesota at home and at Northwestern. It also lost a non-conference games to Texas and Syracuse early and got crushed at home by Iowa State. This is one of the Big Ten's most talented rosters, but for whatever reason, the consistency has never emerged completely.
McCaffery is playing a nine-man rotation in Big Ten play with four guards, three wings and two post players. The backcourt is anchored by point guard Mike Gesell, who is fourth in league games in assist rate, but has struggled from the foul line (57.1 percent) and from behind the 3-point arc (22.7 percent). Gesell is very good at pushing the ball and helping Iowa excel in transition, although he is a bit more turnover prone (22.5 percent) than a primary ball handler should be. His backup, senior Anthony Clemmons, is more physical but not as good of a distributor (22.5 percent assist rate).
Sophomore Peter Jok is the starter at the 2, but is playing similar minutes to junior Josh Oglesby. Jok is hitting 38.5 percent of his 3s in Big Ten play, but just 42.9 percent of his 2s. Oglesby has been a low usage player in conference play, but is capable of knocking in the occasional 3. He's 13 of 33 from distance in 16 league games.
Iowa's size and versatility on the wing could give Indiana some problems. The Hawkeyes have 6-foot-9 senior Aaron White, a strong candidate for All-Big Ten first team honors, as well as 6-foot-9 junior Jarrod Uthoff.
White is using 22.5 percent of Iowa's possessions in Big Ten play with a 127.6 offensive rating. He's making 54.3 percent of his 2s and 34.6 percent of his 3s. He's also setting the league pace in free throw rate at a ridiculous 80.3 percent clip with 6.1 fouls drawn per 40 minutes. White is also ranked in the top 10 in the league in defensive rebounding and top 20 in offensive rebounding. Keeping White off the free throw line is a major key for Indiana. Here's a look at his Big Ten shot chart, per Shot Analytics: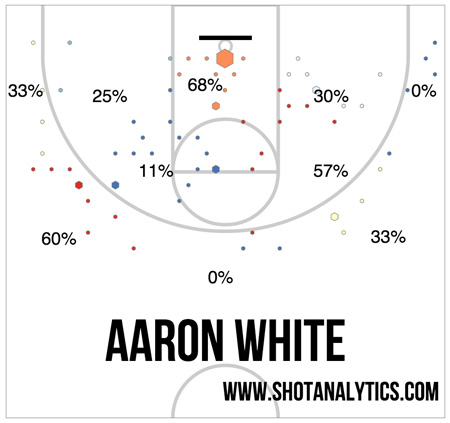 Uthoff, meanwhile, is not as efficient on 2s (46 percent), but has a team-high 29 3s in conference play. He's hitting 40.3 percent from distance, which leads the team. Uthoff is making 42 percent of his 3s from the left wing and 60 percent of his 3s from the right corner. He's also very efficient in the midrange game from both the left and right elbow areas: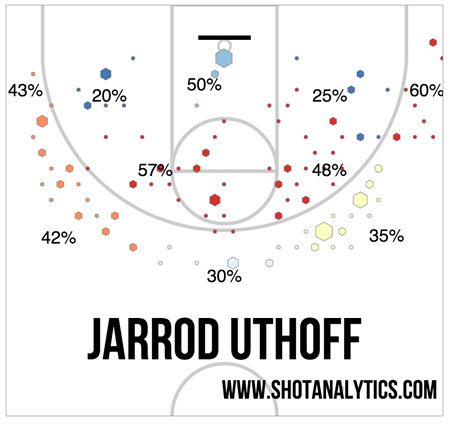 Dom Uhl, a 6-foot-8 freshman, is also playing a limited role, but has really struggled offensively. He's making just 34.8 percent of his 2s and 27.3 percent of his 3s in Big Ten games.
Iowa's frontcourt is anchored by the 7-foot-1 junior Adam Woodbury and 6-foot-10 senior Gabriel Olaseni. Woodbury has been discussed frequently this season for his on the court antics, which include holding the opposition's arm during jump balls and also multiple eye poking incidents. The arm grab has happened in at least six Iowa games this season, according to research done by Luke Winn of Sports Illustrated. Example below from Iowa-Ohio State at Carver-Hawkeye Arena: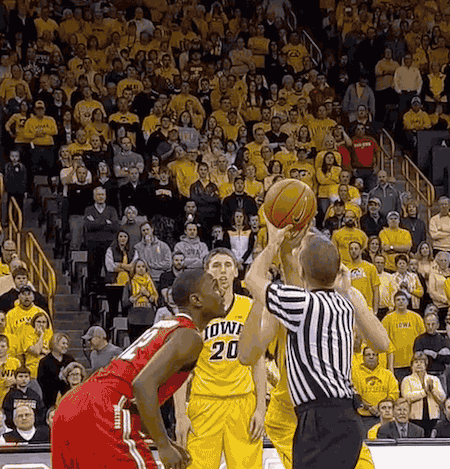 When he's not grabbing arms or poking eyes, Woodbury is the Big Ten's sixth best offensive rebounder and is making 49.3 percent of his 2s.
Olaseni is more athletic, but like Woodbury, is very foul prone (5.6 per 40 minutes). He's the best offensive rebounder in the conference from a percentage standpoint, is drawing 6.7 fouls per 40 minutes and is 11th in block percentage. He's got the highest usage of any Iowa player in league play and could be very tough for IU's undersized frontline to contain.
A LOOK AT THE NUMBERS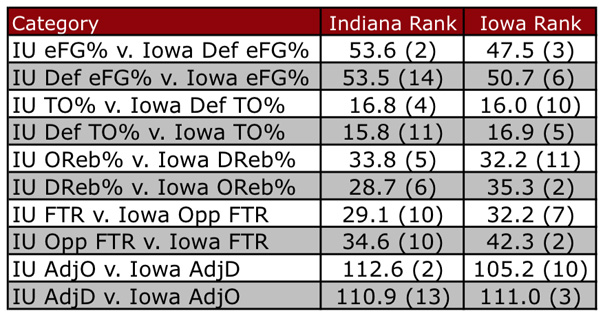 Two areas loom large for Indiana in this one: hitting the defensive glass and keeping Iowa off the free throw line. The Hawkeyes are second in the conference in both offensive rebounding percentage and free throw rate.
In Indiana's home loss to Purdue, the Hoosiers allowed the Boilermakers to rebound 50 percent of their misses and post a free throw rate (FTA/FGA) of 40.4. If Iowa posts similar numbers, it'll be incredibly difficult for Indiana to win.
The Hoosiers, of course, need to put up more resistance defensively, but pushing the pace and scoring in transition before Iowa sets its defense will be a major key to finding success offensively. Iowa is a below average defensive team in league play, but Indiana will need a well rounded offensive performance that includes offensive rebounding, perimeter shooting and getting to the foul line to prevail.
WHAT IT COMES DOWN TO
The Pomeroy projection is Indiana by one, with a 55 percent chance of a Hoosier victory. Sagarin isn't much different as his model favors Indiana by 1.5 when adjusted for home court advantage. The Vegas line opened with Indiana as one-point favorite and quickly moved to two.
With both teams fighting for NCAA tournament bids and position for next week's Big Ten tournament in Chicago, the stakes couldn't be much higher. This is a contest that holds importance for both teams as neither is a lock for the tournament and the team who emerges victorious will exit with a much clearer path to locking up a bid.
Indiana has won four of its last five over Iowa dating back to the 2011-2012 season, including a 93-86 win last season at Assembly Hall. The Hawkeyes, however, hold a decided advantage on the interior and Indiana must find a way to not let the game get out of hand in the paint. Getting a lively crowd packed into the building and getting it involved and engaged with strong play, something that didn't happen in the Purdue game, is something else Indiana must look to do. March is here and if Indiana is to claim a return trip to the Madness, a win Tuesday is an important step.
(Photo credit: Lance King/Getty Images North America)
Filed to: Iowa Hawkeyes