Notes, quotes from Tom Crean on the Big Ten teleconference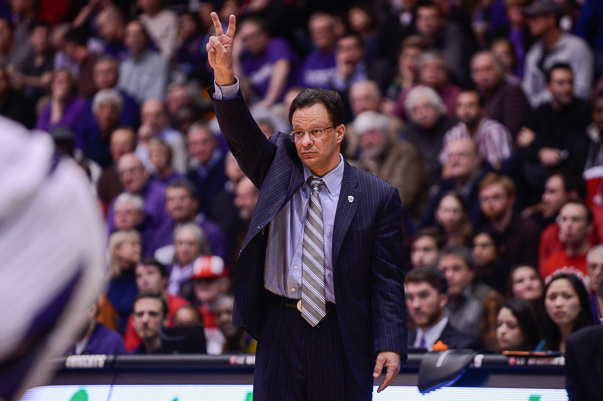 The Big Ten held its weekly coaches teleconference on Monday morning to review the ninth week of conference play. Here are some notes and quotes from Tom Crean's appearance:
On moving from man-to-man defense to zone inside of a possession and where the idea originated:
"Well, we've done it here throughout time. I think the first time we did it was when I was with Tom Izzo back at Michigan State back before I left to be a head coach at Marquette and we would do it at certain times with people that had plays that they really did a good job with at the shot clock. So we did it specifically for teams and through the evolvement (of it), it's just become something that we do specifically for actions inside of something that somebody runs. Usually we're pretty successful with it or we're good at getting into it and then sometimes, we're not as good. It's just something that we feel brings, it just brings a little more uncertainty to the offense and it doesn't mean that they're not going to make the shot, but it gets them maybe potentially out of their comfort zone of what they want to run at a certain point in time."
Are there teams that do that now that you would point to and say, maybe these two or three teams are a model of how you want it to look?
"No, not at all. It's not anything that we took from anybody. Like I said, we started it for a certain team at Michigan State and we only did it a little bit and it's just something that we evolved into. I'm sure we're not the only one, I'm not saying that, I'm not saying we're the originator at all, I just don't have anybody that I look at and say they're doing the same things or that we emulate that."
Coach, you put up 93 (points) on Iowa late last season at Assembly Hall. Is Iowa significantly better on defense this season?
"I think they're significantly better everywhere. Their experience, their resiliency that they have, their ability to play inside-out and outside-in which is really strong. The outside-in being that they can get it inside not only on the pass, but on the drive and they can go inside and get it kicked back out. They're tremendous in transition. They're in incredible shape. That's what we're trying to get across to our team. Their ability to play both ends of the floor consistently. They're as good as anybody in the country at getting the ball up the court faster, not only after your miss, but after your make. I would say it's not only defense, I would say they're outstanding everywhere. And I think Fran (McCaffery) has done an outstanding job with that team because they just keep getting better. And they've gotten better, not only from last year to this year, but throughout the year. I think that's really important, too."
Last season when Fran got the news of Patrick's (his son) cancer, you were I know the first Big Ten coach, maybe the first person to reach out to coach and talk to him. Was that as a peer or as a father or a little of both?
"Well I wouldn't know Fran without being a peer, but it was somebody as a father and just as a person. I've always had a lot of respect for Fran, a tremendous amount of respect for him. And when something like that happens, your heart goes out to him in many different areas. But certainly, first and foremost, as a father and a husband and a guy that's gotta be the leader and the spiritual leader of his home. So to me, that was the biggest thing to me."
You talked last night, you said that you're a firm believer of never just accepting the idea of 'you are who you are' and that teams, in your mind, can always be improving, even late in the season. With younger guys on your team, how do you get them to embrace that while also maybe keeping them focused on the day-to-day stuff they need to work on, especially this late in the year?
"They all go hand-in-hand. The day-to-day is improvement. And I think certainly preparing for games and preparing to run your offense and your defense better. Well if they don't get better with skills, then those things aren't as good because their confidence isn't as high. And your system or your defensive system or your offensive system or whatever you're doing isn't as good. It's very, very easy to get distracted this time of year on so many other things, but it's also easy to get distracted in the sense of not being challenged on new things, not being challenged on better footwork, or better technique, or better angles or all of the little things that go into it. I think that anything keeps sharpening them and keeps them excited about their game and about their teammates game can only be better.
"It's very, very easy this time of year to get so locked into what you're doing to get ready for each game because each game is such a hard and special preparation unto itself. And all of the sudden you can look at the end of the day and 'did you really get better?' You've got to really take steps to make sure that you're including time and we do.
"It's like Cody (Zeller) and Noah (Vonleh). Those two were very young players, but they kept getting better and better away from the rim, they kept getting better around the basket, they kept their energy high to keep rebounding the ball so that when they leave and get drafted as lottery picks in the NBA, they're not just going as back to the basket players that plow through people or can only move one way and therefore that enhances their development at the next level. They are guys who can move away from the rim, they are guys that can create offense for others, they are guys who can break people down. Those things don't just come from hoping they come. They come because you work at them. And certainly, players have got to have that willingness and desire to get there and as a coach, you've got to see that in them. I think that's one of the reasons we've had three lottery picks in the last two years is because those guys got significantly better during the season. It's the same with everybody. It's not just the guys who were drafted, it's everybody. And those guys were very young. So in answer to your question, I think you keep challenging young and old to keep improving constantly."
You've watched Aaron White over the years grow from a freshman to a senior. In what ways has his game progressed and how big of a mismatch is he in the post?
"He's a mismatch not just in the post, but of what he can do on the perimeter. He's always been a really good runner. And now he's a great sprinter. He's in incredible shape. He gets up and down the floor at a great pace. He's got really good quick twitch. He can play on the perimeter. When they win games, he's getting fouled, he's getting over nine free throws a game. When they win, he's averaging 18.5, 19 points a game. He's doing fantastic things on both ends of the court. He's got the quick twitch, you saw it the other night with the steal he had at the end of the Penn State game. He just continues to improve. They've done a great job of making him better and he's always been an athlete that was a pretty good basketball player, now he's a great basketball player that's at tremendous athlete. That's a sign of his work ethic and it's a sign of what Fran and his staff have done with him."
Filed to: Tom Crean