News and notes from Tom Crean's radio show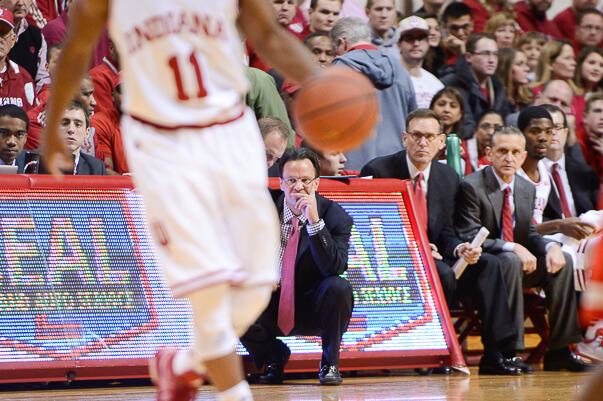 On Monday evening, Indiana coach Tom Crean spoke at his weekly radio show hosted by Don Fischer and recapped the Northwestern loss, the five-day break in action while also looking ahead to the Iowa and Michigan State games this week.
Below are news and notes from what the Hoosiers' coach had to say:
— Crean said the break in action since last Wednesday's loss at Northwestern "has been good for us, good for us to work." In that time, the Hoosiers have been able to recuperate and regain their spirits, energy and attitudes ahead of their two games this upcoming week, Crean said. He said there has been a lot of scrimmaging, energetic practices and situational work in that span, and that the Hoosiers are "excited to play" on Tuesday.
— Looking back at last Wednesday's loss in Evanston, Crean agreed with Fischer's statement that players perhaps are struggling with concept that they can still win when they're not shooting well. Crean said the Hoosiers will sometimes have to win on defense when shots are not falling — and that it will define them moving forward. He said his players have to keep understanding that they need to drive the ball, that instead of shooting when they're rushed by a defender they can shot fake and drive. He said the Hoosiers had many opportunities to beat the Wildcats zone on Wednesday, and that they have to find cutters and continue to do a better job of that.
— One of the first callers asked Crean how often the Hoosiers practice free throw shooting and the keys to beating Iowa and Michigan State this week. Crean responded that they practice free throws every day — and that the Hoosiers have spent even more time on it during this break. He said usually has his players shoot free throws under fatigue during practice, and that he also has his players watch game tape of their free throws — what they are doing both right and wrong. As far as the keys to beating the Hawkeyes and Spartans are concerned, Crean said the common theme in those games will be defensive transition — including rebounding and simply taking care of the ball.
— Another caller asked Crean why the Hoosiers haven't been pressing more — something they did well late in the Northwestern game. The biggest factor in Indiana not doing it much this season, Crean said, is that it does not want to be giving up easy baskets on the back line and that instead the Hoosiers want to make sure opponents shoot the ball over them and make it as tough as possible for their opponents to score. He said the Hoosiers spend time on presses during practices, but they also don't want to give up many layups and dunks. And since the Hoosiers do not have an intimidating shot blocker that they can use at the backend of the press, someone that can alter shots both inside and outside, Crean said a press is not necessarily most suitable for the Hoosiers.
— Crean was asked by a caller what the greatest surprise to him as been this season. His response: "There has not been anybody that hasn't improved at a high level." He mentioned Nick Zeisloft's 3-point shooting consistency. Collin Hartman's improvement in 3-point shooting. Yogi Ferrell's improved variety in his game. James Blackmon Jr. and Robert Johnson living up to expectations. He also credited Max Hoetzel for stepping up after Devin Davis's injury — and added that if Davis was healthy the Hoosiers might actually have used a redshirt on Hoetzel.
— Finally, Indiana will honor the 1974-1975 team during Saturday's Michigan State game. That team 40 seasons ago went 31-1, finishing the regular season undefeated before losing to Kentucky in the NCAA tournament by two points — with Scott May playing with a broken arm. Crean said the Hoosiers also will honor two of their senior managers, so there will be senior day festivities (to an extent) despite there not being a senior on the active roster.
Filed to: Tom Crean