Five takeaways from Indiana's loss to Northwestern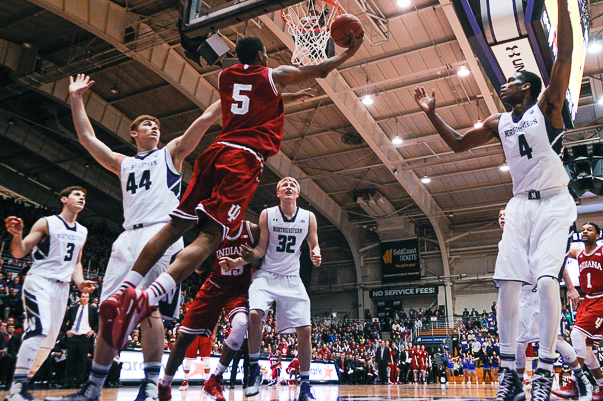 EVANSTON, Ill. – Indiana lost its sixth Big Ten road game on Wednesday night at Welsh-Ryan Arena, falling to the Northwestern Wildcats, 72-65.
The loss dropped the Hoosiers to 19-10 overall and 9-7 in conference play. Here's a look at five takeaways from the loss:
· Indiana played with a lack of urgency defensively for the first 36 minutes: It's late February and Indiana's defense, or lack thereof, remains a major issue. Northwestern entered Thursday's contest with the Big Ten's eighth best offense at 1.01 points per possession. The Wildcats finished their win over the Hoosiers at 1.24 points per trip, their best output yet in conference play.
Indiana's defensive struggles were the primary reason that a hot shooting start in the first half went to waste. The Hoosiers hit 9-of-14 3s in the game's first 20 minutes and had just three turnovers, but went into the locker room tied at 40. Had Indiana put up any resistance, it could have held a comfortable halftime cushion. The defensive issues were countless as the Wildcats shot an effective field goal percentage of 60.3 and grabbed 60 percent of their misses before intermission.
It wasn't until late in the contest when Indiana picked up the defensive pressure that it was able to gain any traction and knock Northwestern off track offensively, but it was too little, too late.
· Indiana got into the bonus early in the second half and couldn't capitalize: As one of the nation's premier shooting teams, getting to the free throw line and converting is typically a strength for Indiana. On Thursday, the performance at the line was a nightmare. The Hoosiers got into the bonus with 12:27 left to play and proceeded to miss the front ends of two 1 and 1s.
The second missed front end by Yogi Ferrell with 10:58 to play was the eighth foul Indiana drew in the second half and it did not draw another one for more than 10 minutes when Troy Williams was fouled by Alex Olah with 31 seconds left to play.
In all, it was a horrible night from the foul line for Indiana as it knocked down just 7 of its 16 attempts to finish at 43.8 percent.
· Northwestern stuck with its 2-3 zone in the second half and Indiana never adjusted when its perimeter shots stopped falling: The Hoosiers rode their 3-point shooting to a 40-point first half performance and in those 20 minutes, it was fair to ask: "Is Chris Collins really going to stick with this zone?"
Indiana was splashing in shots from all over the court as Nick Zeisloft came off the bench to knock down four 3s in 12 minutes. Four different Hoosiers made a 3 in the first half.
But the second half was a different story as Indiana kept launching 3s with very little success. In fact, after Troy Williams hit a 3-pointer at the 15:35 mark of the second half, Indiana would not hit another until Yogi Ferrell knocked one down with 1:01 to play. In those 14 minutes and 34 seconds, the Hoosiers missed 12 shots from behind the arc.
With such a heavy reliance on the 3-point shot to generate offense, Indiana really had nowhere else to turn offensively for production and as a result, the missed shots resulted in a drought of over 10 minutes without a point.
· Tre Demps did whatever he wanted offensively: Northwestern junior guard Tre Demps is unlikely to land on the All-Big Ten teams that will be announced in a few weeks, but Indiana's defense made him look worthy of such an honor.
Demps went for a game-high 23 points on 8-of-12 shooting and most of the looks he had were clean and poorly contested. He made all of his 2-point attempts as Indiana's zone provided little resistance in terms of getting into the lane. Indiana's attempts to change defensive looks mid-possession did little to confuse Demps, who may have had a tougher go if the Hoosiers just let Yogi Ferrell attempt to lock him down.
"I was proud of Tre. I thought he made some big-time shots and big-time decisions and reads," Chris Collins said in his postgame press conference. "He was fantastic."
· This loss will hurt Indiana's NCAA tournament resume: Indiana has not won consecutive games in more than a month and after starting conference play 5-1, the Hoosiers are now just 4-6 over their last 10 games. Furthermore, the list of teams Indiana has beaten since knocking off Maryland is not impressive: Rutgers, Michigan, Minnesota and Rutgers again. Of those teams, only Minnesota is likely to play in the postseason and the Gophers are headed for the NIT.
The loss to Northwestern in itself isn't going to keep Indiana out of the tournament, but it's the worst loss of the season from a RPI perspective and will certainly loom larger if the Hoosiers aren't able to take care of business at home next week in a pair of games with Iowa and Michigan State.
Filed to: Northwestern Wildcats