Hoosiers not underestimating Scarlet Knights ahead of Sunday rematch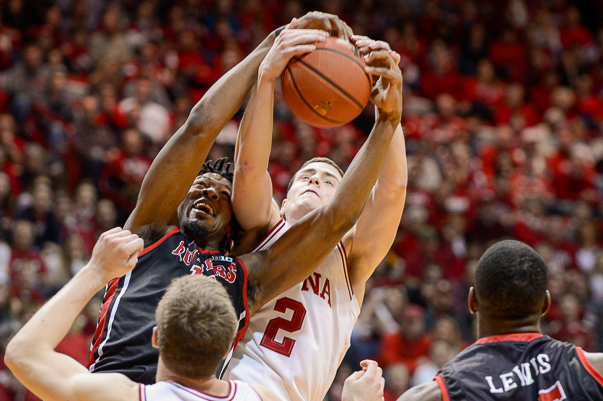 It seems like it is now a distant memory — but just over a month ago on January 11, Rutgers defeated No. 5 Wisconsin at home by a 67-62 score.
Perhaps that is because since that upset win, the Scarlet Knights haven't had a victory. They have lost 10 games in a row. They have dropped to last place in the Big Ten standings.
But while the Scarlet Knights have been struggling heading into this afternoon's game against Indiana (5:15 p.m., BTN), the Hoosiers insist they are not overlooking this game.
"You don't play their record, you don't play their percentages, you play the players," Indiana coach Tom Crean said. "We had a very tight game with them a couple weeks back. They've been in some very close games and they've also had some tough losses but they can score."
The Hoosiers learned what trouble the Scarlet Knights pose just three weeks ago, when the two sides faced off in Bloomington. Indiana struggled to put its stamp on the game, as Rutgers dictated the pace in Assembly Hall and even had a seven-point lead midway through the second half.
Heading into today's game, Crean said that is one thing the Hoosiers don't want to allow in Piscataway. He said he wants his team dictating the pace — and with good reason. In games played at or faster than Indiana's average tempo, the Hoosiers are 4-1 against Big Ten opponents. Rutgers, meanwhile, is 0-5 in games that are that quick.
"(Friday) was spent making sure that we review the film and getting into Rutgers later on but really getting back to making sure our speed game is where it needs to be in the half court and in the full court which increases our defensive pressure," Crean said. "And again, it wasn't as much the post-ups but the ball pressure we needed to have to make it harder to get in and circle up the post."
Defending the Scarlet Knights was something the Hoosiers struggled with in their first matchup. 5-foot-10 senior Myles Mack got hot in the second half and the Hoosiers had trouble stopping him — en route to 20 points with four 3s in the last 20 minutes. 6-foot-9 senior Kadeem Jack got his mid-range jumper going. And Junior Etou, an unexpected contributor, notched 13 points and three 3s, as well.
Since that game, although Etou hasn't had as consistent performances, the Scarlet Knights have seen additional double digit efforts from Jack, Bishop Daniels and D.J. Foreman. Simply put, Crean said, the Scarlet Knights have "more depth, more bodies and more people who are contributing for them." Indiana, however, believes it is prepared for the challenge.
And although the Hoosiers haven't won away from Assembly Hall since January 18, they believe today's game is theirs for the taking.
"I think we're ready for more road games," junior Hanner Mosquera-Perea said. "I feel like we're ready for those and we can win the rest of the games we have because we're playing together and helping each other out there."
Filed to: Rutgers Scarlet Knights