Hoosiers adjust, then roll in rout of Scarlet Knights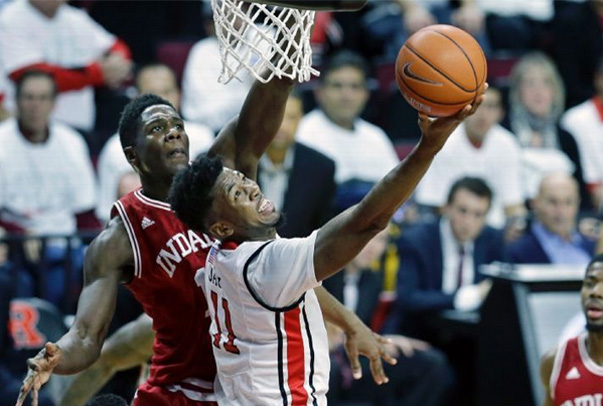 At halftime of Sunday's game against Rutgers on the road in Piscataway, N.J., Indiana coach Tom Crean noticed his players were showing a tinge of disappointment.
The Hoosiers led by 10 points against the Scarlet Knights. But Crean gathered the players felt like they left points on the table — from their nine first half turnovers to missed rebounding opportunities in the closing seconds, on both offense and defense.
From the start of the second half, the Hoosiers didn't look back. After a 9-0 Indiana run opened the scoring in the final 20 minutes, the Hoosiers eased their way to an 84-54 win — their largest margin of victory in more than two months.
"What I like about this team is they're starting to hold each other accountable for the details of the game — two-hand rebounds, seeing the next pass, getting to the right spot," Crean said. "That's key. That's really key. If we can continue to build on that, we'll get better."
Throughout much of the first half, the Hoosiers showed signs of progress that were only slowed down by their own errors. The Scarlet Knights stayed close early as Indiana turned the ball over six times in the opening minutes — turnovers that were caused by "commission," mistakes from playing their desired way. Rutgers was able to score easily off those opportunities.
But Indiana soon clamped down on defense — forcing six straight Rutgers turnovers at one point en route to a 9-2 run — and was therefore able to build its initial lead that the Scarlet Knights were never able to overcome.
And the Hoosiers could have even built on the lead more, Crean said, had it not been for a missed offensive rebound off a Yogi Ferrell miss with 21 seconds left and an ensuing offensive rebound allowed just before the halftime buzzer — which turned into a Greg Lewis tip-in.
"We had a couple mistakes," Crean said. "I mean we had a couple things that we thought were there, and they were aggressive. But we settled in."
Just after halftime, Crean chose to change defenses — to ideally not give any looks to Myles Mack, who Crean felt could "take the game over." Mack, after all, scored 20 points in the second half of the first meeting between the two sides.
And much like how turnovers sparked Indiana's first half run, stops sparked its early second half run. The Scarlet Knights came up empty on their first five trips down the floor in the second half. By the time they got their first points off free throws, the Hoosiers had already been on a 9-0 run to extend their lead to 19.
"We made some plays, got some shots and it started to work for us," Crean said.
The Hoosiers didn't slow down, either.
They turned the ball over just four times in the second half and continued to dominate the boards, allowing just seven Scarlet Knights field goals and four offensive rebounds in the final 20 minutes. They won the rebounding battle, 45-32.
The Hoosiers dictated the pace on Sunday. And it came with its usual offensive outburst — to the tune of 1.21 points per possession, a 62.1 eFG% and 10 3-pointers.
But perhaps more importantly, the Hoosiers clamped down defensively after Thursday's struggles against Purdue. Mack was held scoreless in the second half.
And by the time the second half ended with just .70 PPP allowed, the Hoosiers had turned in their second-best defensive efficiency effort of the season.
"Every game matters, and we have to turn right around and be better," Crean said. "And I thought that they were."
Hartman leaves game with left knee injury
Sophomore Collin Hartman left Sunday's game with a left knee injury sustained just before the under-16 media timeout in the second half and did not return.
Hartman, who tore his right ACL last March, had played just 11 minutes against the Scarlet Knights, recording two rebounds and a block. Crean said following the game that Hartman's left knee will be further examined upon the Hoosiers' return to Bloomington.
"He took a blow to his knee, a direct hit on his knee when he went down," Crean said. "So we'll just see how it turns out, keep our fingers crossed.
"We're icing it right now and he's in good spirits. We'll get it looked at when we get home and hope that nothing's there."
(Photo credit: AP Photo/Mel Evans)
Filed to: Collin Hartman, Rutgers Scarlet Knights