Five takeaways from Indiana's win over Rutgers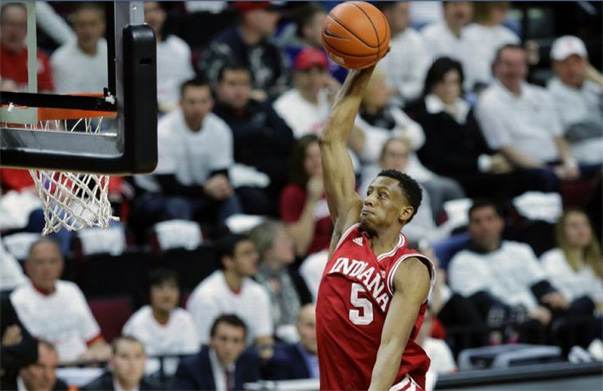 Indiana improved to 19-9 overall and 9-6 in Big Ten play on Sunday evening with a 84-54 beatdown of Rutgers at the Louis Brown Athletic Center in Piscataway, N.J.. The loss was the eleventh straight for the Scarlet Knights.
Here's a look at five takeaways from IU's win:
· Indiana bounced back from a frustrating loss: Thursday night's loss to Purdue at Assembly Hall was less than 72 hours old, but Indiana was able to move past it quickly with a solid performance against Rutgers. The Hoosiers started out somewhat shaky because of turnovers but took control near the midway point of the first half.
After building a 10-point halftime cushion, Indiana jumped out with a 9-0 second half run and never looked back against a clearly inferior opponent. The win was just the third for the Hoosiers on the road in Big Ten play and while it won't do much to impress the NCAA tournament selection committee, avoiding a bad loss is important for the résumé.
"I'm proud of the way our guys responded the last few days to get ready for this game after knowing we didn't play nearly the way we wanted to play Thursday night against Purdue," Tom Crean said. "But every game matters and that we had to turn back around and be better."
· Hanner Mosquera-Perea provides offensive boost: For the second straight game, Hanner Mosquera-Perea was in the starting lineup. And for the second straight game, the Colombia native started out strong offensively.
Mosquera-Perea finished the first half with 11 points and two rebounds in 12 minutes. More importantly, he didn't commit a foul in the first half, which is something he frequently had issues with early in the Big Ten schedule before suffering a knee injury that forced him to miss seven games.
Crean said the coaching staff spent some time the last few days working to get Mosquera-Perea's conditioning up to speed. He finished the win over Rutgers with 22 minutes, the most he's logged since returning on Feb. 8, and scored a career-high 13 points.
"What happens is that he gets in trouble sometimes with two quick fouls and when he doesn't do that, we're pretty good," Crean said. "Everybody's got something they bring to the table that really makes the energy strong and Hanner's is that he can play extended minutes and be that force without those fouls."
· Indiana had its best 2-point shooting performance in Big Ten play: Indiana didn't shoot it great from the perimeter (37 percent on 3s), but the Hoosiers were extremely efficient on 2s against Rutgers. The Hoosiers shot 67.7 percent on 2s, their highest mark against a Big Ten opponent this season.
Among the standouts: Mosquera-Perea, who was 3-of-3, Yogi Ferrell, who finished 5-of-6 and James Blackmon Jr., who made 4-of-5. With Rutgers providing little resistance in terms of keeping the Hoosiers out of the paint off the dribble and no one to protect the rim, Indiana finished shots easily at the rim.
· Another well-rounded performance from Yogi Ferrell: Indiana's junior point guard is forging along with what is looking like a first team All-Big Ten type of season. Sunday night was another performance out of Ferrell where he did a little bit of everything.
After scoring just five first half points, Ferrell was more aggressive in the second half and finished with 17 points, which tied him with Blackmon Jr. for the game-high. But Ferrell also filled the stat sheet elsewhere by grabbing six rebounds and dishing out six assists.
He also helped lock down Rutgers guard Myles Mack, who finished with just 10 points on 4-of-13 shooting after scoring 24 points in the first meeting between the two teams last month in Bloomington.
"Yogi I thought was excellent," Crean said. "Played both ends of the court extremely well. We ask him to do an awful lot and he did it. He took shots when they were there, he just played a really good eye level, seeing what's up, seeing what's there, game. And he made a lot of right decisions."
· Indiana cleaned up its turnover issues in the second half: The Hoosiers had four turnovers before the game's first media timeout and had nine in total for the first half for a turnover percentage of 25.8. Many of the mistakes were unforced as lazy passes and poor decision making allowed Rutgers to stay within reach.
The second 20 minutes was a different story was Indiana committed just four turnovers to finish the game with a turnover percentage of 18.8, which is higher than its Big Ten average but didn't figure much into the final outcome as Rutgers was simply unable to slow down the Hoosiers otherwise.
(Photo credit: AP Photo/Mel Evans)
Filed to: Rutgers Scarlet Knights