What to Expect: Rutgers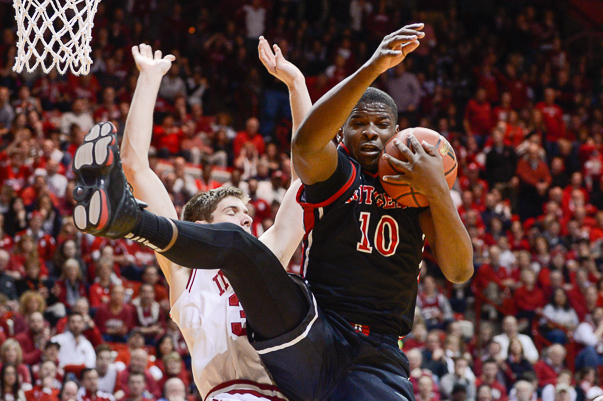 Indiana begins a two-game road trip on Sunday evening in Piscataway, N.J., as the Hoosiers meet the Rutgers Scarlet Knights at the Rutgers Athletic Center. Rutgers is 10-17 overall and 2-12 in Big Ten play.
The game will be broadcast on BTN at 5:15 p.m. ET with Cory Provus and Stephen Bardo on the call:
Rutgers beat Wisconsin, 67-62, on Jan. 11. Rutgers has not won a game since. After starting the Big Ten season 2-2, the Scarlet Knights have dropped 10 in a row. The losses have come by an average of 15.2 points. In what's being viewed as a down season in the league, Rutgers is the Big Ten's worst team and it's not really close.
With Indiana's loss on Thursday to Purdue at Assembly Hall, the margin of error for the Hoosiers is a bit smaller. One thing that currently separates Indiana from the NCAA tournament bubble right now is the absence of a really bad loss. Losing to Eastern Washington at home wasn't ideal, but the Eagles are No. 74 in the RPI, so it's not all that detrimental to the résumé.
Losing to Rutgers, however, would be another story. The Scarlet Knights are No. 144 in the RPI and are coming off a 34-point drubbing at the hands of Iowa in Iowa City. Simply put, Indiana needs to take care of business on Sunday or the tournament outlook for the Hoosiers could get interesting quickly.
MEET THE SCARLET KNIGHTS (Note: All statistics are conference only)
Rutgers continues to be led in scoring in Big Ten play by a pair of seniors: 5-foot-10 guard Myles Mack and 6-foot-9 forward Kadeem Jack.
Mack played well against Indiana at Assembly Hall, scoring 24 points on 4-of-7 shooting from behind the 3-point arc. Through 14 conference games, he's shooting 48 percent on 2s and 33 percent on 3s. Mack is most effective in Big Ten play at the rim and as a right wing 3-point shooter, as shown below by Shot Analytics: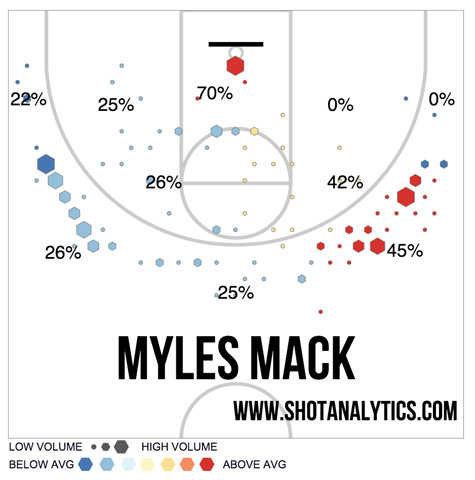 Mack also is the team's best free throw shooter (88.6 percent) and distributor (28.3 percent) in conference play. Jack, as IU fans learned in the first game on Jan. 31 in Bloomington, is 6-foot-9, but isn't much of a post player. The midrange game is his bread-and-butter and he's most comfortable on the left side of the floor: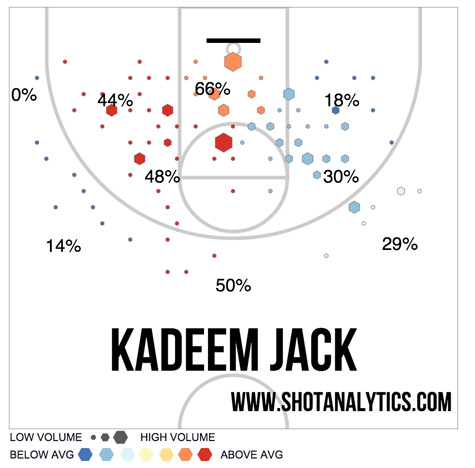 He's using 27.8 percent of Rutgers' possessions while on the floor in Big Ten play, the sixth highest usage rate in the league, and he is shooting 47.2 percent on 2s and only 25 percent on limited 3-point attempts.
Junior guard Bishop Daniels is the team's third leading scorer in conference play (8.6 points per game) and prefers to drive the ball. He's very susceptible to turnovers (25.8 TO%) and also is making just 37.8 percent of his 2s in conference play.
Beyond that, Rutgers has several players averaging between three and five points in Big Ten play. Junior Etou, a 6-foot-7 forward, was solid in the first game in Bloomington (13 points and six rebounds) but is just 3-of-12 on 3s since. Percentage wise, he's the Big Ten's seventh best defensive rebounder.
Freshman guard Mike Williams has been awful offensively in Big Ten play (30.4 eFG%). Greg Lewis is a 6-foot-9 post player who can block shots and hit the offensive glass (7.2 OR%). Freshman D.J. Foreman, who is 6-foot-8 and 230 pounds, is shooting just 36.5 percent on 2s in Big Ten games.
A LOOK AT THE NUMBERS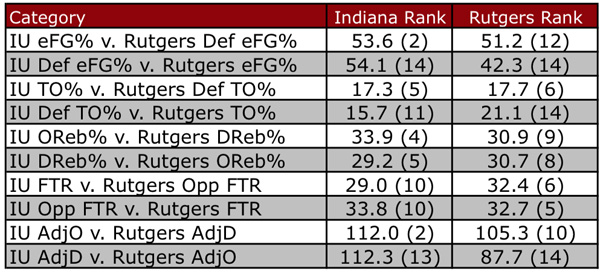 Rutgers kept things close in the first meeting in Bloomington by not allowing Indiana to dictate pace. The game ended with just 61 possessions for IU, about 3.5 fewer than its average in league games. The Hoosiers also shot poorly in the first half of that game (39.4%), which allowed Rutgers to build some confidence and stay within striking distance until the final 30 seconds. A brilliant performance from Mack, his second best of the season in terms of offensive rating, also aided the Scarlet Knights.
Given how poorly Rutgers has played offensively in league play (.88 points per possession), it still enjoyed its third best offensive performance in Big Ten play (1.04 points per possession) against the Hoosiers in Assembly Hall. Indiana hasn't had much trouble offensively in its last two road games – 1.20 points per trip at Wisconsin and 1.05 points per trip at Maryland – but defense has been another story and the Hoosiers simply can't avoid to let Rutgers make shots early and build confidence.
WHAT IT COMES DOWN TO
The Vegas line will be out on Saturday afternoon, but the Pomeroy prediction is Indiana by six with a 73 percent chance of a victory. Sagarin likes Indiana by eight.
It's dangerous to label any game as a must-win, but this is a game that Indiana needs to take to build positive momentum heading into the regular season's final three games. The road hasn't been kind to the Hoosiers in league play, but wins at Nebraska and Illinois are on the resume and both of those clubs are better than Rutgers and are tougher road environments to win in as well.
This is an Indiana team that has bounced back from adversity for nearly all of the season and Sunday evening in Piscataway is the next opportunity to do just that following a tough loss at home to Purdue. March is quickly approaching, and the Hoosiers need to collect a few more wins to punch a return ticket to the NCAA tournament.
Filed to: Rutgers Scarlet Knights