Hoosiers know improvement needed ahead of Purdue rematch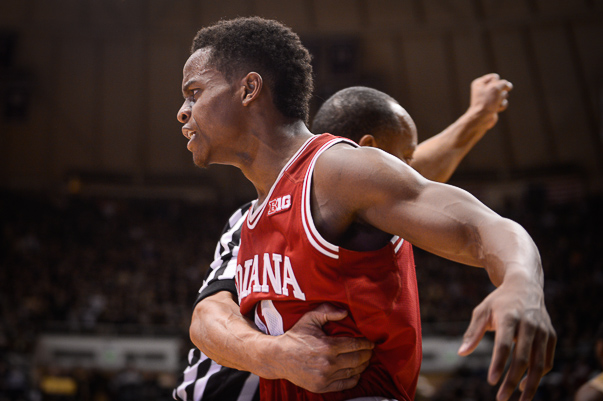 It was just over three weeks ago that Indiana was blown out by Purdue inside a frenzied Mackey Arena.
The Hoosiers couldn't find the net. They couldn't stop the Boilermakers from scoring. They left West Lafayette with an 83-67 loss.
Tonight at 7, Indiana (18-8, 8-5) will get its rivalry rematch with Purdue (17-9, 9-4). And this time, it will be inside the friendly confines of Assembly Hall, in which the Hoosiers are 15-1 this season.
"We've got great respect for them and know what the rivalry is," Indiana coach Tom Crean said on Wednesday. "And it wouldn't be that way if over a period of time the two teams perennially hadn't been good. So it comes down to how we execute tomorrow night and how we deal with the pressure."
There were plenty of lessons to be learned in that 16-point loss at Purdue. In that game, the Hoosiers' focus on getting to the paint was detrimental — 10 of their shots were blocked and they had 11 turnovers — and shots just were not falling. They shot below 50 percent on 2s. Their 4-for-19 mark from 3 was the second-lowest rate of the season.
Much of that, Crean said, came from Purdue's defensive pressure — which stems from its physicality and size, including 7-footers A.J. Hammons and Isaac Haas. He also noted on Wednesday that in that game the Hoosiers looked to drive far too often instead of relying on quick ball movement, spreading the floor and exploiting match-ups.
"Whenever we drive or get in the paint, we need to be smarter with those opportunities," junior Nick Zeisloft said. "We definitely need to get into the paint to make our offense work its best, but we can't be challenging him at the rim because (Hammons) won a lot of those battles last time. It's just a matter of if you have a lane, you've got to take it. If not, you've got to be smart with the ball, keep the dribble alive and make the open pass."
Defensively in that game on Jan. 28, the Boilermakers got to the paint with ease. And it wasn't from just Hammons and Haas. The Hoosiers, in that game, were so focused on defending Purdue's bigs that Crean noted "you open up driving lanes, you open up back cuts, you open up offensive rebound opportunities, certainly to them."
In fact, just 15 of Purdue's 46 points in the paint that game came from Hammons and Haas. The Boilers guards got to the basket without much challenge. It opened up 3-point shooting opportunities. They didn't play their cleanest game, either — they had 13 turnovers and eight offensive rebounds — but they still led by 20 points before the final buzzer.
"They move without the ball as well as anybody in the league," Crean said. "And they've got numerous ways to score and because he has got the inside guys it's really easy to get distracted."
But the Hoosiers are looking forward to the challenge of playing the Boilermakers at home — for the 203rd time overall in the series history. It will be Purdue's first game in Bloomington in more than two years — an 83-55 loss on Feb. 16, 2013. "Maybe they get to feel a little bit of hate we feel when we play there," junior Yogi Ferrell said. Crean said he hopes to see students at a "fever pitch" tonight.
And with each team vying for potential NCAA tournament bids this season, it makes the matchup that much more enticing — even for those participating in it.
"We always are going to want Purdue's best when we play them because we feel like we are going to give Purdue our best," Ferrell said. "When both teams are playing at an extremely high level with intensity, defense, making shots, that's basically when I feel the game is that much more fun."
Filed to: Purdue Boilermakers