Hoosiers prepare for Minnesota's pressure defense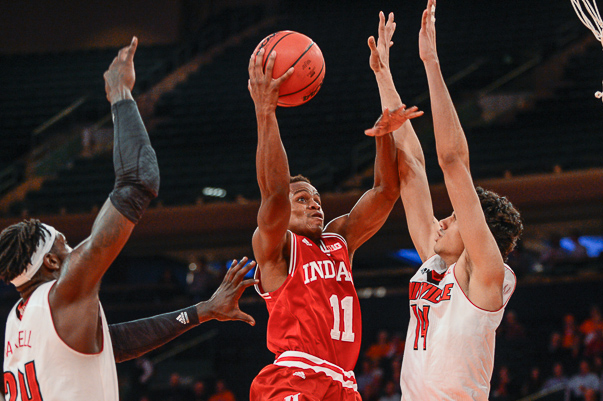 When Indiana plays Minnesota tonight at 7:30 p.m. in Assembly Hall, the Hoosiers are anticipating a similar challenge to what they faced back on Dec. 9 against Louisville.
Sure, the Golden Gophers and Cardinals have shared two completely different tracks to the season — the Gophers are 16-9 and just 5-7 in the Big Ten, while the Cardinals are 20-5 and 8-4 in the ACC — but the two share similarities. It starts with the fact that Minnesota is coached by Rick Pitino's son, Richard Pitino.
It continues in that when the Hoosiers compare the tape from their 94-74 loss to the Cardinals and the tape they have seen on the Golden Gophers, the two share similar defenses.
"They bring great pressure to us," sophomore Collin Hartman said on Saturday. "The two, they play very quick. They get out and run, they're very talented and they bring a lot of energy. So we have to come in ready. We're going to have to be able to combat their pressure and play within our game and take care of the ball."
Coming into tonight's game, the Golden Gophers rank third in the country in forced turnover percentage — with about a 26.0 percent rate. They lead the Big Ten with a 23.9 percent forced turnover rate — the best rate the league has seen since Northwestern in the 2008-2009 season (24.0 percent). That success has come from a variety of factors.
Like the Cardinals, who rank No. 33 in the country in forced turnover rate, the Golden Gophers' have had most success on defense — in the variety of presses they show opponents, multiple defensive formations, help defense off passes and even man-to-man effort at times. Indiana coach Tom Crean even said on Saturday there will be similarities in how the Hoosiers try to attack Minnesota to how they tried to attack Louisville.
In that 20-point loss, the Hoosiers stayed close with the Cardinals for most of the first half before they eventually pulled away at Madison Square Garden. But in that game, Indiana turned it over on 24.7 percent of its possessions — its season-high — en route to 19 Louisville points off turnovers. Some of those were forced turnovers. Some were unforced.
But the biggest takeaway from that game heading into tonight's Minnesota matchup, Crean said, is that offensive awareness will be key.
"The biggest thing for us in this game is going to be recognition," he said. "Recognition of when to attack the press, recognition of when to swing it and make them guard, recognition of their defenses and really staying fundamental with moving the ball and really good screening and cutting."
Despite the challenge that comes with playing the Golden Gophers — who also have won five of their past seven games — the Hoosiers see tonight's game as an opportunity. After all, they are 14-1 inside Assembly Hall this season.
Tonight's game is the first out of four home games in the Hoosiers' final six regular season outings. Junior Hanner Mosquera-Perea said on Saturday there was no denying the Hoosiers prefer to play at home than anywhere else. Crean even made a plea to the students — to "make sure that energy is popping, because these guys are working extremely hard."
But Sunday's game comes down to the 10 players on the court. In games in which Indiana has had a turnover percentage at or above Minnesota's forced average in Big Ten play, they are 0-2. One of those losses came against Louisville.
Tonight, Crean said, the Hoosiers simply just have to play smart.
"It's not a secret science out there," he said. "It just comes down to good recognition."
Filed to: Minnesota Golden Gophers