What to Expect: Minnesota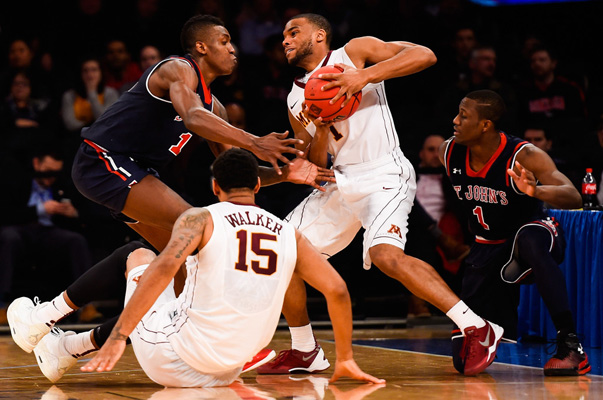 Indiana begins a pivotal two-game homestand on Sunday night when Minnesota comes to Assembly Hall. The Golden Gophers are 16-9 and 5-7 in Big Ten play, but have won three straight.
The game will be broadcast on Big Ten Network at 7:30 p.m. ET with Kevin Kugler and Stephen Bardo on the call:
Indiana has maneuvered the third toughest in-conference Big Ten schedule so far to a 7-5 record, which has set the Hoosiers up well for four remaining home games and trips to Rutgers and Northwestern, who have combined for a 3-21 conference record to date.
But Indiana's work in terms of solidifying a spot in next month's NCAA tournament is not done yet and the road to double digit conference wins, which would likely seal up that bid, continues on Sunday with Minnesota.
Last year's NIT champions started out 0-5 in conference play, but have won five of seven and are coming off their first road win in Big Ten play on Thursday night at Iowa.
MEET THE GOPHERS (Note: All stats are conference games only)
The return of Hanner Mosquera-Perea against Michigan on Feb. 8, which was originally targeted for the Minnesota game, may begin to show its importance beginning Sunday. The Hoosiers were able to get Mosquera-Perea a total of 15 minutes of court time and several practices leading into a week where his interior presence will be needed.
The Golden Gophers aren't a dominating team in the post, but they do have more size than most of the Big Ten and it begins with 6-foot-10 senior Maurice Walker. He's using a team-high 25.1 percent of possessions while on the floor in league play and has quietly put together a very solid season. In Big Ten games, Walker is making 52.4 percent of his 2s and 75 percent of his free throws. Percentage wise, he's the league's fourth best offensive rebounder and sixth best defensive rebounder and is in the top 10 of the conference in both block and steal percentage.
The rest of Minnesota's frontcourt options are very low usage offensively and occupy a variety of roles.
Joey King, a 6-foot-9 junior, is primarily a perimeter threat and is knocking down close to 35 percent of his 3s in conference play. According to Shot Analytics, King is best as a right corner 3-point shooter (50 percent) and right wing 3-point shooter (38 percent) through 12 league games. Charles Buggs, a 6-foot-9 sophomore, is a decent finisher that makes 53.3 percent of his 2s but only 45.5 percent of his free throws. And 6-foot-11 senior Elliott Eliason is an even worse free throw shooter (43.3 percent), but is a decent post option that finishes just over 50 percent of his 2s.
Minnesota's backcourt rotation goes four players deep and is led by senior guard Andre Hollins. He's hoisted a team-high 89 shots from 3 in conference play and is knocking down those down at a 41.6 percent clip. Here's a look at his shot chart in Big Ten games, per Shot Analytics: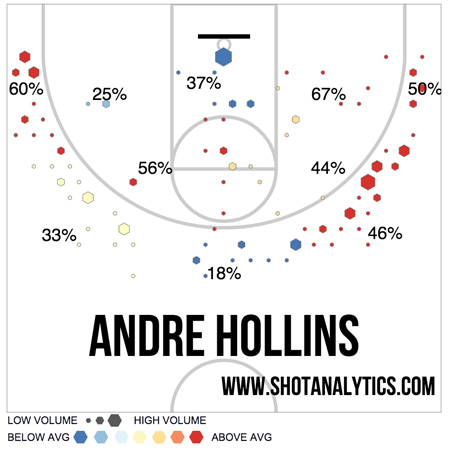 Senior point guard DeAndre Mathieu has struggled after a very solid junior season that landed him on our preseason list of the top 25 players in the conference. The 5-foot-9 guard is making just 36.2 percent of his 2s and 33.3 percent of his 3s in conference games, but remains a pest defensively with the league's sixth best steal rate.
Junior wing Carlos Morris has started every game besides the team's two losses to Iowa and is first in the Big Ten in steal rate (4.7 percent). He's a high usage offensive player who is below average from an efficiency standpoint (47.2 eFG%). Freshman guard Nate Mason has been very good defensively (3.9 steal percentage) and rarely turns it over (9.6 turnover percentage). He's limited offensively, however, as he's shooting in the mid 30's on 2s and low 30's on 3s.
A LOOK AT THE NUMBERS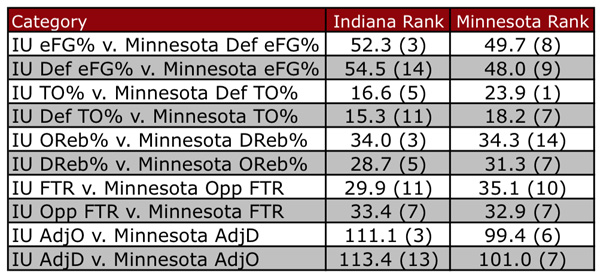 Minnesota has won three straight despite not playing particularly well offensively. The Gophers have scored better than one point per possession over their last three games, but their ability to force turnovers is winning them games. Nebraska (33.2 turnover percentage), Purdue (34.9) and Iowa (26.2) all struggled to take care of the ball against Minnesota, but all of those clubs are 124th nationally or worse in turnover percentage and IU is 44th. If the Hoosiers can beat the pressure, solid looks will be there for the taking as Minnesota has been average at guarding 3s and below averaging defending 2s.
Two areas Indiana must exploit are the offensive glass – Minnesota is the Big Ten's worst defensive rebounding team – and the free throw line as the Gophers have been prone to foul, although they've been much better in that regard over their last three.
WHAT IT COMES DOWN TO
Pomeroy's model likes Indiana by three with a 62 percent chance for a Hoosier win while the Sagarin ratings like IU by 3.5 points. The Vegas line opened with Indiana as a 2.5-point favorite. This game, like most of IU's recent contests at Assembly Hall, should be close as both teams have plenty to play for at the midway point of February.
Indiana has been fantastic at home this season (14-1) and whether the Hoosiers can claim another win will likely come down to how well they can lock down Walker and Hollins and avoid the unnecessary turnovers that have been propelling Minnesota to recent wins.
(Photo: Alex Goodlett/Getty Images North America)
Filed to: Minnesota Golden Gophers