Ferrell hitting his stride when IU needs it most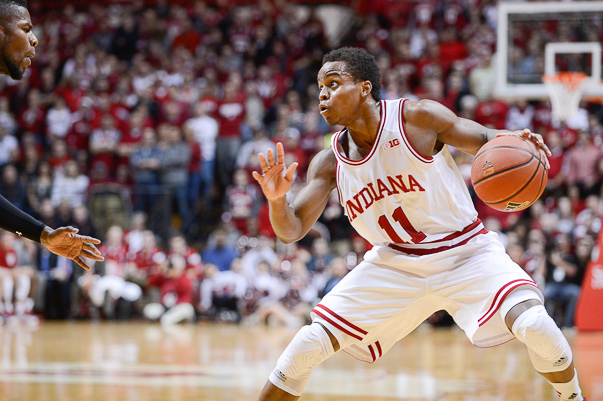 As Jake Layman knocked in a pair of free throws with 19.2 seconds remaining to give Maryland a 67-63 lead over Indiana at the XFinity Center on Wednesday night, there was an uneasiness present in the building.
A four-point lead and less than 20 seconds to play for a team that entered the game with a 14-1 record at home would typically produce some level of comfort, but on this night, it wasn't there.
There was no comfort for one reason: No. 11 in crimson, Yogi Ferrell.
After the Terrapins were torched by Ferrell in Bloomington for 24 points on Jan. 22 in a 89-70 blowout win for the Hoosiers, Maryland knew what it was up against and still, Indiana's point guard was producing another onslaught. Step back 3s, finishes at the rim, assists for teammates, Ferrell was doing it all.
On the possession following Layman's free throws, Ferrell took a pass from Collin Hartman, used four dribbles and went past two guys at full speed for a 3-point attempt.
Bottom of the net. This one wasn't over.
Down one with one 14.3 seconds to play, Indiana was forced to give a foul and the Terps split a pair of free throws, setting up a final sequence and a chance for more heroics from Ferrell.
With Maryland against on its heels defensively, Ferrell had arguably his cleanest look of the night from the top of the key that was just long. Ferrell would grab a loose ball on the rebound, move into lane and again narrowly miss a runner going away from the basket to his right that would have sent the game to overtime.
"I was hoping he'd miss it," Maryland coach Mark Turgeon would say afterward. "I'm like every other fan in the building. 'Miss, miss, I hope it goes off to the side.'"
That quote from Turgeon sums up the feelings of many of IU's recent opponents when it comes to stopping Ferrell: At this point, you have to hope he misses. The tear he's been on since the first Maryland game, and it's fair to call it that, has been remarkable.
In IU's last seven games, which the shot chart below depicts, Ferrell is averaging 19.6 points, 4.3 assists and 2.7 rebounds in 37.6 minutes per game. His assist-to-turnover rate over than span is better than 3-to-1. His effective field goal percentage is 64. He's proving that he's one of the best guards in the country even if the Wooden Top 20 list or Naismith Award Top 30 list tell you otherwise.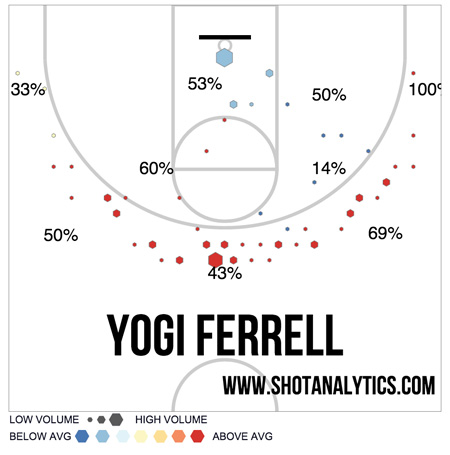 "Yogi is such a good player," Michigan coach John Beilein said after the Wolverines lost to IU at Assembly Hall. "I've been in this league eight years now and there's few point guards that I could say are playing as well as he is."
But Ferrell's growth hasn't been limited to on the court.
In a season where Indiana's leadership off the court has been questioned given what transpired from last February, when Hanner Mosquera-Perea was arrested up until late October, when Emmitt Holt and Devin Davis were involved in a near tragic accident, Ferrell appears to be emerging as a leader.
Like Mosquera-Perea, Holt and Davis, he was a part of the off the court turmoil in the offseason when he and Stanford Robinson got into trouble for underage drinking and possession of fake IDs on Little 500 weekend. In early November, it was Ferrell that met television cameras to deliver the message that he and his teammates were embarrassed by their actions with a vow to be more accountable as a leader moving forward.
"We are embarrassed by our actions, even I have made mistakes," he told reporters. "I have owned up to those mistakes. Me, being a leader of the team, I have to hold guys more accountable to their actions and what those actions can do to this program."
Those words, at the time, were justifiably met with skepticism. But now, three and a half months later, seem like a distant memory. IU's off the court record since that time is clean, although Tom Crean has been quick to acknowledge this season that he and the team are constantly working to keep things that way.
Back on the court, the Hoosiers are 17-8 and 7-5 in the Big Ten with a real shot at a return to the NCAA tournament.
Ferrell has successfully undertaken another role change as a junior. He's playing off the ball as a catch and shoot threat, something we rarely saw him do as a sophomore. He remains just as dangerous a threat to pull up from the perimeter off the dribble or blow past a defender and finish at the rim. And he's facilitating more given the assortment of shooters that now surround him on the roster. He's the best defender on a team with significant limitations on that end of the floor.
There's also a certain nastiness to his on court appearance recently that suggests his attitude and competitiveness have grown to higher level.
Most importantly, he seems to be hitting his stride just when Indiana needs it most. The Hoosiers have six regular season games left and probably need to win at least three to punch a ticket back to March Madness. Every game this time of the year holds importance and that's exactly why Ferrell fell to the floor with disappointment when his final attempts to lift IU past Maryland came up short on Wednesday.
"That shots going to be in the back of my mind for a while now," Ferrell said. "It looked good, felt good, but it just didn't go in."
Crean didn't let Ferrell stay on the XFinity Center floor long on Wednesday night. Rather than heading straight for the handshake lineup, he raced over to pick him up. His message was simple to Ferrell: You played outstanding and we'd draw up that final play again.
"I wouldn't trade him for anyone," Crean said postgame. "That's about the best statement I could give because that's the truth."
Filed to: Yogi Ferrell