Hoosiers come up one play short in loss at Maryland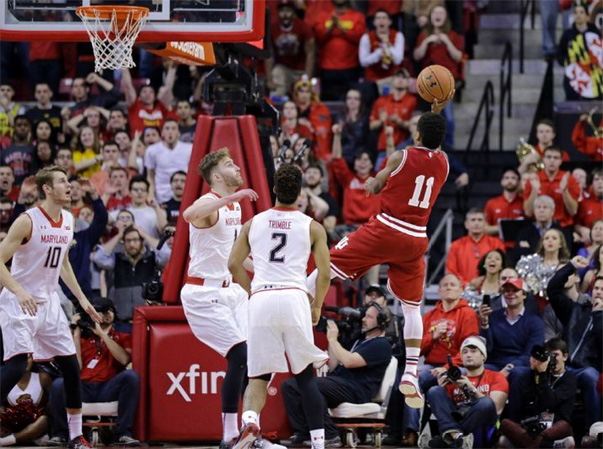 COLLEGE PARK, Md. – Indiana came into Wednesday's game against Maryland at the XFinity Center with five Big Ten wins and no losses in games decided by six points or less. In close games, the Hoosiers had been making plays when it mattered most on the way to a 7-4 mark in conference play.
IU's first trip to Maryland with the Terrapins as a Big Ten member presented another opportunity in a back and forth contest that came down to the final possession.
Mark Turgeon would call it a "great college basketball game" afterward. Tom Crean shared that sentiment, calling the contest "tremendous."
But on a night where neither team would lead by more than six points and the lead changed hands 18 times, the Hoosiers could never seize control.
The result? A 68-66 loss in a game where Indiana could not make one more play to push past Maryland for a win. Victory was there for the taking and the Hoosiers simply could not grab it.
"We withstood some poor shooting, we withstood some excellent shooting from them, and at the same time we made plays," Crean said. "We just made one less (play). It was a great win for them, tough loss for us and a great battle all around."
Indiana had numerous chances to make just one more play.
In the game's final 12 seconds, junior point guard Yogi Ferrell missed a potential game-winning 3-pointer from the top of the key that was arguably the most clean look he had all night. And even after that shot missed narrowly, Ferrell had a subsequent putback that rimmed off as time expired.
"It was probably the best shot I took all game that felt like it was going in," Ferrell explained. "It just hit the back rim, I got a second shot and saw that I had about 2.5 seconds so I tried to flip it up in and it just didn't go in."
Ferrell said he was disappointed that he let his teammates down in the closing seconds and added that the miss "will be in the back of my mind for a while now," but the message from Crean to his floor leader was simple: Keep playing that way and wins will follow.
As much as that final sequence will dominate the discussion coming out of the loss, the outcome was more about opportunities missed throughout the evening for Indiana.
Maryland again struggled to defend Ferrell (23 points, six assists and five rebounds) and Troy Williams (17 points, 10 rebounds), but IU got little from its starting freshman backcourt, James Blackmon Jr. and Robert Johnson. The duo combined for just 13 points on 5-of-27 shooting.
The Hoosiers also shot worse on 2-point field goal attempts (35.7 percent) than 3-point field goals (40 percent). IU turned 13 Maryland turnovers into just nine points.
"We missed two SportsCenter highlight dunks. Collin (Hartman) misses a lay-up late. We miss a blockout late, they get a 3 out of it," Crean said. "And we've still got a shot to win the game on the last possession."
Indiana will claim no moral victory in losing for a fifth time in seven tries in conference play on the road, but there was progress shown, even in defeat.
After losing its previous three road games by an average of 14 points, it was fair to question whether this group of Hoosiers could compete with the top half of the league away from Assembly Hall. And with just Rutgers and Northwestern remaining on the road schedule, this was IU's last chance to make a true statement on the road.
It wasn't a win, but it was a departure from performances at Ohio State, Purdue and Wisconsin where Indiana was beaten handily.
"All you can ask is that your team does everything to give them every opportunity to win, play through the lulls, ruts and mistakes, overcome them and continue to have that fight and resolve," Crean said. "And these guys did."
"If we come out with the same tenacity we did tonight," Williams added. "We have a great chance. We have some things we could fix. It's fixable things."
(Photo credit: AP Photo/Patrick Semansky)
Filed to: Tom Crean, Troy Williams, Yogi Ferrell