Five takeaways from Indiana's loss to Maryland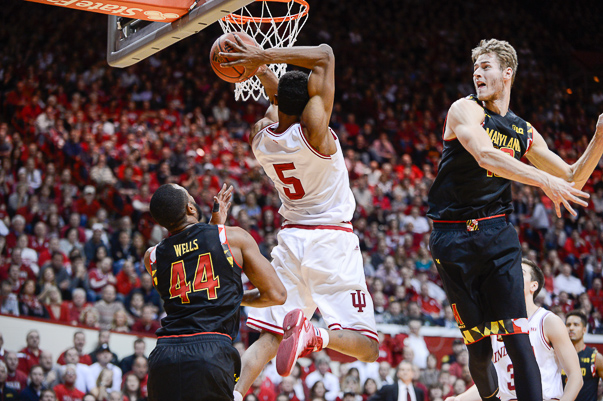 Indiana stayed close throughout but couldn't take control in a 68-66 defeat to Maryland on Wednesday evening in College Park. The loss dropped the Hoosiers to 17-8 overall and 7-5 in the Big Ten.
Here's a look at five takeaways from the loss to the Terrapins:
· The shots just didn't fall: The Hoosiers' struggles from the floor on Wednesday night were epitomized in Yogi Ferrell's last-chance game-winning 3-point attempt just before the buzzer. As Ferrell said — "Felt good, looked good, just didn't go in."
Time after time against the Terrapins, Indiana found open shots. But throughout the night — whether it was an open corner 3, a dunk attempt or a layup attempt — the Hoosiers struggled to convert. Indiana's 15-of-42 effort (35.7 percent) on 2s was its second-worst this season, just behind its 33 percent performance in the 70-50 loss to Michigan State earlier this year. Even its 3-point shooting percentage of 40 percent (10-of-25) was its worst since the loss at Purdue.
Some of those misses were due to improved Maryland defense and ill-advised Indiana shots — the Terrapins' eight blocks were the fourth-most they have had in a game this season — but on Wednesday, the open ones weren't falling, either.
After the game, Indiana coach Tom Crean said he didn't even know what the root of that problem was. He said the Hoosiers will have to look at tape to diagnose what exactly went wrong.
· Veterans led the way — on both sides: This is a game in which veterans shined — from junior Yogi Ferrell and sophomore Troy Williams to Maryland's senior Dez Wells and junior Jake Layman.
Ferrell carried the Hoosiers with 23 points on 8-of-16 shooting and 6-of-9 3s, also adding six assists, a game-high, and five rebounds. He also took Indiana's final three shots — a 3-pointer to cut Maryland's lead to one with 14 seconds left, and then an open 3-pointer that didn't fall and a putback off his miss that didn't go in on the final possession of the game.
"I wouldn't trade him for anyone," Crean said.
Williams, meanwhile, showed off his athleticism and awareness with multiple tip-in baskets — including one that came off a Ferrell miss with 22 seconds left to cut Maryland's lead to 65-63. He finished with his fourth double-double this season — 17 points and 10 rebounds.
Wells (18 points) and Layman (14 points), meanwhile, showed their impact for the Terps throughout the game — both through drives to the basket and on the perimeter, as well. The two combined for 11 of the Terrapins' final 13 points — including a Layman layup with just over a minute left to give the Terrapins the lead they would not lose again.
· Indiana never let Maryland pull away: As much as the Hoosiers struggled converting baskets and opportunities throughout the evening, they never allowed Maryland to have a lead of more than six points.
They forced a 20.7 percent turnover rate against the Terrapins — their second-best effort in conference action — and limited them to 1.09 points per possession (also their second-best performance in their past eight games). And even when the Terps got their largest lead of the night — six points — off a Wells layup, the Hoosiers responded right away with a 6-0 run of their own.
There were seven ties and 18 lead changes on Wednesday night. And although the Hoosiers did not pull out the win, it was a result Crean said they can be proud of.
"All you can ask is that your team does everything and gives them every opportunity to win," he said. "Play through the lulls, ruts, mistakes, overcome it and continue to have that fight and resolve. And these guys did."
· An off night for IU's freshmen: James Blackmon Jr. and Robert Johnson were the only two freshmen Crean played on Wednesday. Their combined stat line was not pretty.
Combined, the two finished 5-of-27 from the floor and just 2-of-12 from behind the arc in more than 30 minutes of action each. Johnson finished 3-of-13 from the floor. Blackmon finished 2-of-14.
"Out there, every shot they took I kept telling them 'great shot, great shot; make the next one,'" Ferrell said. "So you know I'm not trying to get down on them about that shot, I need them to make the next one. If they miss it, that's what I told them: if they make it I say 'great shot'. That's just the main thing with them, you can't always take a jump shot when you go to an away game."
Both Blackmon and Johnson, however, did make key plays down the stretch. Blackmon had a one-handed slam and-one to give the Hoosiers their first lead of the second half at 48-47. Johnson hit a 3-pointer to cut Maryland's lead to 57-54. He then hit a jumper to tie the game at 59.
But in the final two minutes, each missed shots. Johnson missed a layup. Blackmon missed an open 3. That was the more telling theme from the game.
· A shortened rotation: Against the Terrapins, the Hoosiers played with a tightened rotation — as Crean used only eight players for just the second time this season. The Hoosiers also played eight players against Wisconsin — but that was without Blackmon and Hanner Mosquera-Perea.
On Wednesday night, every starter — Ferrell, Johnson, Blackmon, Williams and Collin Hartman — played at least 29 minutes. Those off the bench, Mosquera-Perea, Nick Zeisloft and Stanford Robinson, played at least 10 minutes.
That meant Emmitt Holt and Max Hoetzel stayed on the bench for the entirety of Wednesday's game. It was the first game Holt had not seen minutes since the Eastern Washington loss on November 24, while it was the first game Hoetzel did not see action since the Ohio State win on January 10.
Filed to: James Blackmon Jr., Maryland Terrapins, Robert Johnson, Troy Williams, Yogi Ferrell