What to Expect: Maryland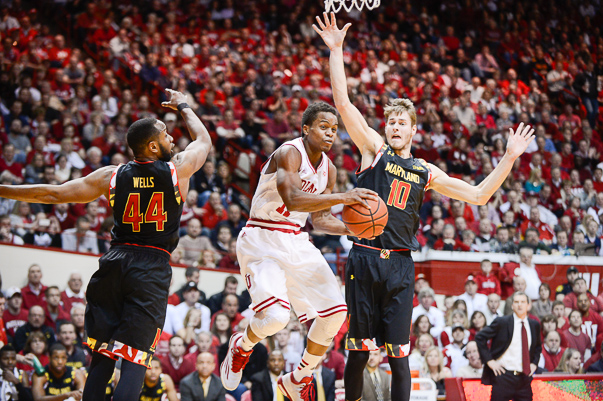 Indiana returns to the road on Wednesday night for a meeting with No. 19 Maryland at the XFinity Center in College Park. The Terrapins are 19-5 overall, 7-4 in the Big Ten and 5-0 in conference play at home.
The game will be broadcast on BTN at 9 p.m. ET:
There's good and bad when you examine Indiana's performances on the road in Big Ten play.
First, the good: The Hoosiers own a pair of Big Ten road wins over Illinois and Nebraska and those two clubs are 9-0 at home in league play against the rest of the conference.
And the bad: IU's four road losses have come by an average of 15.5 points and the Hoosiers have dropped three straight away from Assembly Hall.
Indiana will look to reverse recent misfortunes and attempt to become the first Big Ten road team to win at Maryland this season on Wednesday. It won't be easy, though, as the Terps will clearly have revenge on their mind following an 89-70 drubbing in Assembly Hall back on Jan. 22.
A LOOK AT THE TERPS
Maryland is just 2-2 since its trip to Bloomington with blowout road losses to Ohio State and Iowa along with narrow home wins over Northwestern and Penn State.
Coming into the first meeting at Assembly Hall, Maryland looked as if it had emerged as the primary threat to challenge Wisconsin for the Big Ten title, but the Terps now sit in a four-way tie for second place in the league standings. The Terps continue to be led by standout freshman guard Melo Trimble, but he's struggled in conference play. Through the first 11 league games, Trimble is shooting just 34.8 percent on 2s and 35.1 percent on 3s.
Here's Trimble's shot chart to-date for Big Ten games only, per Shot Analytics:
Trimble is coming off a 20-point performance at Iowa and if he did hit a freshman wall of some kind, perhaps that game will help lead him through it. He does have help in the form of junior wing Jake Layman and senior guard Dez Wells, both of whom can be nightmare matchup problems.
Wells is a physical specimen at 6-foot-5 and 215 pounds who has a 27.7 percent assist rate in conference play and also gets to the line (55.5 percent free throw rate). He's making 50 percent of his 3s in conference play, but just 37.5 percent of his 2s.
Layman, who has captured Big Ten player of the week honors twice this season, is 6-foot-9 and can play both inside and outside. He's struggled offensively in Maryland's last four games with just 32 points, but is an excellent defensive rebounder (23.2 DR%) and is making close to 49 percent of his 2s in conference games.
Maryland has mixed up starting lineups throughout the season with Trimble, Wells and Layman as the only three to start each Big Ten game. The rest of the perimeter rotation includes guards Richaud Pack and Dion Wiley along with forward Jared Nickens, who is a 3-point specialist.
Pack is a poor offensive option who is making 71 percent of his free throws, 26.2 percent of his 2s and just 30.8 percent from distance in Big Ten games. Freshman guard Dion Wiley has cooled off in recent weeks as he's made just 3 of the 12 3s he's attempted since the IU game. Nickens has cooled off recently as well after he knocked down four triples in Bloomington. Over Maryland's last four, he's connected on just 4 of his 12 attempts from distance.
Damonte Dodd, a 6-foot-11, 245 pound sophomore, wasn't much of a factor in the first game and hasn't played more than 15 minutes in a game in nearly a month. It will be interesting to see if Mark Turgeon tries to get Dodd going inside against an IU team that has struggled to defend the paint.
If that doesn't happen, a trio of other frontcourt options are available in Jon Graham, Evan Smotrycz and Michal Cekovsky. Graham, who transferred from Penn State, is the team's best offensive rebounder (OR% of 14) in conference play, but isn't much of an offensive threat. Senior Evan Smotrycz continues to struggle offensively, but is still hovering around the 20 minutes per game mark in Big Ten play. He's shooting just 25 percent on 3s and 41.4 percent on 2s over his last 11. Cekovsky, who is 7-foot-1 and 235 pounds, played 10 minutes at Iowa, but may be more of a last resort in this game as Maryland must focus on guarding IU on the perimeter.
A LOOK AT THE NUMBERS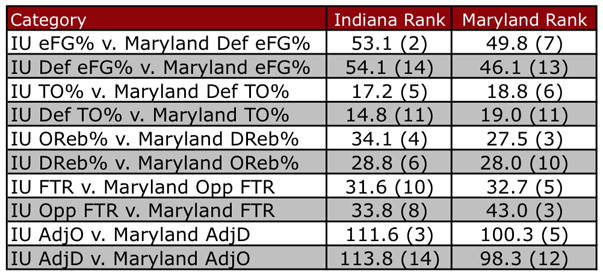 Maryland came to Assembly Hall less than a month ago with the Big Ten's best defense. That defense has fallen off considerably in recent weeks as only Penn State has managed less than 1.04 points per possession over the last four against the Terps.
Furthermore, Maryland's offense is third worst in the conference right now at just .98 points per possession and as UMHoops.com points out, the free throw line is pivotal to its success. When Maryland posts a free throw rate (FTA/FGA) of better than 40 percent, it is 7-0 in conference play, but is 0-4 otherwise.
Indiana won the first game comfortably because of ridiculous 3-point shooting, but Maryland scored it well enough to win (1.09). At home, the Terps should be much better prepared to not allow an offensive explosion from the Hoosiers.
WHAT IT COMES DOWN TO
Of IU's seven remaining games, the Pomeroy ratings list this game as the least likely to produce a win for the Hoosiers. The prediction there is a 78-72 win for Maryland and just a 29 percent chance of Indiana escaping with a win. Sagarin's model likes Maryland by 5 and Vegas line opened with Indiana as a 4.5 point underdog.
Like Indiana, Maryland, at 7-4 in league play, is actually being outscored in conference games because of some lopsided road games. But the Terps have protected their home court all season, save from a loss to Virginia back in the Big Ten-ACC Challenge.
There's been no middle ground with Indiana on the road this season. The Hoosiers have either won very close games (twice) or lost by double digits (four times). Coming off a deflating loss at Iowa, Maryland will be looking not only to get back on track, but for revenge after its loss in Bloomington.
Filed to: Maryland Terrapins