The Minute After: Michigan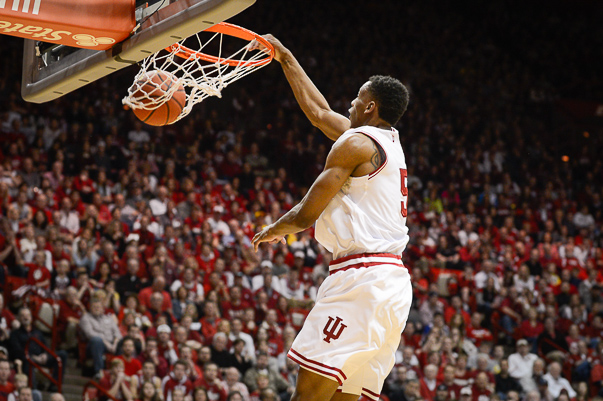 Thoughts on a 70-67 win over the Wolverines:
Tom Crean said it yesterday. Despite a depleted roster, he knew Michigan would still bring it.
"They're missing some players but they're not missing their coach, they're not missing their staff, and they're not missing their system," Crean said. "And when you have that, you've got a chance to be very successful."
And successful enough the Wolverines were. Despite Indiana often having a field day in transition, exploiting some considerable matchup advantages in the backcourt and hitting 41.2 percent from distance (7-of-17), the Hoosiers just were never ever to jump on the bike and fully break away. Up 11 after a Nick Zeisloft triple at the 14:00 mark, Michigan stormed back with an 11-4 run to cut the lead to four at 55-51 with 10:51 to go.
The Hoosiers punched it back to nine after a Yogi Ferrell 3-ball at the 8:38 mark. But the Hoosiers went 5:10 without a field goal (from the 5:41 to :30 mark) to end the game. Couple the field goal drought with some incorrect calls from the officials in favor of Michigan late, and it allowed the Wolverines a shot to tie the game on their final possession. But Muhammad-Ali Abdur-Rahkman's open corner 3-point attempt missed. The Hoosiers hung on for the victory.
Michigan essentially played offense right on pace with the Hoosiers. Indiana's 7-of-17 mark from distance wasn't much different from Michigan's 6-of-13 performance. The Wolverines' effective field goal percentage just eclipsed IU's (56.5 vs. 56.1). Both teams were 15-of-20 from the line as Michigan's free throw rate (43.5%) was a touch better than IU's (40.8%). Indiana notched 34 points in the paint. The Wolverines had 30. The Hoosiers scored 1.18 points per possession, while Michigan poured in 1.13.
Where things differed: Indiana was a little too sloppy with the ball today, as it surrendered the ball on 23.5 percent of its possessions to Michigan's 18.5 percent. Bad Troy Williams reared his head in the first half as he got a little overzealous in transition and turned the ball over four times. He atoned in the second half by not turning it over once on his way to 20 points, eight boards and a number of emphatic dunks and putbacks. Ferrell also fell asleep on an inbounds and let Abdur-Rahkman steal the ball from him at halfcourt, though he missed the layup on the other end which would have cut the lead to just two with 10:27 to go.
Indiana rebounded 48.1 percent of its misses to Michigan's 26.9, but Michigan actually scored more second-chance points (17-14). Though Collin Hartman's late offensive board at the 2:54 mark lead to two James Blackmon Jr. free throws. He made one which helped keep the distance at three on Michigan's final possession.
Ferrell had a number of nice drives for finishes at the cup on his way to an efficient 7-of-13 performance which included 2-of-3 from distance. In 38 minutes of action, he scored 18 points and dished out six assists. Though he did have three turnovers. Blackmon Jr. got off to a great start and entered the break with 12 points. He was aggressive and didn't seem to show any lingering signs of his ankle injury. However, he only posted one point over the final 20 minutes — the aforementioned free throw.
Hamilton Southeastern product Zak Irvin got it going in the second half and Indiana didn't have a lot of answers, though the Hoosiers did keep the final shot of the game out of his hands. Irvin was 7-of-13 in the second half and hit 3-of-4 from distance. He had a game-high 23 points.
A little too close for comfort. Room for improvement remains. But these Hoosiers continue to find a way to win single-digit games despite not closing all that well. And most important: They're winning enough to keep themselves firmly in the hunt for a return to the tourney and a top half of the Big Ten finish.
Filed to: Michigan Wolverines