The Inside the Hall Mailbag: February 6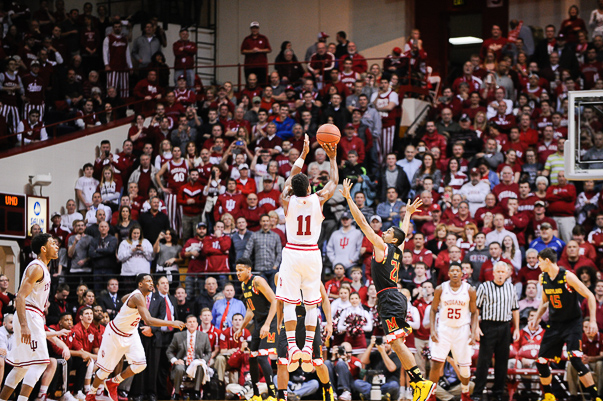 The Inside the Hall Mailbag is a collection of questions tweeted to us via Twitter (@insidethehall), via email, submitted on our premium forum and sent to us via our Facebook page. Submit your questions and we'll answer as many as we can.
Anderson-Kitchel on the premium forum writes: TC constantly talks about this team needing to play through all 5 positions on the court. Do you have any feeling for when Hartman/Holt/Hanner will get touches in the paint? Ball movement around the perimeter and handing off to a teammate outside the arc is really exciting to watch, but it limits offensive effectiveness when they virtually eliminate drives/kicks to open shooters.
Of the issues this team has, and there are some significant ones, offense is not on the list. Indiana ranks sixth in adjusted offensive efficiency in the country. The Hoosiers just scored 1.20 points per possession on the best team in the Big Ten on the road. They're the best 3-point shooting team in Big Ten play and are second in effective field goal percentage. Offense, quite simply, is this team's strength and outside of the Michigan State and Purdue game, IU really hasn't struggled to score against anyone in league play.
It would be counterintuitive to throw the ball into the post with any regularity when you have one of the best perimeter groups in the country that can hit 10 to 15 3s on a given night and also get to the basket. – Alex Bozich
Clint Unger via email writes: Do you see IU signing a big man in the 2015 class? Do you think they need one? I've heard Thon Maker and Thomas Bryant's names thrown around, but is that even realistic?
IU is still recruiting Bryant and if Maker reclassifies, which looks like it'll happen, he'll be the most coveted player in the country this spring. Bryant is down to Syracuse, Indiana, Kentucky and Missouri, but hasn't really been tipping his hand on which direction he's leaning. He has visited Indiana and obviously would be a major add for next year's frontcourt.
As for whether Indiana needs a big man, I think the frontcourt situation next year should be solid with Hanner Mosquera-Perea, Devin Davis, Juwan Morgan and Emmitt Holt. Adding Bryant would make it an even better rotation, but I think the frontcourt next season will be improved with the return of Davis, the addition of Morgan and an offseason of improvement from Mosquera-Perea and Holt. – Alex Bozich
Mark Elliott on Facebook writes: When will Hanner Mosquera-Perea be back?
The original target date was the Feb. 15 game against Minnesota, but based on comments during the TV and radio broadcasts during the Wisconsin game, it sounds like he could make it back before then. He jogged onto the court with the team for the last home game and I understand he's been doing some light work on the court already. – Alex Bozich
JerryCT on the premium forum writes: What level of confidence do you think the IU coaching staff has in the development of Jeremiah April? We seem to be focusing recruiting on forwards-guards. Is this an indication that we are fine with our big situation?
Given the fact that he hasn't played at all in the Big Ten schedule, I would say the confidence isn't high. April clearly isn't ready to contribute at this level or he'd be playing. Tom Crean made comments on his radio show last month that April needs to work harder. I've heard from others that April's motor simply isn't where it needs to be to contribute right now. Can a work ethic and a motor be developed over time? Yes, to an extent. But the player ultimately has to want to work and play hard.
As for the big situation moving forward, as I wrote in a previous question, adding Davis and Morgan to the mix next year should help things. – Alex Bozich
GregorySpera on the premium forum writes: I have never toured the basketball facilities of elite programs like Kentucky, Duke, or Kansas. I have never even been to an away game at Michigan State, Ohio State, or Wisconsin. So my question is this: how do Indiana University's basketball facilities stack up with the very best programs in the country? Not just the arena, but I'm talking everything, from the assistant coaches offices to the athletic dorms, from the food service to the training room. Are we on par with the best of the best?
Great question, Gregory, and of the schools that you listed, I've only been to games at Kentucky, Michigan State and Ohio State and have not toured the practice facilities at any of them. As far as Cook Hall goes, it stacks up favorably with many of the top facilities in the country according to folks I know who have been in some of the top facilities.
As for the food service, Zach Osterman had some details on that in this story in the preseason. The coaching offices in Cook Hall are obviously fairly new. I believe most of the freshmen live in dorms near Assembly and Cook Hall, most of which have been renovated in recent years. Assembly Hall is about to undergo a major overhaul. The facilities arms race is a fascinating one in college athletics and I think IU has done quite a bit in recent years to make up ground in that regard, but it's a race that never ends. – Alex Bozich
MissouriHoosier on the premium forum writes: The Hoosiers' defense is unbelievably bad and is clearly the biggest thing holding this team back from enjoying more success. Can we reasonably expect to see improvement yet this year or must we wait until next year?
It's February 6. At this point of the season, I wouldn't expect to see major improvement. Enough games have been played and the data is what it is. Indiana is a below average defensive team and while incremental improvement or a solid defensive performance here or there isn't out of the question, this group isn't morphing into a lockdown unit. So to answer your question, no, I wouldn't reasonably expect to see major improvement this season. – Alex Bozich
mdtreat on the premium forum writes: Do you think Purdue will be able to sustain their recent success? Have they really grown that much since their non-conference performance?
Purdue's Big Ten schedule is backloaded with road games – trips to Minnesota, Rutgers, Indiana, Ohio State and Michigan State are still to come – and the Boilermakers are currently forecasted to finish 19-12 and 11-7 in the league by Ken Pomeroy. I think Purdue has grown since the non-conference season and the play of A.J. Hammons is a big reason for that. When he's engaged, he's a fantastic player.
Purdue has won 5 of 6 and I'm not sure I see them continuing to win at that good of a clip the rest of the way, but if the Boilermakers can get to 19 or 20 wins heading to the Big Ten tournament, this is a team that should be in the mix for a NCAA tournament berth. The losses to North Florida and Gardner-Webb are going to sting for seeding purposes, but 11 or 12 Big Ten wins would be a nice accomplishment and hard for the selection committee to ignore. – Alex Bozich
JordanB on the premium forum writes: What's it gonna take for Indiana to make decent run in the NCAA tourney? Clearly defensive issues will be there until the end, but are there other small areas of improvement that will get us to the Sweet Sixteen and beyond?
Not to oversimplify things, but if IU makes the NCAA tournament, the chances of advancing will be dependent on getting favorable matchups. This team isn't well equipped to handle an opponent that makes its living in the paint, but if the Hoosiers take care of the ball relatively well and make 3s at near their season average, they'll be able to play with a lot of teams.
Ultimately, the tournament is about getting hot at the right time and there's really no way to forecast how a team is going to be playing in an event that is more than a month away, but Indiana's elite offense gives it a chance to make some noise. – Alex Bozich
OleMan on the premium forum writes: IU needs to finish in the top four in conference to get a "double pass" into Friday's quarterfinals. With the tournament starting on Wednesday this year, that is very big – otherwise, a team might have to play five games if they make it to the finals. In your opinion, is this team capable of doing that – finishing in the top four, and will they?
I think there's a good chance that tiebreakers are going to determine fourth place in the league and there's really no way to say how that's going to turn out at the midway point of the season. Is IU capable of finishing in the top four? Sure. The Hoosiers have five of their final eight games at Assembly Hall. Will they? Impossible to say right now. Still way too many games to be played and too many teams grouped near the top of the standings. – Alex Bozich
?@Silk_the_Worm on Twitter writes: Any idea on when they'll announce the game time for the Michigan St. game on 3/7?
I'd expect an announcement no later than two weeks before the game. Looking at the schedule of games that day, a noon tip seems most likely, but don't quote me. – Alex Bozich
Filed to: Twitter Mailbag