A mid-conference season player-by-player breakdown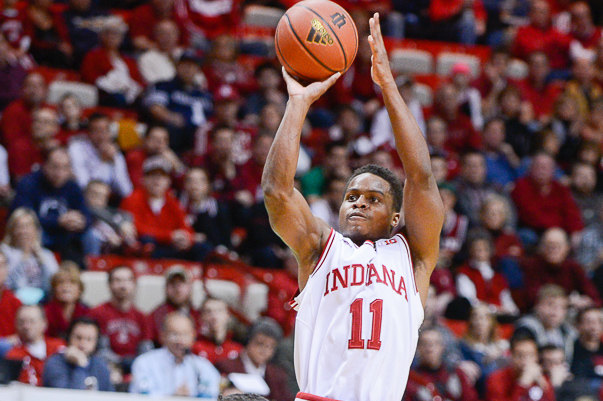 We're just past the midway point of the Big Ten conference schedule and the Hoosiers are 6-4 in league play heading into Sunday's matchup with Michigan at Assembly Hall.
Here's a player-by-player look at how each Hoosier has performed with ten league games in the books (Note: stats, charts are conference games only):
Yogi Ferrell – 14.4 ppg, 4.6 apg, 2.6 rpg, 50.8 effective field goal percentage in 37 minutes per game
Ferrell currently ranks 2nd in percentage of minutes played in Big Ten games behind Myles Mack of Rutgers and his turnover percentage is just 12, which is 4.7 percent lower than where he finished last season in league games. He's taken a team-high 67 3s in 10 league games and has hit 37.3 percent, but he's been hot recently from deep (51.4 percent over his last five).
Beyond taking care of the ball better, Ferrell is also 11th in assist rate in the conference, has the 12th best offensive rating and seems to be on track for All-Big Ten honors as the best player on a team that has been one of the league's surprises.
James Blackmon Jr. – 14.4 ppg, 5.2 rpg, 45.2 effective field goal percentage in 30.4 minutes per game
Blackmon Jr. and Ferrell are tied for the team lead in scoring in Big Ten play, but the freshman's efficiency has taken a major dip. After posting an effective field goal percentage of 57.1 in non-conference play, Blackmon Jr. is down nearly 12 percent in that statistic in conference play. After making 44.3 percent of his 3s in non-conference games, he's only hit at a 34 percent clip in conference. He shot 53 percent on left wing 3s in non-conference play and 59 percent on right wing 3s, but both numbers are down through 10 league games, per Shot Analytics: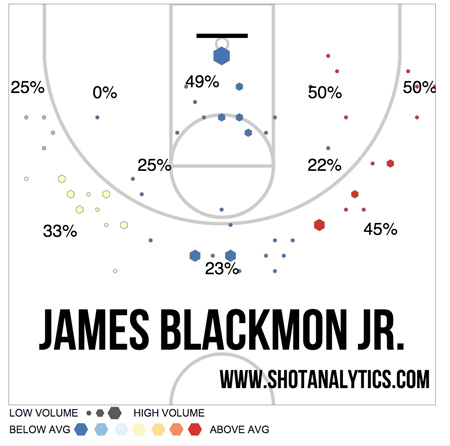 However, Blackmon Jr. has come up with other ways to contribute outside of just scoring. He's the team's second best rebounder and his turnover percentage (13.6) is second best among rotation regulars.
Troy Williams – 12.4 ppg, 6.6 rpg, 1.6 apg, 55.6 effective field goal percentage, 23.2 defensive rebounding percentage in 27.3 minutes per game
There's a reason many believe that Williams is the x-factor for Indiana. In IU's six conference wins, he's averaging 15.6 points and 8.3 rebounds per game. In four conference losses, he's averaging just 7.3 points and four rebounds.
When he's playing within himself and making simple plays, he's a difficult matchup that can make IU's offense go as either a facilitator or a finisher operating on the baseline. From a percentage standpoint, he's the league's third best defensive rebounder and is in the top 20 in offensive rebounding. The key for Williams down the stretch is taking care of the ball better. His turnover percentage (22.8) is the second highest among IU's rotation players.
Robert Johnson – 9.4 ppg, 2.6 rpg, 1.4 apg, 58.9 effective field goal percentage in 25.6 minutes per game
As the competition level has increased, Johnson's shooting percentages have gone up and his turnover percentage has decreased. After shooting 41.5 percent on 3s in non-conference play and 52.8 percent on 2s, he's up to 43.2 percent on 3s and an identical 52.8 percent on 2s in league play.
His turnover percentage was 25.2 in non-conference play and that number is down to 20.2 percent in conference games. That's still too high for a player who has the ball in his hands frequently, but it's improvement nonetheless and a sign of growth for a young player who is a pivotal piece moving forward.
Collin Hartman – 5.9 ppg, 3.3 rpg, 70.0 effective field goal percentage in 24.7 minutes per game
Hartman was one of the team's surprises in the non-conference, but his role has shifted from super sub to starter in the last month following a knee injury to Hanner Mosquera-Perea. He's continued to shoot it superbly and his effective field goal percentage of 70 currently leads all Big Ten players. He also ranks in the top 20 in the conference in offensive rebounding and block percentage.
The one glaring weakness in his offensive profile through ten conference games is his turnover percentage (25.2), which is the highest on the roster.
Nick Zeisloft – 5.9 ppg, 1.9 rpg, 60.7 effective field goal percentage in 19.5 minutes per game
Zeisloft has continued in a role as a 3-point specialist and it's one that he's filling more than capably. He's taken 42 shots in conference play and 36 of them have come from behind the 3-point line. He's made 15 of them, good for 41.7 percent.
As illustrated below by Shot Analytics, Zeisloft is a difficult cover from both wings: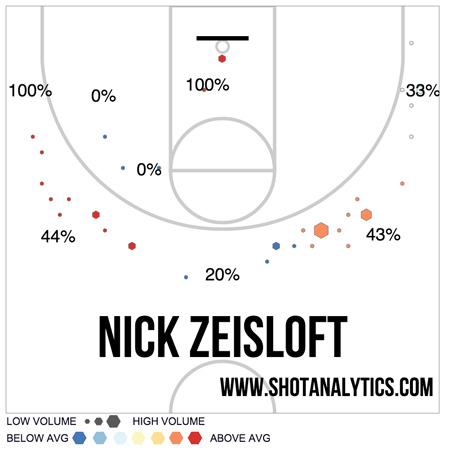 Emmitt Holt – 3.3 ppg, 2.8 rpg, 0.6 bpg, 56.5 field goal percentage in 13.3 minutes per game
The freshman from Rochester has come through big on several occasions this season, but his role at this point seems to be clearly defined as a backup big man. After making 80 percent of his field goals in non-conference play, he's down into the mid 50s in conference games while his overall rebounding numbers have remained consistent.
Hanner Mosquera-Perea – 5.3 ppg, 4.3 rpg, 0.6 bpg, 50.0 field goal percentage in 13 minutes per game
Mosquera-Perea has only played in three conference games, but is expected back in the next 10 days. His effectiveness in those three contests was diminished by early foul trouble as he picked up two fouls in all three games before the first media timeout. His performance at Nebraska, however, a night he posted 12 points and 10 rebounds, was a major reason Indiana was able to emerge from Pinnacle Bank Arena with a victory.
Stanford Robinson – 4.1 ppg, 2.1 rpg, 0.6 apg, 38.5 effective field goal percentage in 12 minutes per game
After experimenting with a switch to his shooting hand, Robinson has returned to life as a southpaw in recent weeks and it's seemed to help him as he's knocked down 11 of his 14 free throw attempts in league play. He owns the lowest turnover percentage (9.6) of any IU player in conference games, but his wild drives into the lane are often disruptive to the offense. Nonetheless, Robinson remains in the rotation because he's capable of playing solid defense when engaged.
Max Hoetzel – 2.3 ppg, 1.4 rpg, 53.1 effective field goal percentage in 8.9 minutes per game
Hoetzel continues to show no fear when his number is called and while his minutes are typically brief, he usually tries to make something happen. The best example of that was the Illinois game where he logged just five minutes, but came up with six points in a win over the Illini. Like most of IU's young players, he still has plenty of room for growth in terms of defensive awareness, but he's done a solid job of filling a role in his first season.
All tempo-free stats via KenPom.com.
Filed to: James Blackmon Jr., Robert Johnson, Troy Williams, Yogi Ferrell