The Minute After: Wisconsin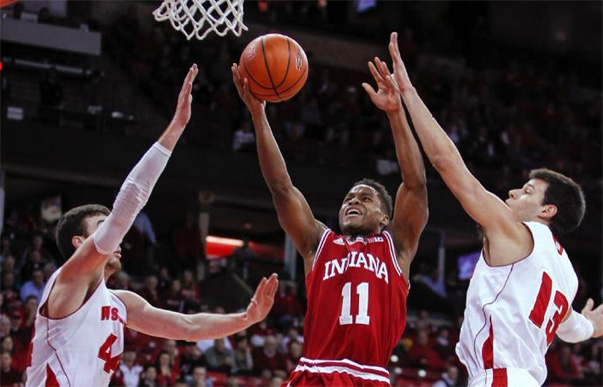 Thoughts on a 92-78 loss to the Badgers:
As if Indiana wasn't up against a big enough challenge on Tuesday night in Madison, where it hasn't won since 1998, word trickled out just before tipoff that the Hoosiers would be without James Blackmon Jr.
Blackmon Jr., who tweaked his ankle in the second half of IU's win over Rutgers on Sunday afternoon but continued to play, sat on the bench in candy stripes and watched an offensive buzzsaw completely demolish his Hoosier teammates.
The Hoosiers, who have now dropped three of their last four contests, kept this one close for a half thanks to hot shooting from the perimeter. Indiana hit eight of its 11 attempts from behind the 3-point line in the first 20 minutes for 1.24 points per possession. This despite trailing 9-0 to begin the game as Tom Crean had to burn an early timeout.
But it's typically a bad sign when you shoot that well and still trail by eight and that's exactly where Indiana was as it entered the locker room at the Kohl Center.
The eight-point deficit was a direct result of Wisconsin's elite offense (1.52 points per possession, eFG% of 76) and an Indiana defense that put up little resistance.
The start of the second half, however, would quickly bring separation for the Badgers. It was a start that radio play-by-play man Don Fischer described as "atrocious." By the time Indiana scored its first point after the intermission, Wisconsin had already scored 13 of its own and its lead had ballooned to 21. It would continue to grow – all the way to 32 points – before a late IU rally closed the final margin to just 14.
This was a balanced scoring effort from Wisconsin, which ranked first in adjusted offensive efficiency coming into the game, as five players finished in double figures. National player of the year candidate Frank Kaminsky set the pace with 23 points and six rebounds. With the size discrepancy, the 7-foot Kaminsky (smartly) didn't take any 3-pointers and made nine 2s and five free throws for his final tally.
The Badgers also took 20 more free throws than the Hoosiers and scored 19 more points from the line, a number that a road team simply can't overcome especially against the No. 5 team in the country.
From the IU perspective, it was a very good offensive performance as the Hoosiers scored 1.2 points per possession and posted an effective field goal percentage of 60.5. Nick Zeisloft, who stepped in to start for Blackmon Jr., finished with a team-high 17 points to lead five players in double figures. Indiana hit 13 of its 24 attempts from distance, a good enough performance to keep things interesting had the defense put up a bit more resistance.
But alas, it did not and this was a performance on that end to forget as Wisconsin ended the night with 1.42 points per trip and effective field goal percentage clip of 66.7.
"We've got to have more guys play with a better spirit, a better fight," Crean would tell Fischer in his postgame remarks. "On the road, especially, for longer periods of time."
The loss drops Indiana out of a tie for second place in the Big Ten standings, but the Hoosiers must quickly regroup and move on as Michigan arrives on Sunday in Bloomington for a matinee on CBS.
(Photo: AP Photo/Andy Manis)
Filed to: Wisconsin Badgers