March Watch: Hoosiers enter February in solid position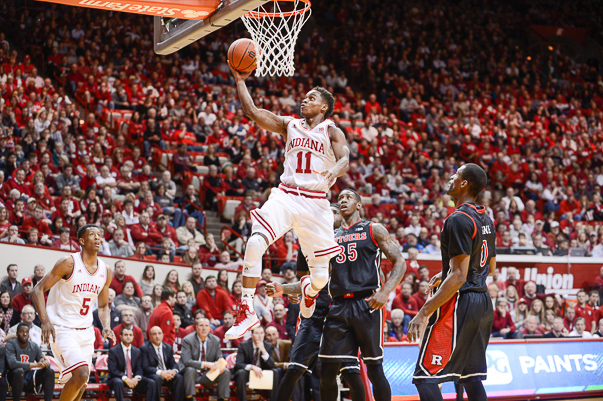 After missing the postseason altogether last season, Indiana is back in the NCAA tournament discussion thanks to a 16-6 start and a 6-3 mark in Big Ten play.
This year's debut of "March Watch," which will be a weekly feature up until Selection Sunday on Mar. 15, takes a look at IU's current nitty gritty profile, bracket projections and more.
Overview
Based on preseason projections, Indiana is one of the surprise teams nationally with four wins over teams currently viewed as solid bets to make the tournament in Butler, SMU, Ohio State and Maryland. With nine conference games to go, including five at Assembly Hall, there are plenty of opportunities for Indiana to further strengthen its resume.
Nitty Gritty Profile
· Record: 16-6 (6-3 Big Ten)
· RPI: 35
· SOS: 41 (via CBS)
· Home Record: 13-1
· Away Record: 2-3
· Neutral Court Record: 1-2
· vs. RPI Top 50: 3-4 (via ESPN)
· vs. RPI Top 51-100: 3-2 (via ESPN)
Current Projections
· ESPN Bracketology (Joe Lunardi): 6 seed in East Region vs. Texas A & M in Omaha
· CBS Sports (Jerry Palm): 6 seed in East Region vs. First four winner in Omaha
· Assembly Call (Andy Bottoms): 7 seed in West Region vs. Oklahoma State in Portland
· Crashing the Dance: No. 24 overall seed
· Bracket Matrix: Last 7 seed
The consensus right now is that Indiana would be solidly in the field if it were selected today. The model on Crashing the Dance currently has the Hoosiers with the fourth best profile among Big Ten teams behind Wisconsin, Maryland and Ohio State.
Final record projections
KenPom.com, which projected Indiana to start 3-6 in the Big Ten, now picks the Hoosiers to finish 21-10 overall and 11-7 in the conference. The Only Colors, which has been projecting the Big Ten race all conference season, gives Indiana better than a 92 percent chance to finish with 10 or more conference wins and nearly a 75 percent chance to win 11 or more Big Ten games. And finally, RPIForecast.com has the three most likely final regular season records for IU as: 21-10, 20-11 and 22-9, as shown below: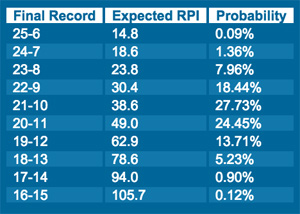 A look at the conference as a whole
As for the Big Ten at-large, most of the projections have it as a six-bid league. Right now, you can probably only put Wisconsin and Maryland as the teams that are "locks" to make it, but Ohio State, Indiana and Michigan State all appear to be in solid position.
In terms of potential bubble teams, Iowa, Purdue and Michigan are all receiving mentions, but each situation has plenty of caveats.
The Hawkeyes are just 13-8 overall and have lost three in a row, but have a favorable schedule down the stretch with five home games remaining and trips to Northwestern and Penn State still to come.
Purdue is surging, but has losses to North Florida and Gardner-Webb on its resume which brings down its overall RPI number (currently No. 78).
And Michigan is 6-4 in the Big Ten, but all six of its wins are against teams currently in the bottom half of the league standings and like the Boilermakers, the Wolverines have a pair of head scratching losses (NJIT and Eastern Michigan). Thursday's game with the Hawkeyes in Ann Arbor is big for both teams.
2015 Tournament Sites
· First round: Dayton
· Second, third round: Charlotte, Columbus, Louisville, Jacksonville, Omaha, Pittsburgh, Portland, Seattle
· Regional: Cleveland, Houston, Los Angeles, Syracuse
· Final Four: Indianapolis
Filed to: NCAA Tournament