What to Expect: Wisconsin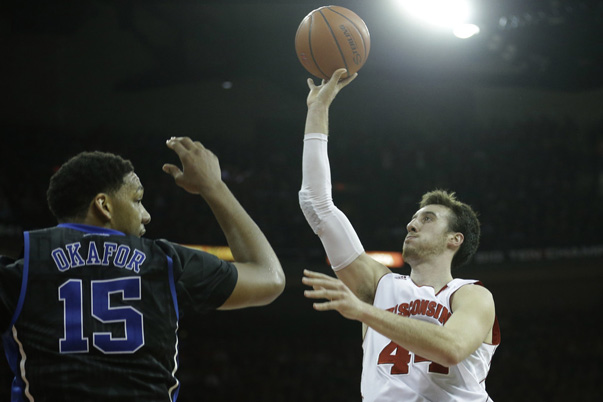 Indiana returns to the road for the third time in four games on Tuesday night when it travels to the Kohl Center to take on Wisconsin. The Badgers, ranked No. 5, are 19-2 overall and sit in first place in the Big Ten standings at 7-1.
The game will be broadcast on ESPN at 7 p.m. ET:
If not for a surprising loss last month to Rutgers in Piscataway – a game in which Wisconsin was without Frank Kaminsky and lost Traevon Jackson to injury – Bo Ryan's Badgers would be unscathed in Big Ten play and a full three games ahead of the field.
As it stands, Wisconsin sits two games clear of its conference peers in the loss column and looks poised to win the league running away. The fact that an inevitable league crown will come without Jackson in the lineup for most of the conference schedule speaks to just how big of a separation there is between Wisconsin and the rest of the Big Ten.
The team Indiana will face on Tuesday night is the class of the conference, an offensive juggernaut and the league's only legitimate chance to end a national championship drought that's nearing 15 years.
MEET THE BADGERS
Wisconsin is not only the class of the Big Ten right now, it's also the class of the country right now in terms of offensive efficiency. Indiana's offense is elite nationally with an average of 1.17 points per possession on the season, but Wisconsin's is even better at 1.25 points per trip against a schedule that ranks in the top 35 nationally in terms of difficulty.
The 7-foot Kaminsky is arguably the toughest matchup in the conference because of his ability to step out, finish in the post and also facilitate the offense when defenses focus on him. In Big Ten games, he's making 38.9 percent of his 3s, 58.5 percent of his 2s and over 80 percent of his free throws. Most of Kaminsky's success comes from the center and right side of the floor, as shown below by Shot Analytics: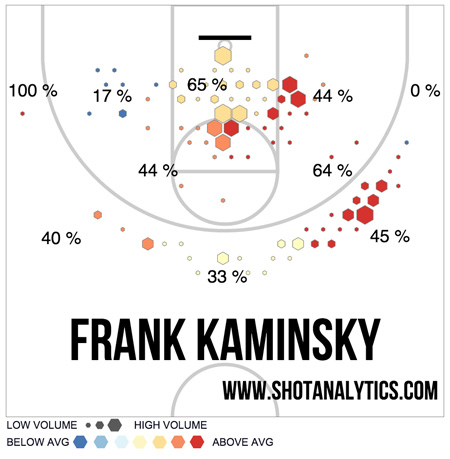 But as good as Kaminsky is – he's a legitimate national player of the year contender – it's his supporting cast that separates Wisconsin from the rest of the league. The Badgers have five of the top eight players in the conference in terms of effective field goal percentage in league games and Kaminsky is shooting the lowest percentage of the five.
Junior forward Sam Dekker, who is 6-foot-9, is making 69.8 percent of his 2s in league play and ranks in the top 15 in the conference in both offensive and defensive rebounding percentage. He's particularly dangerous on the right wing 3-pointer, where he's hitting 43 percent on the season.
Sophomore forward Nigel Hayes is another guy who will cause significant size problems for Indiana at 6-foot-8 and 235 pounds. Hayes is making 55 percent of his 2s in Big Ten play and 47.1 percent of his 3s.
Frontcourt backups include 6-foot-10 senior Duje Dujan and 6-foot-8 sophomore Vitto Brown. Dujan has taken 16 of his 33 field goal attempts in conference play from behind the 3-point line and Brown has struggled from the field in limited attempts (31.8 percent shooting).
With Jackson's foot injury, sophomore Bronson Koenig has stepped into the starting lineup and the Badgers continue to thrive. Koenig has the third lowest turnover percentage of Big Ten players in conference play and is making 50 percent of his 3s. Senior Josh Gasser is another guy who rarely turns it over – he's fourth in turnover percentage behind Koenig) and is making 38.2 percent of his 3s in league play.
Sophomore guard Zak Showalter is seeing spot minutes as a result of Jackson's absence, but has made just three of the 10 shots he's attempted.
A LOOK AT THE NUMBERS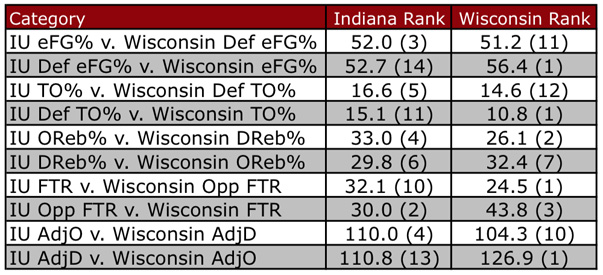 On paper, this matchup features two of the top four offenses in the Big Ten and the top two teams in terms of keeping opponents off the free throw line.
It also features a team in Indiana that's surrendering 1.11 points per possession in conference play against a team that's scoring 1.27 points per trip. The ability for Indiana to keep this game close probably hinges on Wisconsin having an off shooting night (unlikely) or the Hoosiers using their own high-powered offense to try to keep up against a Badger defense that hasn't been great (more likely of the two scenarios). Wisconsin is just 11th in effective field goal percentage defense in conference play and Indiana should be able to produce some solid looks.
But to keep things close against a team that will control a slow pace and rarely turn it over, Indiana simply cannot afford to turn the ball over or allow second chance points.
WHAT IT COMES DOWN TO
Indiana opened as a 15-point underdog in Vegas and KenPom agrees with that line as his model predicts a 15-point win for the Badgers and just a nine percent chance of an upset. To put that in some perspective, Pomeroy actually had Rutgers winning at Indiana as a more likely scenario (1o percent chance) than Indiana winning at Wisconsin on Tuesday.
Indiana's last three trips to Madison have resulted in an 11-point loss in 2014, a 7-point defeat in 2012 and a 9-point loss in 2011. The Badgers have never lost to the Hoosiers under Ryan at the Kohl Center.
If IU is unable to put up better resistance defensively than what we've seen in recent road trips to Ohio State and Purdue, the Hoosiers face a major uphill battle to pull off what would be a pretty significant upset.
(Photo: Mike McGinnis/Getty Images North America)
Filed to: Wisconsin Badgers