Notes, quotes from Tom Crean on the Big Ten teleconference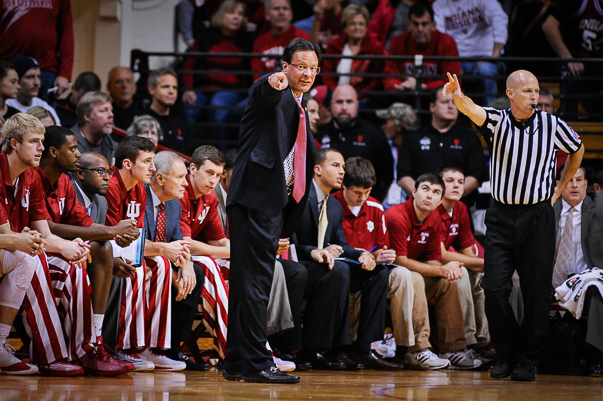 The Big Ten held its weekly coaches teleconference on Monday morning to review the fifth week of conference play. Here are some notes and quotes from Tom Crean's appearance:
· On Tuesday's game at Wisconsin, how the Badgers match up with IU on the perimeter and what the Hoosiers will need to do defensively: "Taking size out of it, which is hard to do because they are so big at numerous positions, but the bottom line is how skilled they are. It would be one thing if it was just big guys that could do one or two things, but they can do a lot of things. They can drive the ball, they can pass the ball, they can all shoot the ball and they can all shoot it with range, especially now with the way Nigel Hayes is shooting it and Sam (Dekker) and Frank (Kaminsky) have improved immensely over a period of time. They've got seven or eight guys right now, taking Traevon (Jackson) out, it's even surprising how they've played. It just goes to show the skill level in the system when you take a guy like Traevon out of the equation. The problem is that you cannot give into anything. If you back off of someone, they can knock in a 3, if you help, they can kick the ball, if you help they can all get to the offensive glass, so it's really about defending the personnel as much as it is defending how they run their offense and it's coming down and really understanding what you need to get defensively. We can't get overly caught up in the lack of size that we have and the abundance that they have. We've got to get really caught up in the skill level of the players."
· On whether he thought there'd be any drop off when Bronson Koenig took over for the injured Traevon Jackson: "No, Bronson was one of the better players in the country. He was a well known player nationally, especially the last couple of years he was one of the better guards in the country, he just may not have gotten the attention late in his high school years because of the commitment to Wisconsin. But he had numerous people recruiting him. They've got very good players. So in one sense, no, because of his skill level and in the other sense, they've just done a great job of showing the team leadership that they have when you take somebody like Traevon out who looks to be a very good leader. No surprises, Bronson has been through the system and played maybe not significant minutes last year, but played impact minutes last year and I think that's a big difference in it and he's got a real good understanding of what they want to do at Wisconsin and he's a big part of it right now."
· On what IU needs to take away from what it did against the Purdue bigs when it goes against Wisconsin: "Well first off, we took a lot away from the week. I'm proud of the way this team continues to respond on and off the court through the season and the resiliency that they show and the fact that we have two tough games, we played three games last week and we have two very tough games on the road that we don't get and we come back and play a very hungry and spirited Rutgers team, which we knew we would and we find a way to win that and we do it with some execution of offense, but also some defensive stops.
"So the bottom line becomes adjusting to whatever that team wants to get done. And the comparison of the Purdue inside players with Frank Kaminsky, that's not a true comparison because the Purdue players are more at the basket and they're very good at the basket. And Frank is a guy that obviously, like you just said, you can play through him. You can play through him on the perimeter, you can play through him in the high post, you can play through him in the post, you can drive the ball, so you've got to be aware of him at all times, but the other thing that is one of the parts of credit, I guess, that he may not … that people may not see as much, they see the scoring, they see the team play, he is a tremendous passer on the move and he can make plays off the dribble. To me, it's one of the most improved aspects of his game is that he can pass it off the drive. Cody Zeller was like that as a sophomore for us where he could really make plays when he drove the ball and it didn't have to be for his scoring, it could be for his teammates. So you've got to account for that and if you over help on any of them, they can, because of the passing ability, they can all knock down shots so you've got to be aware of him, you've got to have some coverages in place, you've got to know what his strengths are. But if you come and bring too many people to him, then he's just going to pick you apart and find shooters on the perimeter or the dropoff down low with Hayes and Dekker and those become even bigger problems because those are uncontested shots."
Filed to: Tom Crean, Wisconsin Badgers