As friendship grows, Morgan and Anunoby prepare for college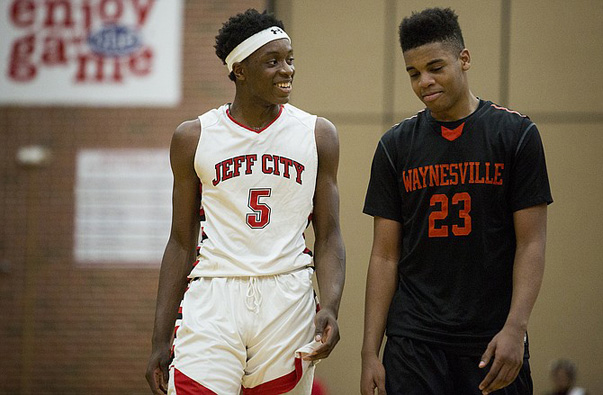 Growing up less than 70 miles from each other, Juwan Morgan and O.G. Anunoby had played each other plenty of times before Tuesday's game between Waynesville High and Jefferson City High in Jefferson City, Missouri.
But this game was different.
This was the first meeting between the two friends as Indiana University signees. And Hoosiers coach Tom Crean looked on as Anunoby and Jefferson City prevailed, 57-49.
The 6-foot-8 Anunoby finished with 11 points and 11 rebounds, while the 6-foot-8 Morgan finished with 21 points and 16 rebounds in the losing effort.
"It was a lot of fun since we'll be playing together next year," Morgan told Inside the Hall. "We've been playing each other for a while now, so it's always fun and competitive. And it was funny because before we knew we were going to college together, and now we have that friendship where we know almost what we're going to do at the moment we're going to do it. And so that's why it was hard going against each other, but it was fun at the same time."
Morgan and Anunoby each committed to Indiana this past fall. Morgan chose IU on Sept. 10, while Anunoby chose IU on Oct. 14. Since then, the two friends — who knew each other from playing on opposite sides in both AAU and high school basketball — have grown closer.
They talk "almost every day" — from their daily lives to what they envision their futures as in Bloomington.
"We're really close now," Anunoby said. "We're like brothers now."
They also exchanged trash talk in the lead-up to Tuesday's game. And during the game, whenever Anunoby got near Morgan, they would trash talk each other, Morgan said. That especially made the game fun.
Of course, after the game the two friends complimented each other on their games and their recent improvements. Anunoby thought Morgan's ball-handling and perimeter play has gotten better. "He's shooting the ball better than I've ever seen him shoot," Anunoby said.
Morgan thought Anunoby's jump shot and ball-handling has improved as well — that "every time I see him it's getting better."
Crean also had input. The Hoosiers coach had the chance to talk with his two commitments and each gave them tips on how to continue to improve. But he also said he was happy with both Morgan and Anunoby's improvements thus far.
"He was like coaching us, like giving us tips and stuff like we were there at IU already," Anunoby said. "It was pretty cool."
As their final semester of high school winds down, both Morgan and Anunoby said they find themselves thinking about how they can fit into the Hoosiers squad next season — as versatile forwards who can provide defense and offense. They each watch every Indiana game they can, they said. Morgan especially pointed out how well this year's team is doing despite all the preseason criticisms. They're both excited to join their future teammates and help provide size, too.
Bloomington is still a few months away.
But as their friendship continues to grow, both Morgan and Anunoby are starting to see themselves as basketball teammates — rather than opponents like in Tuesday's game.
"It's really exciting," Morgan said. "We can't wait to get there."
(Photo credit: Kile Brewer/NewsTribune.com)
Filed to: Juwan Morgan, O.G. Anunoby