Hoosiers look to 'move forward' in Saturday's game against Rutgers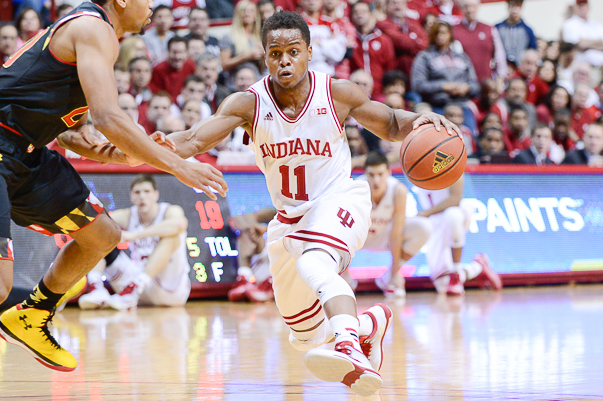 Today at 3:15 p.m., Indiana will play its first home game in more than a week against Rutgers, a team that is 10-12 and just 2-7 in the Big Ten.
It's a welcome change in pace.
After losing their last two games, each by double digits on the road, the Hoosiers return to Assembly Hall this afternoon for their game against the Scarlet Knights, who have lost five straight themselves.
"You just have to continue to move forward in everything that you do in this league," Indiana coach Tom Crean said. "When you win, you've got to learn from that. When you lose, you've got to learn from that, and that's the sign of a very good team, when you can continue to learn from those areas. We've got to continue to build a hunger that allows us to do that, and allows us to make progress and continue to move forward into whatever the next challenge is, and Rutgers is for us."
There have been plenty of lessons to learn from in Indiana's past two games. In the Hoosiers' game at Ohio State last Sunday, the Buckeyes got to the paint with ease and were able to spread the floor. On offense, the Hoosiers struggled with penetration and cuts. Ohio State won, 82-70.
Against Purdue this past Wednesday, Indiana got to the paint with ease — but they had significant trouble in converting, passing and spreading the floor. And on defense, the Hoosiers allowed Purdue to shoot better than 70 percent on its 2s en route to allowing 83 points.
After the loss to the Boilermakers, junior Yogi Ferrell called the Hoosiers "soft." And on Friday, sophomore Stanford Robinson didn't disagree, also mentioning Purdue's 8-0 run to start the final 20 minutes.
"I felt like we did come out soft a little bit in the second half," Robinson said. "… We were mentally soft because we didn't stick with the game plan."
That game plan that the Hoosiers had against the Boilermakers — and against the Buckeyes and in their overall prior 21 games — has included "making the next pass" and finding open shots, not forcing the matter like they did last season to the tune of the nation's 21st-worst turnover rate.
On Thursday, Crean chose to show his players tape from the Purdue game — particularly the drives they chose to make and how that turned into rushed shots and easy Boilermakers baskets in transition. "Our players see us trying to challenge A.J. Hammons and it looks as ridiculous to them on film as it does when you try to do it in the game," Crean said.
Hammons finished that game with a career-high eight blocks.
"Certainly we've got to take care of the ball better and make it simpler and make our play simpler," Crean said. "And not try to make plays that are not there."
While Rutgers is struggling in recent weeks, it did hand Wisconsin its only Big Ten loss to date.
The Scarlet Knights are a "rhythm team," Crean said, one he thinks is based around a Princeton cut-based style of offense. He said it's the Hoosiers' job to ensure they don't let them get in rhythm. And when it comes to defending the post, Crean said it comes down to activity. Setting up better in transition, forcing deflections and rushing the paint when shots go up all are priorities.
But offensively, the Hoosiers hope to get back to basics. To get back to finding the open shooter and not taking rushed, non-ideal shots. It's when they have been at their best this season.
The Hoosiers still have plenty of room for improvement. They have another 40 minutes to show progress this afternoon.
"It's not as much about who you're playing but just doing the things that make you be successful," Crean said. "If you do that, you'll have a good psychological edge."
Filed to: Rutgers Scarlet Knights