Five takeaways from Indiana's win over Rutgers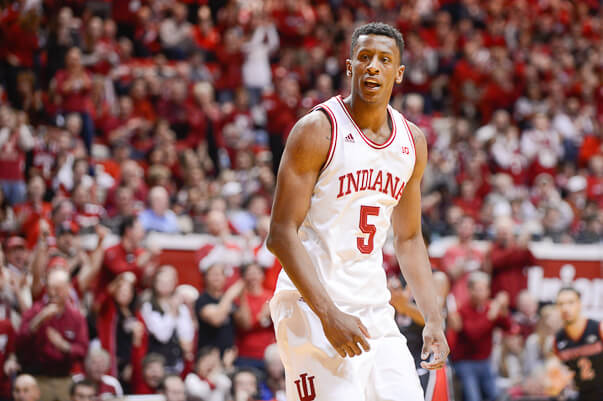 Indiana bounced back from consecutive losses at Ohio State and Purdue with a 72-64 win over Rutgers on Saturday afternoon at Assembly Hall. The win improved the Hoosiers to 16-6 overall and 6-3 in Big Ten play.
Here's a look at five takeaways from the win over the Scarlet Knights:
· After two poor games, Williams reemerges: Aside from a hot offensive start in Columbus, Indiana didn't get much out of sophomore Troy Williams in its losses to Ohio State and Purdue. Perhaps looking to send a message that he needs to grow into a more consistent performer, Tom Crean removed Williams from the starting lineup against Rutgers. It was the first time Williams hasn't started a game in his IU career when he's been available to play.
The 6-foot-7 wing responded with not only an improved offensive effort (14 points), he also hit the glass for 12 rebounds, which is more than he grabbed combined in his previous two games.
"When Troy is playing that way, that's the Troy Williams we need to have," Tom Crean said.
The numbers for Williams in Big Ten play speak to how important his production is for IU to be successful. In IU's six Big Ten wins, he's averaging 15.6 points and 8.3 rebounds per game. In three conference losses, he's averaging just 5.3 points and three rebounds per contest.
· Zeisloft comes up big: Sometimes when a team is struggling to score, an unlikely offensive hero emerges to save the day. On Saturday for Indiana, it was Nick Zeisloft, who got a surprise start, but didn't really do much offensively until the game was in the balance late.
Zeisloft's 3-pointer at the 6:35 mark gave Indiana a 59-57 lead, which it wouldn't relinquish, and he followed that up with another triple at the 4:19 mark to push the lead to 64-57.
The redshirt junior hasn't been consistent this season, but he has come through in some big spots in conference play like the Ohio State game, where he lifted IU out of an early hole at home and the Illinois game, where he scored 10 points.
"You've got to be ready to take that shot at any time," Zeisloft explained. "James (Blackmon) did a great job at driving the lane and just hitting me in a perfect spot. Just needed to knock it down."
· Rutgers had trouble containing Blackmon's drive: He's known as one of the better shooters in the country, but James Blackmon Jr. hadn't been great at converting 2s coming into the Rutgers game.
In fact, he came into Saturday making just 37.9 percent of his 2s in league play, but reversed his fortunes there for an afternoon as he made six of his 10 shots inside the 3-point line.
Blackmon Jr.'s efficiency in terms of finishing at the rim should improve as he continues to add strength and continues to make adjustments to avoid getting blocked, but his ability to finish was a difference maker for Indiana.
· Defensive struggles continue: This was Indiana's best defensive performance since the Ohio State game in Assembly Hall when it allowed just .98 points per possession, but allowing Rutgers to score 1.04 points per trip is nothing to tout.
The Scarlet Knights came into Bloomington with the Big Ten's worst offense (.89 points per possession) and posted their third best offensive performance in conference play thus far.
Indiana was better at defending 2s – Rutgers shot just 45.9 percent there – but it also allowed Myles Mack and Junior Etou too many unchallenged looks from distance and the Scarlet Knights capitalized with a 7-of-17 shooting performance from the perimeter.
To its credit, Indiana did get stops down the stretch when it mattered most, but incremental defensive improvements in the second half of the Big Ten schedule would alleviate the pressure on the offense when things aren't clicking.
· At the halfway point of the conference season, Indiana has exceeded expectations: Nine games into the conference schedule, Indiana sits at 6-3 and in a tie for second place in the league. The Hoosiers were underdogs in six of their first nine games, so it's hard to look at where things currently stand as anything less than impressive.
At 16-6 overall and with five home games remaining, the Hoosiers can probably feel good about their chances to make the NCAA tournament if they finish with four or five more league wins, but this group isn't talking as if it's satisfied with where things currently stand.
"We're happy to be in the mix, but we're not satisfied at all," Blackmon Jr. said. "We know we have a couple games under our belt that we could have got, so next week at Wisconsin we know that it's going to be a great environment, so I think we're going to come prepared for it."
Filed to: James Blackmon Jr., Nick Zeisloft, Troy Williams