Hoosiers must "play our way" to win rivalry game with Purdue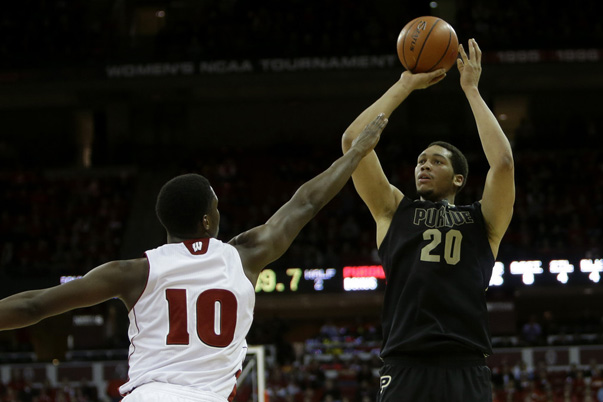 Indiana is not afraid to admit it: Preparing for Purdue is not like preparing for a typical opponent.
Year in and year out the Boilermakers and Hoosiers play for state bragging rights in the Big Ten's oldest rivalry — dating back to 1901. Wednesday's game in West Lafayette will be the 202nd all-time meeting between the two schools.
But this season specifically, the Boilermakers present a challenge the Hoosiers have worries about — playing two regulars who are taller than 7-feet. In contrast, the Hoosiers have not played anyone taller than 6-foot-8 in meaningful minutes during recent games.
"Teams are always going to try to play bigger against us," junior guard Yogi Ferrell said. "That's what I would do, personally, if I was a coach — just try and pound it inside. So what we have to do is just prepare very well for their bigs. We know they're big inside."
The added challenge of preparing for Purdue comes on short preparation following Sunday's loss at Ohio State — in which the Hoosiers allowed the Buckeyes to shoot better than 63 percent on 2s. The Buckeyes, though, chose to play small against the undersized Hoosiers. Purdue prides itself on its size advantage.
Through their first 20 games, the Boilermakers have scored more than 55 percent of their points in the paint. 7-foot A.J. Hammons and 7-foot-2 Isaac Haas are the only two Purdue players involved in more than 28 percent of possessions while they are on the floor. In conference play, not only are the Boilermakers shooting the third-best 2-point shooting percentage in the league, they also are holding opponents to the worst 2-point shooting rate.
And Indiana admitted it does not have the resources to prepare for Purdue's size — unless "Alan Henderson or Haris Mujezinovic lives in the area," Crean said, jokingly. It can't simulate size. The best way to prepare the Hoosiers, Crean said, is to ready them for a physical battle.
"No matter what they do, you don't let any panic or mental fatigue come into it," Crean said. "You just deal with it and hope that your spacing and ball movement and defensive transition and willingness to be inside the lane to rebound the ball and be physical, with contact and things of that nature."
When asked which former opponents Purdue compares to, Ferrell replied Louisville — because of 6-foot-8 Montrezl Harrell — while freshman James Blackmon Jr. replied Georgetown — because of 6-foot-10 Joshua Smith. The Hoosiers played both Georgetown and Louisville at neutral sites. They will have to play Purdue first in West Lafayette.
That presents another challenge in itself: For the 48th straight Indiana-Purdue game in West Lafayette, Mackey Arena has sold out. In last season's game, the Hoosiers' wheels fell off early — it ended in their worst loss of the season, an 82-64 defeat.
Ferrell said on Tuesday he has been in his teammates' ears all week about the importance of the rivalry — "it's just about going out there and showing people you're the best in the state," he said. It will be his third time playing in Mackey Arena. He said he knows what reception the Hoosiers will receive.
He said there is an extra edge to Wednesday's game. That there always is when it's Indiana-Purdue.
"We've got to create our own energy, our own spark, our own motivation to go out there and win the game," Ferrell said. "Play our way."
(Photo: Mike McGinnis/Getty Images North America)
Filed to: Purdue Boilermakers