What to Expect: Ohio State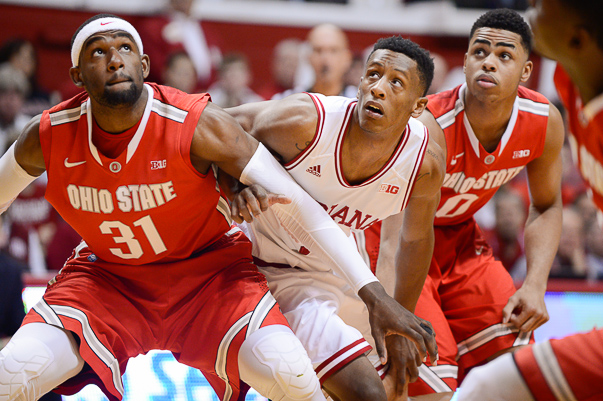 Indiana will ride a four-game winning streak into Columbus on Sunday afternoon for a meeting with Ohio State at Value City Arena. The Hoosiers won the first meeting this season with the Buckeyes, 69-66, on Jan. 10 at Assembly Hall.
The game will be broadcast at 1:30 p.m ET on CBS with Carter Blackburn and Clark Kellogg on the call:
Indiana will begin a two-game roadtrip on Sunday in one of the tougher Big Ten venues to win in, Value City Arena. The atmosphere in Columbus sometimes feels more like a professional one because of the arena, but the Buckeyes are always tough at home.
Ohio State is one of five Big Ten opponents that Indiana will play twice this season and these two teams are wrapping up their season series just a third of the way into the league schedule.
The Buckeyes are coming off a narrow 69-67 win at Northwestern in which freshman D'Angelo Russell was dominant. The Louisville native posted an incredible stat line in Evanston – 33 points, six rebounds, six assists and no turnovers – and will surely have his bad performance earlier this month in Bloomington on his mind.
MEET THE BUCKEYES
Thad Matta made changes to his rotation at Northwestern, inserting Jae'Sean Tate into the starting lineup in place of Marc Loving and Anthony Lee in place of Amir Williams. Loving (19 minutes) still saw a fair amount of playing time, but Williams played just three minutes which could be a sign that he's on the outs unless something changes dramatically with his performance.
Russell, of course, is still the name to remember at the top of the scouting report. He's been tabbed as a potential top ten pick now by just about every NBA draft guru and his ability to both score and distribute makes him a tough cover. In Big Ten play, he's hitting 43.4 percent of his 3s and is 12th in the league in assist rate (24.8 percent). And although he doesn't get to the line at the rate of Maryland's Melo Trimble, he's very good when he does get there as he's knocking down 82.9 percent in conference play.
Seniors Shannon Scott and Sam Thompson continue to start for the Buckeyes and both can be effective in their roles. Scott is an elite defender and is third in league play in assist rate at 29.2 percent. He's struggled with his shooting through seven league games – 55.6 percent on free throws and an effective field goal percentage of just 45.7 percent – but for the most part, he's played his role as a distributor in a solid fashion. Thompson is fourth in league play in steal rate and is making 56.7 percent of his 2s in league play, but has only hit 1 of his 14 attempts from distance.
Loving is a 3-point specialist who is hitting over 50 percent from distance on the season, but just 38.7 percent in league play. He can also get to the line when he doesn't settle from the perimeter and he's hitting 78 percent from the stripe on the season. Redshirt freshman Kam Williams could also see spot minutes, but he's shot very poorly in league play after posting very solid numbers in non-conference play. In seven Big Ten games, Williams is making just 28.6 percent of his 2s and 23.1 percent of his 3s.
The frontcourt situation still seems unsettled beyond Tate, who is undersized but a load to handle on the glass and around the basket despite standing just 6-4. Tate is third in offensive rebounding percentage in Big Ten play, eleventh in block percentage and seventeenth in steal percentage. In the first meeting between IU and Ohio State, he finished with 12 points and five rebounds before fouling out in 24 minutes.
Temple transfer Anthony Lee has been a disappointment, but Matta gave him a shot at Northwestern and he finished with 11 points and three rebounds. The aforementioned Williams, a former McDonald's All-American, has simply not been productive enough to warrant a starting spot and given Indiana's lack of size, it wouldn't be surprising to see Matta to stay with a smaller lineup against the Hoosiers. Senior Trey McDonald is another bench option who is 6-foot-8 and 240 pounds and his 15 minutes logged in Evanston suggest he may get the first chance off the bench for now over Williams.
TEMPO-FREE PREVIEW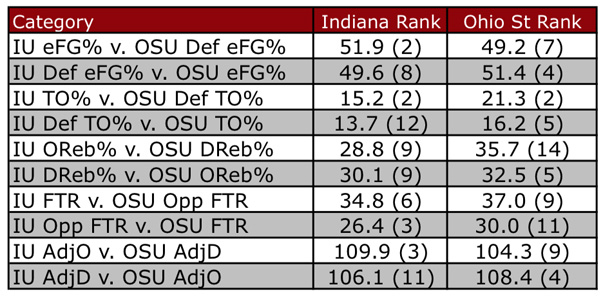 Ohio State has ranked in the top three in defensive efficiency in Big Ten play in every season since 2008-2009 and through seven games, these Buckeyes sit in ninth. They're yielding 1.04 points per possession which is a significant shift from last year's group that had the league's best defense (.96 points per trip allowed).
Much like Indiana, they've been able to mask deficiencies on the defensive end with a very good offense. Ohio State is just behind IU in both offensive efficiency and effective field goal percentage, which suggests we could have a shootout if both teams get going.
Ohio State has been very vulnerable on the defensive glass as Big Ten opponents are rebounding 35.7 percent of their misses. The Buckeyes have also struggled in getting to the line with any regularity as just 16 percent of their points in conference play are coming from the foul line.
WHAT IT COMES DOWN TO
The computers still love the Buckeyes as the Pomeroy ratings favor them by 7 over the Hoosiers with a 74 percent chance for a victory. Sagarin likes Ohio State by six. For the sixth time in seven league games, Indiana will tip-off as an underdog according to the computers.
This is a game that Ohio State very much needs to win as its NCAA tournament resume is lacking at this point. The best win for Ohio State right now is either Minnesota on the road or Illinois at home and neither of those teams are projected to make the tournament as of today.
At 5-1, Indiana has surpassed expectations to this point and positioned itself well to contend for a top three or four finish in league play. The Hoosiers are 2-1 on the road so far in Big Ten play, but it gets no easier as IU's next four games away from Assembly Hall are Ohio State, Purdue, Wisconsin and Maryland.
Ohio State has started slow recently, so a quick start could go a long way in keeping the Hoosiers confident early and the crowd, which should be engaged, out of the contest. Ultimately, this one will come down to how IU responds to the atmosphere, limiting Ohio State's offensive runs and also whether the Hoosiers are able to take care of the ball and simply run their offense, which will lead to high percentage looks.
Filed to: Ohio State Buckeyes