Plenty has changed as Hoosiers, Buckeyes prep for rematch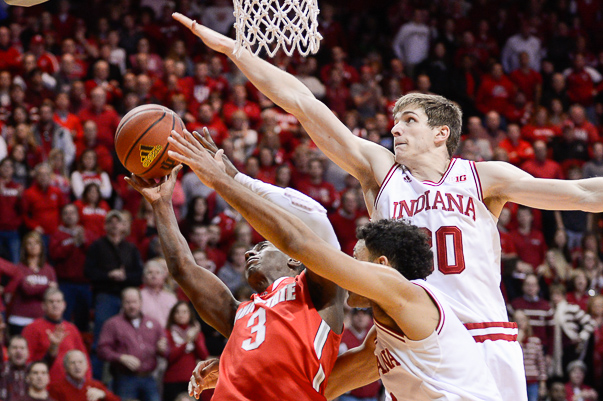 It's been just two weeks since Indiana and Ohio State played to a 69-66 Hoosiers win in Assembly Hall. But plenty has changed since then.
For Indiana, 6-foot-9 forward Hanner Mosquera-Perea was declared out with a knee injury. For the Buckeyes, two newcomers — Jae'Sean Tate and Anthony Lee — have made their way into the starting lineup.
After playing three games each since their last meeting, the Hoosiers and the Buckeyes will play once more on Sunday in Columbus at Value City Arena. And despite the changes in each squad, Indiana coach Tom Crean said on Saturday it still is the same Ohio State team the Hoosiers beat two Saturdays ago.
"They're everything that they were and they are a product of playing in a tough league like the rest of us are," Crean said. "There's going to be some good nights, some tough nights, but they are outstanding."
With the introduction of Tate and Lee — a former Indiana recruit — into the Buckeyes' starting lineup for their latest game at Northwestern, it has given the Hoosiers another two names to watch out for outside the likes of D'Angelo Russell, Marc Loving, Sam Thompson and Shannon Scott.
Tate, a 6-foot-4 freshman, drew comparisons as a younger version of Maryland's Dez Wells during Saturday's pregame press conference at Indiana. Crean praised him for his attacking presence toward the rim, his shooting confidence and movement.
But Lee, who is 6-foot-9, presents another challenge for the Hoosiers — more specifically 6-foot-7 Collin Hartman. In his three games in the starting lineup, Hartman has slowed down the likes of Donovon Jack, Nnanna Egwu and Damonte Doddd — all of whom hold at least a two-inch edge on the Hoosiers sophomore.
The Hoosiers, though, are more than confident Hartman can continue his success against Lee and 6-foot-11 Amir Williams.
"He's been doing really well these past two games being inside," sophomore Troy Williams said. "Then also we've got to look at it as they've got to also check us on offense. So adapting to them? It's more like they have to adapt to us."
Since replacing Mosquera-Perea with Hartman in the starting lineup, the Hoosiers have indeed forced multiple matchup issues against opponents.
All five players on the court can shoot. All five can spread the floor. With Hartman and 6-foot-8 wing Max Hoetzel at the five and drawing big men outside due to their ability on the wings, it has allowed the Hoosiers to get more opportunities inside, as well. In each game since Mosquera-Perea's departure, the Hoosiers have shot 50 percent or better on their 2-point attempts.
"We're confident at the five in guys like Max being able to be the five," freshman Robert Johnson said. "It helps spacing wise and just gives us another shooter and more mismatches on the floor. It just creates more problems for the defense to check and at times that's a big advantage for us."
Even with the changes on both sides, Crean highlighted the same dangers the Buckeyes posed just two weeks earlier. That they can score from any position on the court. That they force turnovers.
This time, though, it's two teams that each must adjust to different circumstances.
"We've got our eyes on what we think fits us and we're not getting away from size," Crean said. "We are not going to get away from size. Coaching is putting your players in the best situation possible for them to be successful. Do we have a system? Do we have a style? Yeah, I guess.
"But at the same time it's pretty much built on what the talents of the players are and that's where the adjustments come in."
Filed to: Ohio State Buckeyes