Indiana 'terrific all night' in 89-70 thrashing of No. 13 Maryland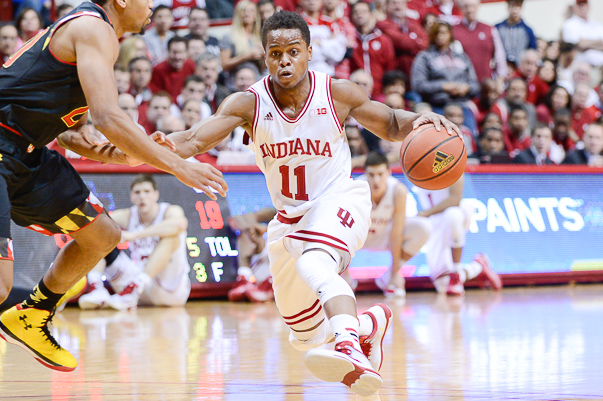 Maryland coach Mark Turgeon went straight to the point at the beginning of his postgame press conference late Thursday night.
His team had just lost its third game of the season in an 89-70 blowout to Indiana, the Big Ten's No. 1 defense getting torched for a 75 percent effective field goal rate allowed.
It was the Hoosiers' best shooting performance in a Big Ten game since 2003 (vs. Northwestern, 78.8 eFG%). It was Maryland's worst defensive performance under Turgeon.
"Indiana was terrific," Turgeon said. "They were terrific all night from the start to the end."
Terrific might even be an understatement — the Hoosiers' 1.39 points per possession rate was their best offensive performance in a Big Ten game since their 97-60 blowout at Purdue almost two years ago.
Against the Terrapins, who had been allowing just 0.91 points per possession in league play, the Hoosiers shot a whopping 60 percent from the field. They were 15-of-22 on 3-pointers.
"It felt like a lot more," Turgeon said. "It felt like they made 25."
Turgeon said he had watched the Hoosiers' game against Illinois just five days earlier and knew the Hoosiers had improved. But after Thursday's game, he admitted they didn't defend the Hoosiers well enough.
In contrast, Indiana coach Tom Crean said the Hoosiers had been ready for the game since the pregame walkthrough — he jokingly said during his press conference he didn't want his players thinking the walkthrough was the actual game. And the Hoosiers got off to a blazing start from the field.
Behind two Collin Hartman 3-pointers, Indiana was shooting a 110 percent effective field goal rate by the first media timeout. And by then, the Hoosiers were well on their way toward their offensive blowout.
They drove to the basket with ease. They found open shooters. They carved the Terrapins' defense apart.
When the final buzzer sounded, five Hoosiers had made a 3-pointer. And their 2-point field goal percentage (53.6) also finished at their best since their Big Ten opening win at Nebraska (55.6 percent).
"We came into this game knowing it was going to be a dog fight and it was going to be like a war zone," sophomore Troy Williams said. "Coming out with this win is great for us. It's great for us mentally and it's great for us physically."
Hartman scores 15 points in career-best night
Within the first three minutes of Thursday's game, Collin Hartman drove to the basket and drew a foul. He found two early looks for himself beyond the 3-point arc. Without hesitation, he drained both.
"That got them going," Turgeon said. "I know he's a good shooter, but he hasn't been that aggressive at times."
It sparked what was a career night for the Hoosiers' 6-foot-7 sophomore — who started just his third game for Indiana on Thursday.
Playing as the Hoosiers' undersized stretch five man, Hartman went on to score a career-high 15 points on a career-high three 3-pointers in a career-high 29 minutes of action. He also scored on a career-high four free throws.
And Hartman's efforts weren't confined to the offensive end. His three blocks against the Terrapins tied for his career-high.
"He's an energy sparker, I feel like," Ferrell said. "I feel like he's in every single play for us. He's kind of a ball magnet I say, when the shot goes up he's always flying. He'll go through two bodies to get the ball if he has to. For us to have a guy like that, we're going to need him to win games for us in close ones."
Hartman still isn't fully recovered from his torn ACL he suffered last March. Crean has noted on multiple occasions that he still limits Hartman in practices. The Indianapolis native had his knee wrapped in ice following Thursday's game.
However, his contributions continue to make an impact for the Hoosiers. He said he has simply followed Crean's "play on demand" mantra.
But even at 6-foot-7, Hartman has proven he can be an effective player at the four or five position in the Big Ten. After all, there is a reason he has the nation's seventh best offensive efficiency rating this season.
"You've got to come in ready to fight," Hartman said. "They're big guys. They're stronger than me, bigger than me, taller, longer. But it comes down to heart."
Ferrell's shooting comes alive in win
After Indiana's 80-74 win over Illinois on Sunday, after the bus ride back to Bloomington late at night, Crean heard balls bouncing in Cook Hall. There was junior Yogi Ferrell, shooting off the shooting gun.
Monday morning, Crean walked in to the gym. He found Ferrell again. Later that day, even after the Hoosiers didn't practice — there was Ferrell.
Shooting 7-for-32 on 3-pointers in the Hoosiers' first five Big Ten games, Ferrell kept working on his shot.
"That's a hunger level," Crean said. "That's leadership."
And on Thursday night, Ferrell found his groove. Hitting 7-of-8 of his 3-point attempts, Ferrell led the Hoosiers with 24 points against the Terrapins.
"After making a couple the rim just kind of opens up a little bit more," Ferrell said. "It gets easier to put the basketball in the hoop, basically. So I was just trying to take what the defense gave me and was just letting it go. It was all up to the ball from there."
While Ferrell's shooting took a dip in the Hoosiers' first five games of conference play, his distribution was notable — with 28 assists and just nine turnovers in those games.
And though his shooting against the Terrapins significantly improved, Ferrell's distribution remained constant — he had another five assists with no turnovers in 37 minutes of action.
"Yogi's playing so well for us," Crean said. "But he wanted to play better. Now we got to keep that attitude."
Filed to: Collin Hartman, Maryland Terrapins, Yogi Ferrell