Similarities run deep as No. 13 Maryland, No. 23 Indiana battle on Thursday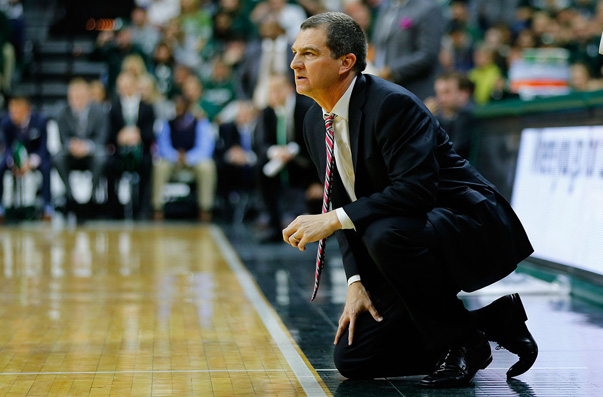 Before this season started, the atmosphere surrounding Maryland basketball was one of uncertainty.
The Terrapins had five scholarship players transfer from the program and another lost to graduation. Just over half their roster was returning for the 2014-2015 campaign.
But there was a sense of optimism surrounding Maryland, with four freshmen — including three top 100 prospects and the nation's No. 31 recruit, Romelo Trimble — and North Carolina A & T graduate transfer Richaud Pack, who averaged 17.0 points and 4.6 rebounds last season, coming in.
Before the season started, Tom Crean was able to gather that Maryland coach Mark Turgeon was excited about his team. And through the first 19 games of the season, the Terps have proved Turgeon's hopes to be accurate.
Heading into tonight's game in Assembly Hall, Maryland is 17-2 and 5-1 in the Big Ten, and they have earned the nation's No. 13 ranking in the latest Associated Press top 25 poll.
"They've earned their stripes," Crean said on Wednesday. "They've earned their ranking, they've earned their notoriety because of the way they've played the entire year."
Indiana, much like Maryland, faced plenty of turnover during the offseason. But both teams have had plenty of success this season.
The Hoosiers have three wins over top 25 teams at the time — SMU, Butler and Ohio State — and have another two wins on the road in Big Ten play. The Terps, meanwhile, have topped the likes of Iowa State, Oklahoma State and Michigan State (twice), only losing to undefeated Virginia and Illinois in Champaign.
And to Crean, the similarities between the two sides successes extend farther beyond wins and losses.
"There are similarities in the sense that I think you can see there's good chemistry on the court with guys pulling for one another and playing together," Crean said. "I think those kind of things stand out."
In fact, as Crean has watched more and more tape on the Terps, he has continued to make the comparison to last year's national champions UConn in terms of length and versatility — even going as far as saying Maryland has more skilled big men (like 6-foot-9 senior Jake Layman, 6-foot-10 sophomore Damonte Dodd, 6-foot-9 senior Evan Smotrycz and 7-foot freshman Michal Cekovsky) and more players that can create offense than last season's Huskies.
"They're the real deal," he said. "They've built it and they're a little bit older than people realize. They've been down the road a little bit, and they've got some good young players playing."
One of those star young players has been the 6-foot-3 Trimble, who ranks in the top 60 in the country in true shooting percentage, fouls drawn and free throw rate. He also leads Maryland in points, assists and minutes, with 16.1 points and 3.0 assists in 32.8 minutes per game.
And as the lone Terps consistent freshman starter on a team surrounded with veterans, Trimble drew comparisons to Indiana junior Yogi Ferrell on Wednesday. Ferrell was the Hoosiers' lone freshman starter as well during the Hoosiers' 2012-13 campaign in which they were ranked preseason No. 1.
"He can shoot a lot better than I could my freshman year," Ferrell said. "But he was in the same situation as me being a freshman with a lot of veteran guys. I see a lot of similarities in that."
Despite the similarities, though, the Hoosiers are aware of the challenge the Terps present. They can play through all five players on the court. They have a size advantage over the Hoosiers and have lost just twice this season.
But the Hoosiers are also confident they can match up with Maryland. And they hope it could result in their seventh straight win over a ranked opponent in Assembly Hall.
"I think we're a very versatile team with a lot of guys that are very long, as do they," sophomore Collin Hartman said. "I think that we'll be able to match up well, with our game plan also, and everybody can play multiple positions for us which really, really helps with our schemes.
"But I think that we're fully capable and ready to match up with them."
(Photo credit: Leon Halip/Getty Images North America)
Filed to: Maryland Terrapins