What to Expect: Maryland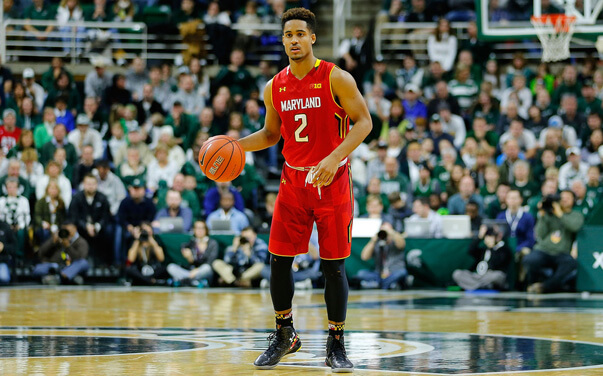 Indiana returns to Assembly Hall on Thursday night with a 4-1 Big Ten record and a national ranking (No. 23) following a win on Sunday at Illinois. Things don't get any easier, however, as the Hoosiers welcome No. 13 Maryland to Assembly Hall. The winner will remain on pace for the conference lead in the loss column with Wisconsin.
The game will be broadcast on ESPNU at 9 p.m. ET with Adam Amin and Seth Greenburg on the call:
Through 18 games, it's hard to imagine a better start for this Indiana team. At 14-4 overall and 4-1 in the Big Ten, the Hoosiers have three wins over top 25 teams and have already won three conference games in which they were underdogs.
But an unforgiving, front loaded league schedule gets no easier from here as Indiana is likely to enter its next three games as an underdog in Vegas. Looking at current KenPom win probabilities, the Hoosiers enter the next three – Maryland (44%), Ohio State (20%) and Purdue (40%) – with less than a 45 percent chance of winning.
So far, the role of underdog has suited Indiana well and it's one that the Hoosiers will have to continue to embrace as a confident Maryland team that has already won at Michigan State and Purdue comes to Assembly Hall.
MEET THE TERPS
Maryland's size advantage is something Indiana coach Tom Crean mentioned frequently on his weekly radio show, but the Terrapins aren't a team that pounds the ball into the post. Yes, the Terps are ranked 9th nationally in KenPom's effective height statistic (explained in more detail here), but this group makes its living by getting fouled:

Indiana, of course, ranks second in opponent free throw rate through five league games, so that battle figures to loom large. Maryland's charge to the free throw line is being led by its backcourt of freshman Melo Trimble, senior Dez Wells and senior Richaud Pack.
Trimble, the team's leading scorer (16.1 ppg), has taken 44 free throws in six league games. It's that ability to get to the line that makes him special as his numbers elsewhere – 47.7 percent on 2s and 38.2 percent on 3s – don't jump off the page. As illustrated below by Shot Analytics, he's far more comfortable operating offensively on the right side of the floor: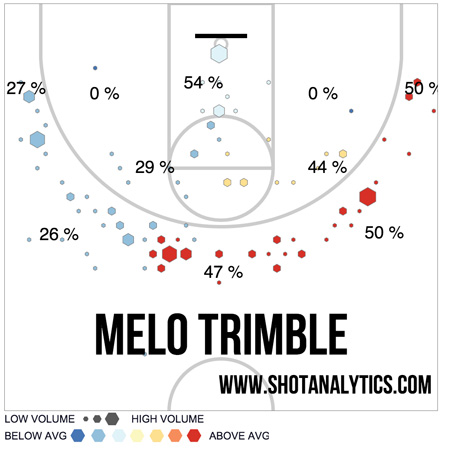 Wells is a big bodied guard who is the team's best distributor – he sports a 30.9 assist rate in Big Ten play – who can also get to the line. His offensive numbers otherwise haven't been great through six conference games as he's making less than 30 percent of his 2s, but he's scoring close to five points per game from the foul line in league play.
The 6-foot-4 Pack is a low usage offensive option who is making 75 percent of his free throws, 51 percent of his 2s and just 32 percent from distance. He departed the starting line following the loss at Illinois as Mark Turgeon inserted 6-foot-7 freshman Jared Nickens, who is a 3-point specialist. In conference play, he's attempted 28 field goals, 26 of which have been 3s. He's hitting 38.5 percent from distance in league play and 38.2 percent overall.
Another perimeter option to remember is freshman guard Dion Wiley, who is hitting 54.5 percent from distance in league play.
Maryland's frontcourt rotation is led by 6-foot-9 forward Jake Layman, last week's Big Ten player of the week who figures to present a difficult matchup for either Collin Hartman or Troy Williams. Layman is also excellent at getting to the line (he's attempted more free throws than 2s on the season) and can also step out and hit from distance (39.4 percent on 3s). The left corner 3 is his favorite spot: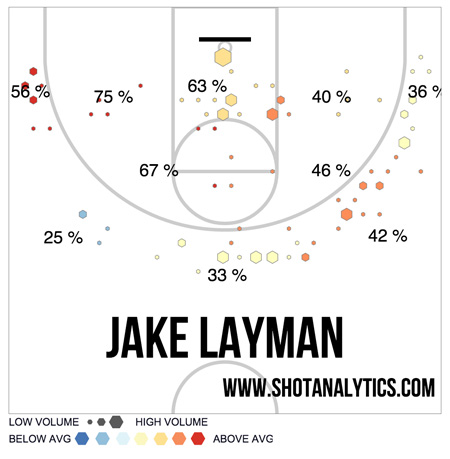 Damonte Dodd, a 6-foot-11, 245 pound sophomore, is a monster on the offensive glass. He ranks 2nd in conference games in offensive rebounding percentage (13.3), but is also foul prone (7.5 fouls per 40). Saturday's contest against Michigan State was the first time Dodd hasn't started since the season opener, so it'll be interesting to see if Turgeon reinserts him given what IU currently lacks in the paint.
If he doesn't, expect to see 6-foot-8 senior Jon Graham, who played his first two seasons at Penn State, to start the game. He's not an offensive threat, but has pulled down 20 rebounds in six conference games. Evan Smotrycz, who played his first two seasons at Michigan, also figures into the rotation and is playing close to 20 minutes per game in league play. He's been horrible offensively thus far (35.3 percent on 2s and 14.3 percent on 3s), but does have the experience of playing in Bloomington. Freshman post Michal Cekovsky, who is 7-foot-1 and 235 pounds, has played less in league play than he did earlier in the season, but is another big body at Turgeon's disposal.
A LOOK AT THE NUMBERS
Maryland's defense has been elite thus far in conference play. Opponents are scoring just .90 points per possession, shooting an effective field goal percentage of 42.3 and just 24.8 percent on 3s. That, of course, only has so much relevance as Indiana has proven throughout the season that it can score on very good defensive teams (Louisville and Butler) and in its most recent outing, the Hoosiers sliced right through an Illinois D that came in allowing .94 points per trip in Big Ten play for 1.2 points per possession.
The bigger battle here for the Hoosiers is keeping the Terps off the free throw line. Maryland has been winning Big Ten games because of its defense, but it's getting by offensively because of the foul line. The Terrapins have made 123 free throws in six Big Ten games. That's more than their conference opponents have attempted so far (118). Maryland is attempting 26.5 free throw attempts in Big Ten play and Indiana's league opponents are taking 16.6 free throw attempts on average per game.
WHAT IT COMES DOWN TO
The Pomeroy projection as of Wednesday is Maryland by 1, with just a 44 percent chance of an IU win. The Sagarin ratings view it as virtually dead even when adjusted for home court.
The free throw battle, as mentioned, is important, but whether Indiana is able to fare better offensively against Maryland than recent foes like Purdue (.91 PPP), Rutgers (.92 PPP) and Michigan State (.97 PPP) is equally vital. Maryland hasn't been great offensively away from home in Big Ten play, but its defense has traveled just fine as only Illinois (1.01 PPP) has managed better than a point per trip.
There's also the Assembly Hall factor, which can be game-changing if the environment is electric. Maryland has played well on the road with wins at Oklahoma State, Michigan State and Purdue, but there's nothing quite like Assembly Hall when IU is on a roll.
For the fifth time in six games, Indiana will be an underdog and its ability to buck the trend thus far has the Hoosiers playing for a share of the Big Ten lead. Will it continue or will Maryland forge ahead on its path to challenge Wisconsin for the league crown?
(Photo credit: Leon Halip/Getty Images North America)
Filed to: Maryland Terrapins