Five takeaways from Indiana's win over Penn State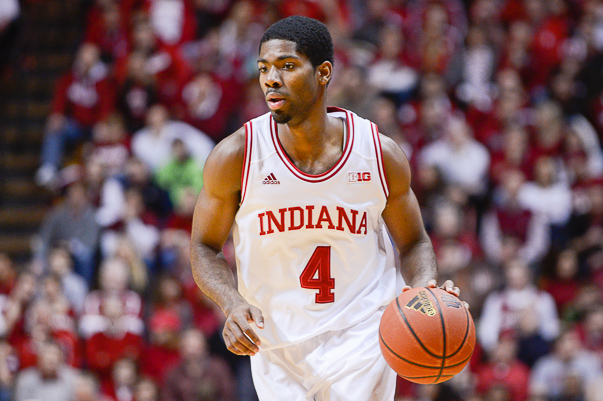 Indiana improved to 13-4 overall and 3-1 in the Big Ten on Tuesday night with a 79-76 win over Penn State that came down to the final possession.
Here's a look at five takeaways from the narrow victory over the Nittany Lions:
· Indiana is winning close games, even if it isn't pretty: The Hoosiers now have three conference wins and all of them have come by five points or less. In the last two, IU's opponent had a chance to tie the game on the final possession. It's a dangerous way to live, but so far it's a change from last season where IU simply didn't pull out many close games.
The concerning part on Tuesday was that Indiana built a double-digit lead on two occasions and was unable to pull away both times. Penn State deserves credit for battling back, but Indiana also had some empty possessions and mindless turnovers that fueled the Nittany Lions during their runs.
"Fortunately for us, we're learning how to win close games, which is something we didn't do a very good job of last year," Tom Crean said. "We've got three wins. They've come down to two possessions and the other ones have come down to one possession. Those three wins that we had a year ago was the opposite for us. So our guys are learning how to win those games. We were 2-6, I believe, in one-possession games last year."
· Robert Johnson had his best offensive performance yet: One of the most encouraging things about Indiana's offense this season is that different guys are showing the ability to rise up with a big game. On Tuesday, it was freshman Robert Johnson, who had a game-high 20 points on 7-of-11 shooting from the field. Johnson hit four of his six 3-point attempts and didn't have a turnover for just the second time this season.
Penn State had a couple of defensive breakdowns that allowed Johnson more time to get off a clear look and when he gets his feet set and stays underneath his shot, it typically goes in.
"My teammates had a lot of confidence in me, despite the shooting lulls me and a couple guys have been in," Johnson said. "It was a matter of getting back in the gym and getting a couple extra shots up. Guys like Stan (Robinson) and Troy (Williams) had the confidence to kick me the ball when I was open, so I took my time and knocked it down."
· Burton provides unlikely lift in key spot: Ryan Burton, who spent two seasons at one of the country's top Division II programs at Bellarmine University, hasn't been called upon to play much in first season at IU. But with Hanner Mosquera-Perea sidelined with a knee injury and freshman Emmitt Holt struggling to hold position on the glass, Crean looked down the bench and called Burton's number.
Burton entered at the 12:03 mark and the game tied at 51. When he exited with 6:43 to play, the Hoosiers led 69-59. Burton didn't score a point, but he grabbed three offensive rebounds and also had an assist in five key minutes.
"That's what this program is all about," Burton explained. "Like Stan said, you play on demand. So I came in and brought a lot of energy. We're all happy. I'm happy for our teammates. Coach (Chuck) Martin did a great job on the scout this week, like Rob said. We bring it in practice really hard. I'm just really happy for everybody."
· Newbill disappears in second half: Penn State senior guard D.J. Newbill came into the game as the conference's leading scorer at 21.3 points per game and through the first 20 minutes, it appeared he may be on his way to another big night. In the first half, Newbill had 10 points on 4-of-9 shooting, but Indiana made it much more difficult on him after the intermission.
Credit Yogi Ferrell for once again making it difficult on the opposition's best player as Newbill shot 1-of-6 in the second half. He did manage four assists, but Ferrell blanketed him, which forced other guys to step up and make plays.
"We gave up some other things, but we didn't get beat by D.J., and that's crucial," Crean said. "So we've got a couple days to assess and look and add some things, tweak some things, move some things around, and that's the fun of it."
· Hoosiers find offensive balance: As important as Johnson was, equally important was the fact that Indiana had three others score in double figures and a fourth player with eight points. Yogi Ferrell's seven points were just sixth best on the team on the night and the junior point guard against played the role of distributor with six assists.
Both Troy Williams and Stanford Robinson deserve mention for their effectiveness in attacking the bucket as does Collin Hartman for his clutch 3-pointer late that bumped the lead to seven with 2:03 to play.
In IU's three Big Ten wins, Ferrell is averaging less than eight points, but his willingness to facilitate for teammates shows that he continues to adapt to the personnel around him.
Filed to: Robert Johnson, Ryan Burton, Stanford Robinson