Notes, quotes from Tom Crean on Big Ten teleconference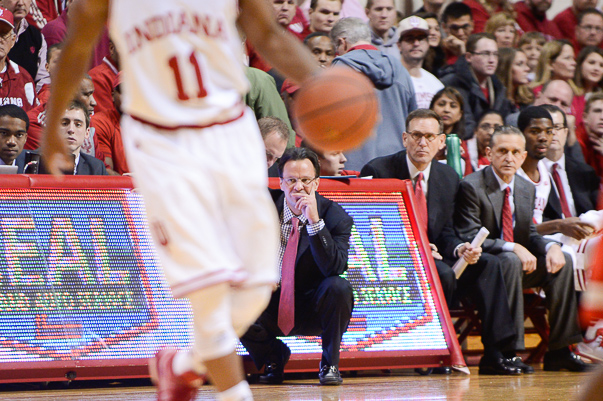 The Big Ten held its weekly coaches teleconference on Monday morning to review the second week of conference play. Here are some notes and quotes from Tom Crean's appearance:
· Opening statement: "We've got obviously a quick turnaround, we're playing tomorrow night against Penn State who has had a chance to rest and I'm sure get ready for this game. It's always a battle with Penn State. It doesn't matter what league you are in, Pat's (Chambers) teams compete, play as hard, play as physical really as anybody. We learned that first hand in here last year. We won at Penn State and then we lost the game at home and we've got make sure that we understand that when you're playing Penn State, you're playing for 40 minutes, minimum. They account for every second of the game and that's the only way you can really play. We have to have that kind of mentality. They can really score the ball and it's more than just D.J. Newbill. Obviously he's doing a fantastic job of scoring, he's one of the better scorers in the country, but again, it's their physicality, their ability to shoot quick, their ability to space the floor and put numerous guys out on the floor that can make shots that makes them so hard to play against and they do a great job of covering for each other defensively.
"That's one of the things in this league. You've got to be so strong and physical and quick with your cuts and setups and be ready to shoot, be ready to attack because people are not going to make many mistakes in this league and that's the same thing we dealt with this past Saturday with Ohio State is that they're going to take options away from you and you've got to be able to make plays, make reads, make cuts and at the same time when that shot goes up, you've got to make that offensive rebounding a big part of your offense. To us, that's where we've got to continue to make strides. That and on the defensive end with our transition and our ability to rebound the ball, continue to get consistent with that, but we're excited to come off of a win after being away for almost three weeks from home and turn right back around and play tomorrow night at home."
· Crean was asked whether the end of games are becoming too long with all of the timeouts and monitor reviews: "I don't know how the other coaches look at it because I've never really discussed it with them, but from my point of view, whatever it takes to win the game is the most important thing."
· On Emmitt Holt and how he's being evaluated at this time for a starting role: "I think again, so much is made of starting. That's another thing that, it's important, but it's not at the top of the list of how you plan and prepare for a game. Matchups sometimes are and that can play into the starting and certainly you have to look at what's best for your team at that given moment, but Emmitt has done a fantastic job of becoming a game player for us. He's not just a rotation player, he's not just a situational player, he's not just a spot filler. He's a player. And that's what you want to be. And for him, the key thing is bringing a lot of effort on the glass. He's got very good short space quickness and movement and mobility and now when his awareness, especially with what's going on behind him, and when he can talk it out a little bit better and he has more of a comfort level, that's the learning curve right now.
"Most young guys, and Emmitt is no different, they're trying to protect themselves in the sense of, they don't want to get scored upon or they want to make sure they're in the right place and they're not exactly confident yet on how to help somebody else be in the right place. So that becomes a part of it. He's getting better all of the time, he's got very good quick twitch, he gets to the glass quick, he's in the right place at the right time because he's moving. So to me, he is a guy that is a big part of our team and is capable of being consistent and he's capable of doing more and the bottom line is he just stays with what he's doing and continues to improve in practice, he'll be that way."
Filed to: Tom Crean