The Minute After: Ohio State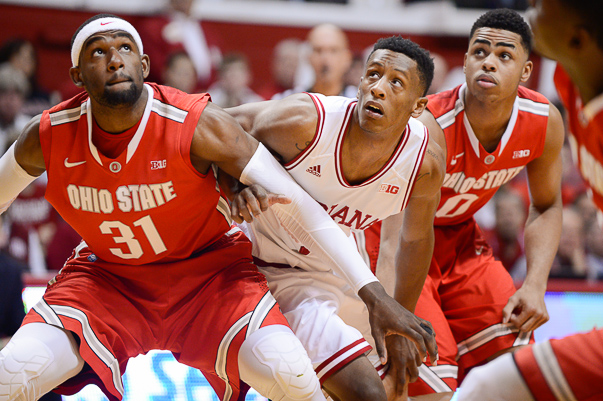 Thoughts on a 69-66 win over the Buckeyes:
The Buckeyes switched IU's dribble handoffs, containing the Hoosiers' offense on the perimeter. Indiana turned the ball over a few times. The Hoosiers couldn't find the hole. It was a shaky start for them back inside Assembly Hall.
But things changed. The Hoosiers started bringing energy and intensity and the crowd fed off it. A 9-2 deficit became as much as an 11-point lead (26-15) before they settled for a six-point advantage heading into break (32-26). Indiana, not known as a prolific rebounding team, was extraordinary on the boards in the first half, rebounding 48.8 percent of its misses to Ohio State's paltry 13.6 percent. It led to 12 second-chance points and was the difference in a half they turned it over far too much (27.7%) and couldn't hit from distance (3-of-12). At one point, the Hoosiers were able to get three offensive rebounds in a row, the last of which ended the possession with a Yogi Ferrell triple from the top of the key.
Troy Williams, after a forgettable performance against Michigan State, also was a big reason Indiana was able to win the lead in the first half and keep it to the final buzzer. Williams had eight points and eight boards (three offensive) at the break. He finished with a career-high 12 rebounds to go along with 15 points. Williams also had a pair of dunks — one in the halfcourt over Amir Williams and a double-clutch on the break — that brought the Assembly Hall faithful to a fever pitch. That latter dunk on the break was followed by a big time block from the sophomore on the other end. Williams also found James Blackmon Jr. for a 3-pointer early in the second half which started to really get him going.
The freshman was just 1-of-5 heading into halftime, but he got to the hoop for a score early in the second half and it seemed to ignite him. He hit the aforementioned 3-ball. He hit a floater. He also hit some key free throws down the stretch (5-of-5) — as did his backcourt mate Yogi Ferrell (7-of-8) — to keep Ohio State just a touch behind the Hoosiers as D'Angelo Russell's 3-ball try to tie the game at the buzzer didn't find the net.
The freshman finished the game 6-of-13 (18 points) after a strong second half. As Dan Dakich said on the call: "Water finds its level and James Blackmon's is really high."
Nick Zeisloft broke out of his prolonged shooting slump to hit two triples before halftime and scored eight points in this one. His play off the bench was a big reason Indiana found the momentum midway through the first 20 minutes. Ditto for Collin Hartman. Hartman made Hartman plays in both halves. He had three blocks and six rebounds on an afternoon where Hanner Mosquera-Perea picked up two early fouls and again was a non-factor, looking like a shadow of his best self. Hartman simply was in the right place at the right time on a few occasions and his hustle helped make sure the Hoosiers didn't blow this one.
With Mosquera-Perea only logging eight minutes in the contest, Emmitt Holt got the opportunity and seized it. Holt still shows inexperience — as only a guy who thought he'd be playing at prep school this winter and not in a tightly-contested major college conference showdown can. But he made the most of his time on the court. In 14 minutes, Holt gobbled up seven boards, scored five points and had two blocks. He stepped up when the Hoosiers needed him to.
Indiana's defense held in pretty well today against a strong Ohio State offensive squad, allowing under a point per possession (.98) while holding the Buckeyes to just a 36.6 effective field goal percentage.
This win is Indiana's modus operandi under Tom Crean inside Assembly Hall against ranked Big Ten squads. More often than not — now 11-2 over their last 13 shots at it — they come out with the victory.
Despite not closing this one out as strong as they could have, the Hoosiers start the Big Ten season at 2-1, including a split on the road and a win over No. 22 Ohio State. It's about as good a start as fans could have hoped with a winnable game against Penn State back in Assembly Hall on deck Tuesday evening.
Filed to: Ohio State Buckeyes