Notebook: Hoosiers rebound in 69-66 win over Ohio State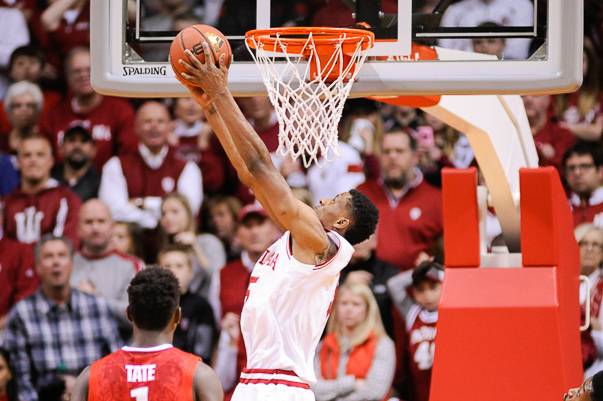 Early in Indiana's 69-66 win over Ohio State on Saturday, it was clear the Hoosiers' path to victory would not be as it had been in previous games this season.
The Hoosiers trailed, 9-2. They had turned the ball over five times in less than 4:30 of game time. They were shooting 1-for-4 from the field. Offense wouldn't be a given against the Buckeyes.
Instead, it was the Hoosiers' defense — forcing an Ohio State 23-of-67 shooting performance and a 3-of-21 mark from behind the arc — sparking the win, as they improved to a 12-4 record and 2-1 mark in Big Ten play in front of an announced 15,563 at Assembly Hall.
"I would say our defense is what changed the game," sophomore Troy Williams said. "As soon as we picked it up on defense, our defense led to our offense, and then after that, everything started to fall into place. We started to get into our flow. We started to get scoring runs and getting more and more rebounds and then pushing and starting the break."
Before the Hoosiers even stepped onto the court against the Buckeyes, Indiana coach Tom Crean prepared his team for a lack of offensive rhythm. "They are not going to give you a fluid offensive game," Crean said. He told his players they would have to create momentum through rebounding.
After the Hoosiers trailed 9-2, they took control of the boards. By the 6:15 mark of the first half, they established a 21-9 rebounding edge, including six offensive boards. The Hoosiers turned the game around and led, 24-15.
"Our shots were not falling for us but we picked up the slack on defense and that really gave us the push that we needed," freshman Emmitt Holt said. "Got out on the break. Got easy buckets."
By halftime, the Hoosiers had established a 30-15 rebounding edge and had 11 offensive boards. They had 12 second-chance points to the Buckeyes' four. And while the Hoosiers had nine turnovers, the Buckeyes had scored just six points off them. Indiana was getting stops.
The trend continued into the second half, despite an Ohio State comeback late. The Hoosiers continued to make stops — the Buckeyes shot just 35 percent in the second half and just 1-of-9 from 3-point range — and they continued to convert inside, shooting 57.9 percent on 2s in the final 20 minutes.
And as the game went to the free throw line in the closing minutes, the Hoosiers did not falter despite turnovers and fouls — finishing the game 9-of-9 at the line in the last 3:32.
"That was a hard-fought victory and we knew it would be," Crean said. "Any time you're playing Ohio State, you're going to have to play through a lot of things. You're going to have to play through some momentum swings and you're going to have to play through some lulls."
"We knew we needed to win the rebound game; we did by nine. We wanted to win the free throw attempt game; we won that by one. We had to have excellent three-point defense. Marc Loving was shooting 62 percent from three on the road. D'Angelo Russell was shooting, I believe, 53 percent in wins for them from the three. And to hold those two to 1-of-10 and you add Kam Williams, who is a tremendous shooter in his own right, was a key for us."
Blackmon ends scoring slump with 18-point performance
Early in the second half, freshman James Blackmon Jr. scored his fourth point of the afternoon on a layup. He followed it on the following possession with a 3-pointer in transition.
Those two baskets went on to spark Blackmon Jr., who finished with 18 points and seven rebounds in the Hoosiers' win over the Buckeyes.
"James, he's right there on the first couple lines of the scouting report, there's no doubt about that, with the opponent," Crean said. "So everybody knows that he's capable of shooting. But for him to continue to play when he went back in, he knew he needed to play better defense, and that's growth for James. For James to find layups and drive, foul, get three offensive rebounds, that's the growth we've got to have. And I thought he did a really good job of adjusting, as did Troy."
Blackmon's shooting struggles heading into Saturday's game were obvious: In his previous seven games, his 3-point shooting percentage was down more than 27 percentage points. In his previous six, his 2-point shooting percentage was down more than 27 percentage points as well.
But against the Buckeyes, Blackmon was "back in rhythm," finishing 6-of-13 from the field and 5-of-5 at the free throw line.
"I just have to do other things to get me going," Blackmon said. "Like today I hit the glass, started rebounding, and that got me going. I got a couple easy buckets and then I was back in rhythm."
Williams bounces back with double double
After Monday's loss at Michigan State in which Williams finished with no points and just one rebound, the sophomore forward said to himself he was never going to let that happen again. Crean said Williams was "embarrassed."
Through one game, Williams has stayed true to his promise. He scored 15 points and recorded a career-high 12 rebounds in 31 minutes of action against the Buckeyes.
"Going into Michigan State I didn't have the mindset I had going into this game," Williams said. "It was more just like, I was out of it, just didn't have any edge to me.
"In this game and the practices that led up to this game, I decided that's never going to happen again with me and I'm not going to let my team let down again because I know who gives energy to my team the most. I just came into this game and brought energy to it."
The result included three offensive rebounds, three assists, a block and multiple highlight-reel plays — including ones that Crean didn't even expect.
"When he's locked in, when he's coming up with some things during the game, I'm not filtering it — I'm saying, okay, let's do it," Crean said. "Because he sees the game. You know, he sees the game, he really does. That's why we're on him so hard to be better because he really has tremendous basketball sense."
Filed to: James Blackmon Jr., Ohio State Buckeyes, Tom Crean, Troy Williams