Notes, quotes from Tom Crean on Big Ten teleconference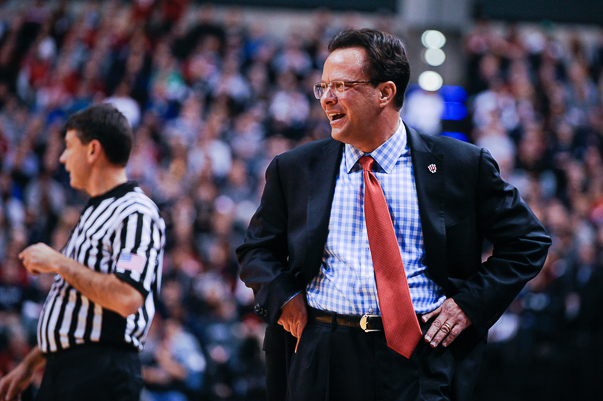 The Big Ten held its weekly coaches teleconference on Monday morning to review the first week of conference play. Here are some notes and quotes from Tom Crean's appearance:
· Opening statement: "Some of us understand the challenge this will be. Our young guys don't have any idea yet, but I think after going through the Nebraska game and with some of the teams we played in the non-conference they have a much better understanding of what it takes to win in these types of games. That this will be a tremendous challenge for us because Michigan State is doing so many good things on both ends of the court. The defense is at many times stifling because they take you out of so many things that you want to do and their offense is capable of scoring inside, in the mid-range and certainly they're one of the better 3-point shooting teams not only in the league but in the conference. So we're just getting our final adjustments made before our meetings this morning and this afternoon and we're excited to play."
· Crean was asked about the impact of freshmen Robert Johnson and James Blackmon Jr., and what the two mean to his team: "They're becoming more experienced by the day. I think the fact that we went to Montreal and got five games in a short period of time with those guys has been a help. They've consistently improved throughout the year. They're understanding the value of how good not only they can be in scoring the ball but certainly what they can do defensively, what they can do on the glass, what they can do as facilitators, what they can do as drivers, covers and everything that goes into the game. They have a seriousness about them that's been apparent — certainly when we recruited them — but it's been very, very apparent to everybody in the program really since they got there in the summertime. I mean, they really work hard on their game constantly. Always in the gym shooting. They're starting to watch more film on their own. They're very, very serious about getting better on their skills."
· On team health and whether he felt fortunate that the Hoosiers escaped injury during the non-conference season: "Well, we're managing it. I don't think there's any team that is ever completely healthy because they go hard and things come up in games. But we're managing it, I think that's what having a trainer, a doctor and a staff that really understands what they need. And we constantly talk about who needs some time off here, who needs to recover from this. And we've been fortunate that they may miss some practice time but they're not missing enough practice time that that hurts them into games. And that's really, really important that we manage guys daily and making sure that they're sharp and when they're not in there they're getting the mental and verbal reps. And at the same time that they're sharp enough that we can get them ready for games."
· On scouting Michigan State through Maryland game and his thoughts on the Terrapins: "Well, to both parts I would say this. We did show flow of the Maryland/Michigan State game. And we show a lot more in segments than we do flow, but that was one game that we showed. And the message was that you've just got to keep playing. Because Maryland missed shots that they normally make, Michigan State missed shots that they normally make but the whole key is to keep coming at them.
"And in answer to your second question, Maryland is very, very impressive in the fact that they play with great poise for such a young team. They move the ball extremely well — that's what you have to do against Michigan State. If you expect them to make a mistake, you'll be waiting all night long and going home with a 20-point loss. You have to keep the game moving and you have to keep making them make decisions throughout the game. You cannot let them just stand and be the help defenders that they are because their help defense is as good as anybody's in the country. And I thought Maryland did a really good job of not getting discouraged in the game and kept playing. And for a young team, that's a tremendous growth process right there. And I think Mark (Turgeon) has done a fantastic job. Well, Mark is a fantastic coach, that's not a secret to anybody in coaching. But I think the fact that he has a young team mixed in with some experience like Dez Wells and Evan Smotrycz — who knows the Big Ten — the guys that he has, I think it's been really impressive and I think they're going to be good for a really long time."
· On holding four of past five opponents to below 40 percent field goal rate and keys to defensive progress: "It's a sense of urgency. Ever since the Louisville game we've made strides in a lot of areas because nobody was happy with the way that we played. And we knew we left a lot on the table in that game in the sense of urgency, of defense, in the sense of physicality and tenacity of rebounding, poise on offense — we played too quick at times, our shots were quick when we needed to make another pass or one more pass after that. So I think we've grown in a lot of areas there.
"But I think it's individually-driven in the fact that you've got guys like Hanner Perea, Troy Williams, people of that nature that are really improving individually as defenders and as team defenders and rebounders. And I think our freshmen like James and Robert are getting more and more comfortable with what they have to do and they're gaining experience. And then it's guys like Collin Hartman, Nick Zeisloft, Yogi, people like that are continuing to make strides not only individually defensively but in team defense. Our communication is starting to improve, and I think that's a big part of it. And we're starting to understand more and more — we've still got to get better at defending the rim, much better at that — but we're starting to understand more and more how important it is that you don't overhelp on the ball and give up open threes, and especially now in league play that it's going to be absolutely crucial and probably never as crucial as it is tonight."
Filed to: Tom Crean