Hoosiers have no answer as Spartans roll, 70-50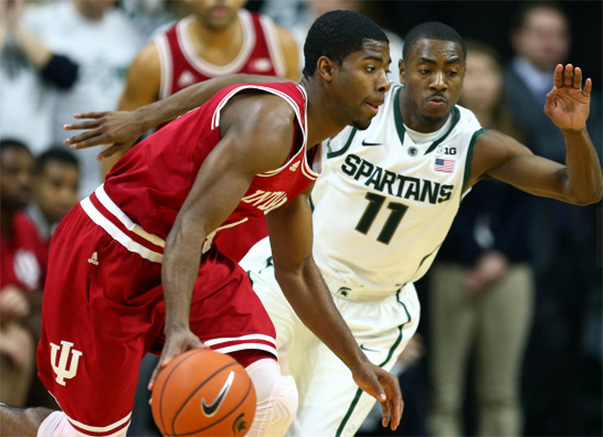 EAST LANSING, Mich. – Coming off a hard fought 70-65 win at Nebraska to open the Big Ten schedule on New Year's Eve, Indiana came into Monday's game at Michigan State excited.
But being excited to play and being ready to compete are two different things. And against a Michigan State team coming off of a double overtime home loss to Maryland, Indiana's lack of fight showed up early and often throughout the night in its second conference road game.
The result was an ugly 70-50 setback in which Michigan State led by 30 at one point and was never really challenged after racing out to a 13-2 lead.
"Our guys were excited to play, we practiced well, I don't think there's any doubt about that," Tom Crean said. "But being excited to play is a lot different from being ready to compete and fight with a team like Michigan State."
On a night where Michigan State would play arguably its most complete game of the season, Indiana suffered through its worst performance in 14 games.
The Hoosiers shot a season low effective field goal percentage of 32.5 and allowed the Spartans to rebound 50 percent of their missed shots. Hanner Mosquera-Perea and Troy Williams, who were both key performers in the New Year's Eve win in Lincoln, combined for no points and two rebonds in 27 minutes. And James Blackmon Jr. hit just one of his 14 field goal attempts in 32 minutes.
Besides Yogi Ferrell and Robert Johnson, no other IU player made more than two shots.
Crean said he was just as concerned coming into the game with how Indiana would score as how the Hoosiers would stop Michigan State and the Spartans justified those concerns by making the nation's 10th best offense look ordinary. The Hoosiers hit just 5 of their 24 attempts from behind the 3-point line and scored a season low .81 points per possession.
"We didn't cut with any urgency," Crean said. "Our cuts and screens were as soft as maybe any I've coached at Indiana, maybe anywhere."
At halftime, Indiana trailed 36-17 and by the 13:13 mark of the second half, the Michigan State lead had ballooned to 30 points. The Spartans were completely owning the glass as both Brandon Dawson (five offensive rebounds) and Gavin Schilling (four) contributed to a 17 to 3 advantage in second-chance points.
"I think the main thing was their rebounding," Yogi Ferrell, who was the only Hoosier in double figures with 17 points, said. "I feel like they killed us on the rebounding and we didn't have any effort on defense or rebounding."
With 13:49 to play, Crean had already subbed out Mosquera-Perea and Williams for the evening.
"In the second half, we played the guys that had some compete and fight and wanted to try to stand their ground a little bit," Crean explained.
The play of Williams and Mosquera-Perea in recent weeks has been a major bright spot for an Indiana team that seemed to be improving at a steady pace, so the fact that neither player contributed much of anything was clearly a setback.
"Troy didn't bring a competitive level tonight," Crean said. "He didn't play with any real resolve. He didn't get on the glass. You're not going to be good when the two guys that have to be rebounders for you get two rebounds between them."
The Hoosiers now get four days off before home games against Ohio State (Saturday) and Penn State (Tuesday).
How this team responds to its first performance of the season that offered very little in terms of positives to draw on should tell us plenty about where things go from here.
"A lot of us might not have been as ready as we needed to be for this game," Nick Zeisloft said. "We definitely need to learn from that and definitely get better from here on out and never come into a game like that again."
"Whether you win or lose, you got to bring it quickly," Crean said. "We will start responding again in the morning."
(Photo credit: Mike Carter-USA TODAY Sports)
Filed to: Michigan State Spartans, Nick Zeisloft, Tom Crean, Yogi Ferrell