What to Expect: Michigan State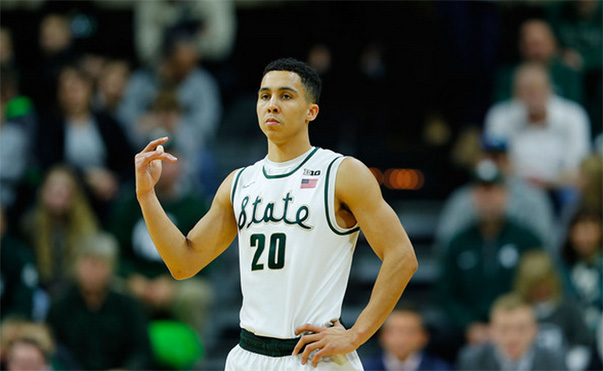 Indiana hits the road again for its second Big Ten game on Monday evening as the Hoosiers will be in East Lansing to take on Michigan State. The Spartans lost their conference opener at home, 68-66 in double overtime to Maryland, and are 9-5.
The game will be broadcast on BTN at 7 p.m. ET with Kevin Kugler and Seth Davis on the call:
It's a retooling year at Michigan State for Tom Izzo. The Spartans reached the Elite Eight last season, but injuries derailed a season that opened with the Spartans ranked No. 2 in both the coaches and Associated Press polls. The offseason brought roster turnover as Adriean Payne and Keith Appling graduated, Gary Harris left early for the NBA, Kenny Kaminski was dismissed and both Alex Gauna and Russell Byrd left the program.
Despite the losses, the Spartans still return a solid core of experience, led by junior Denzel Valentine and seniors Branden Dawson and Travis Trice. The program also added Cleveland State transfer Bryn Forbes, who was granted immediate eligibility, and a three-man recruiting class.
The personnel transition, however, hasn't been particularly smooth thus far as the Spartans are 0-4 against teams in the top 50 of Ken Pomeroy's ratings. Michigan State also lost at home last month in overtime to Texas Southern, which is 4-10. Even with the early setbacks, counting out an Izzo coached team would be unwise. The computers still love the Spartans: They are ranked No. 22 in Pomeroy as of Sunday and that model projects a 11-7 Big Ten finish. Coming off a narrow loss to Maryland, Michigan State will be desperate for a win to avoid a 0-2 start in the league with a trip to Iowa City looming.
PERSONNEL
Even with a significant amount of turnover, Izzo is still putting plenty of experience on the floor. The Spartans start two seniors and a trio of juniors. Two sophomores and three freshmen round out the rotation off the bench.
Branden Dawson, a native of Gary, came to East Lansing as a McDonald's All-American and while there was some speculation that Dawson might test the NBA waters, he ultimately decided to return for his senior season. A preseason first team All-America selection by The Sporting News, Dawson has missed three games already with injuries and isn't off to a particularly efficient start. His field goal percentage (47.3) and free throw percentage (39.3) are both as low as they've ever been in his career. However, he's still one of the elite rebounders in the conference, which makes him a key matchup for an IU team that has been vulnerable in that area.
Valentine, Forbes and Trice form a three-man backcourt that can really shoot it from distance. Valentine is hitting 46.9 percent of his 3s and Forbes isn't far behind at 44.9 percent. Trice is streaky on 3s (36.9), but is fully capable of knocking down five in a game from distance, something he's already done twice this season. All three are averaging in double figures with Trice the team leader at 13.9 points per game. Trice has also morphed into a very good distributor (34.1 assist rate, 5.9 per game) and is taking care of the ball better than any other player on the roster (12.9 percent turnover rate).
The five position is essentially a platoon with junior Matt Costello as the starter and sophomore Gavin Schilling as the backup. Costello is the better rebounder of the two (top 75 nationally in both offensive and defensive rebounding percentage) and both are shooting 65 percent or better on 2s.
The other four Spartans who will likely see time on Monday are a mixed bag in terms of production. Freshman Marvin Clark, a former IU recruiting target, is making close to 41 percent of his 3s and is sixth on the team in scoring (7.3 ppg) despite playing just under 14 minutes per contest. His high school teammate, freshman point guard Lourawls Nairn, who was also recruited by Indiana, is a pure distributor (25.8 assist rate) who really struggles to score (18.5 field goal percentage).
Freshman forward Javon Bess missed the team's first 10 games due to injury, but Izzo said on Saturday that he could see increased time against the Hoosiers. Sophomore guard Alvin Ellis III played a season-high 22 minutes against Maryland, but is just 5-of-18 from the field this season.
A LOOK AT THE NUMBERS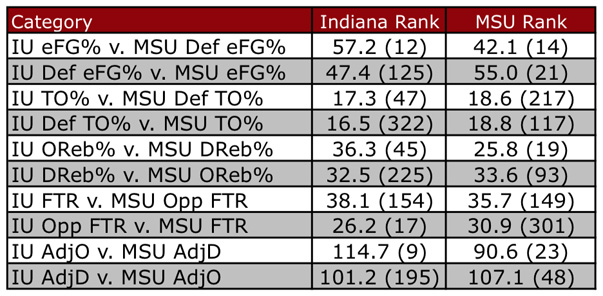 Michigan State should give a much better indication of whether Indiana has improved defensively in recent weeks as the Spartans rank in the top 50 nationally in adjusted offensive efficiency despite scoring just .80 points per possession against Maryland.
The Spartans present quite the challenge, particularly from outside the 3-point arc and in the paint. Here's their shot chart for the season to date, via Shot Analytics: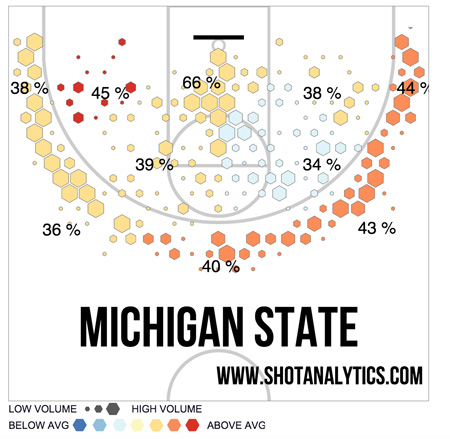 The 3-point success is shaded toward the right side, particularly for Trice and Valentine. Trice is 45 percent on right wing 3s while Valentine is 53 percent on right wing 3s and 69 percent on right corner 3s. Forbes is a tough cover from three different spots: left corner 3 (52 percent), left wing 3 (45 percent) and right wing 3 (47 percent).
This isn't a vintage Michigan State team that dominates the glass, so Indiana must hold its own there and also look to get to the free throw line. The Spartans aren't getting to the line much at all (301st nationally) and are making just 63.7 of their attempts from the stripe, so if Indiana can get there and shoot near its season average, it should be an advantage for the Hoosiers.
Like Indiana, Michigan State isn't turning teams over much, so this one could ultimately come down to which team takes care of the ball better in the halfcourt. Indiana's turnover percentage (17.3) is a big reason for its offensive turnaround this season, but the Georgetown (21.8 TO%) loss showed just how costly a few wasted possessions can be to the outcome of a game.
WHAT IT COMES DOWN TO
The "Izzone" won't be at full strength due to winter break, but the Breslin Center is still one of the best atmospheres in college basketball. A young Indiana team should have some confidence going into a hostile environment after pulling out a win at Nebraska, but Michigan State will be desperate for a win to avoid a 0-2 conference start.
Pomeroy likes Michigan State fairly comfortably with a predicted seven-point margin and just a 24 percent chance for an IU win. Sagarin likes the Spartans, too, but by just five.
This game could be a crossroads of sorts for Michigan State as digging out of a 0-2 start at home in league play is a tough ask for any team. And for Indiana, a 2-0 start on the road in Big Ten play would be a huge confidence boost for a team that didn't play a true road game in the non-conference.
(Photo credit: Leon Halip/Getty Images)
Filed to: Michigan State Spartans