Notebook: Indiana withstands Nebraska run for 70-65 win in Lincoln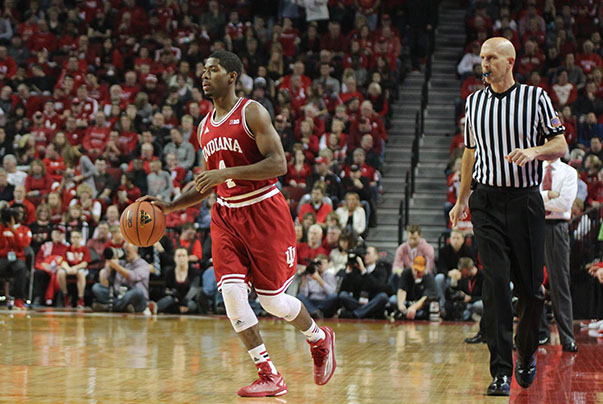 Before Wednesday's New Year's Eve game at Nebraska, Indiana's coaches and players discussed last season's loss to the Cornhuskers in Lincoln. The Hoosiers led by 16 points in the first half, only for Nebraska to come back and win by five points.
The staff warned the players of Nebraska's ability to create runs and momentum swings, especially in Pinnacle Bank Arena — in which the Cornhuskers had only ever lost three times.
"They've got good offensive players," Indiana coach Tom Crean said. "They know how to score. They've got a veteran group. They're certainly well-coached. You know they're going to make runs."
And on Wednesday, the Hoosiers found themselves in a familiar position.
Leading by as much as 16 points in the first half, the Cornhuskers stormed back to take a four-point lead in the second half. But that was the extent of Nebraska's success.
The Hoosiers then went on a 23-6 run late in the second half, ending up in a 70-65 win over the Cornhuskers — their first win at Nebraska since it joined the Big Ten in 2011 and their first win against Nebraska in Lincoln since 1942.
"We've been practicing hard for this game, for games like this," said junior Hanner Mosquera-Perea, who finished with his first career double double of 12 points and 10 rebounds. "We knew what we were getting ourselves into. So we just needed to come out there and be ready for anything."
As the Cornhuskers went on their 26-6 run from 3:48 of the first half to 14:46 of the second half, the Hoosiers knew the key moving forward would be making defensive stops, said freshman Robert Johnson.
After Nebraska led, 48-44 at the 14:46 mark, it went 2-for-12 from the field along with five turnovers. By that point, Indiana's lead was an insurmountable 67-54 margin.
"That was really important," Crean said. "That's a great sign of maturity for us."
"The key was defense," Johnson added. "Once we start scoring and getting out and running and getting stops, along with that we were able to stretch out and get a lead. I think that's going to be the key going forward is defense, because that's going to translate into transition and things like that."
Hoosiers overcome lackluster 3-point shooting effort
Indiana finished Wednesday's game with just seven 3-pointers — tied for a season-low effort — on just a 29.2 percent shooting rate from behind the arc.
But to the Hoosiers, who have relied heavily on the 3-point shot this season, the number did not really matter against Nebraska.
Heading into the game, Crean said, the Hoosiers wanted to play through the paint. It was where they were most effective on offense — a key to Wednesday's game. They practiced it in the days leading up to it.
And against the Cornhuskers, Indiana had 38 points in the paint to Nebraska's 26. The Hoosiers also finished with 13 assists and a 55.6 shooting percentage on 2s.
"Something we always talk about is not only just threes but playing through the paint," Johnson said. "Whether that's a three or actually scoring in the paint. As long as we're playing through the paint, we're pretty much content with the shots we get. It's always going to be a good shot."
Ferrell, on quiet scoring night, makes big impact
Despite scoring just five points against Nebraska, junior Yogi Ferrell – Indiana's second leading scorer with 16.3 points per game — made his impact on Wednesday as being a facilitator.
After noticing early he was being guarded extremely tight, he told BTN following the game, he said he switched his role within the game from being a scorer to creating opportunities for his teammates.
The result: Ferrell finished with eight assists — his most this season — to just one turnover in 35 minutes of action.
"I thought he did a fantastic job," Crean said. "They were extremely physical with him. Extremely. Bottom line is he played through that. He's a very tough person."
Filed to: Nebraska Cornhuskers