Five takeaways from Indiana's win at Nebraska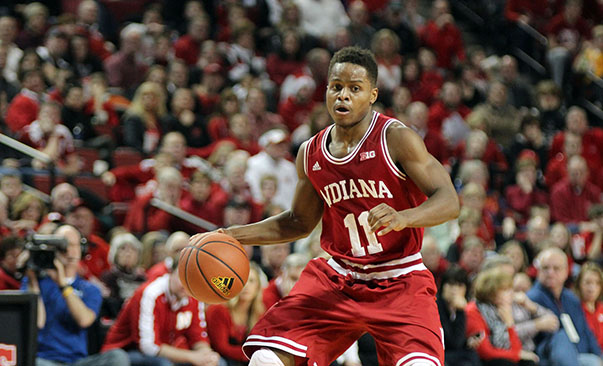 Indiana moved to 1-0 in the Big Ten and 11-3 overall with a hard fought 70-65 win at Nebraska on Wednesday at Pinnacle Bank Arena. Here's a look at five takeaways from the win over the Cornhuskers:
· The Hoosiers controlled the pace: Tom Crean has talked about his wish to play faster this season dating all the way back to Indiana's trip to Montreal in August, but many wondered if the Hoosiers would be able to do so once league play arrived.
IU passed the first tempo test as the Hoosiers played a 68-possession contest with the Huskers, including 36 in the first half. For a reference point, Indiana had just 60 possessions in last year's 60-55 loss at Nebraska and only 64 in the 70-60 loss to the Huskers at Assembly Hall.
The extra possessions are significant particularly when Indiana is taking care of the ball as the Hoosiers did last night. IU turned it over on just 16.3 percent of its possessions against the nation's 18th best defense coming into the game.
"I think we played at their pace too much (in the first half)," Nebraska coach Tim Miles said. "Anytime you're going to miss against Indiana right at the rim, they are going to make you pay. They really got us in transition. They really hurt us and were able to build the lead."
· Hanner Mosquera-Perea was dominant down the stretch: IU's junior big man logged just four first half minutes due to fouls, which is one of the few times this season he's been in that predicament. With a comfortable lead and Emmitt Holt playing well, Crean opted to keep Mosquera-Perea on the bench to avoid a third foul and was rewarded in the second half.
In 18 second half minutes, Mosquera-Perea had 11 points and seven rebounds and he finished with his first career double-double (12 points and 10 rebounds).
Whether this type of production from Mosquera-Perea has finally arrived and is here to stay remains a question, but he's certainly played better in recent weeks. Over IU's last six games, the Colombia native is averaging 9.2 points, seven rebounds and 2.2 blocks in 24.5 minutes per contest.
· Ferrell leads as a facilitator, Williams comes out of the gate strong: Last season, Indiana did not have enough scorers around Yogi Ferrell to put up 70 points in a game where Ferrell only scored five. But this is a new year and a much improved offense.
Nebraska's game plan was to play Ferrell with physicality on the perimeter and not leave him any space to find shots, so he adjusted and acted as a facilitator. The result? Ferrell found Mosquera-Perea with a couple of key second half lobs and finished with eight assists and just one turnover.
"Scoring, who scores, if you've got a team that's really moving the ball, there's going to be some nights where it's really going for certain guys and some nights it is not," Crean said. "I thought he did a fantastic job. They were extremely physical with him. He played through that. He's a very tough person."
Troy Williams was quiet in the second half, but his nine first half points were a major reason Indiana built a 16-point lead. Williams finished with 13 points and six rebounds and his improved ball handling and passing are essential to Indiana's explosive offense.
· Johnson comes up big in first true road game: Freshman guard Robert Johnson had scored in double figures just once in IU's last five games entering Wednesday, but the Richmond (Va.) native scored seven of IU's first eight points on his way to a team-high 14 points.
Johnson shot 5-of-9 from the field, including 3-of-6 on 3s and the fact that IU thrived on the road with a combined 13 points from its two leading scorers (James Blackmon Jr. and Ferrell) has to be viewed as an encouraging sign.
"It feels good. It's a conference game and it's the conference opener," Johnson said. "You want to come in and get a win. We came into a hostile environment at times and were able to pull out a win down the stretch. I think that's good, especially for me and the other young guys."
· Nebraska needs another scorer to find success: The Cornhuskers sit at just 8-5 overall after being ranked in the AP Top 25 to begin the season and if Miles is going to orchestrate a turnaround similar to last season, he needs a third scorer to emerge.
Terran Petteway (23 points) and Shavon Shields (20 points) did their part on Wednesday as they've done all season, but beyond Walter Pitchford's 11 points, no other player scored more than four points. The returns of Leslee Smith and Moses Abraham can't come soon enough for Nebraska as Smith in particular should open things up offensively in the paint.
Ultimately, Indiana may look back on this game and feel fortunate to have played Nebraska, which is only playing seven guys, early in the conference season rather than late. After starting 0-4 in the Big Ten a season ago, the Cornhuskers won 11 of 14 to finish 11-7 in league play. A similar turnaround may be too optimistic of a view for this team, but it will improve once Smith and Abraham return.
Filed to: Hanner Mosquera-Perea, Nebraska Cornhuskers, Robert Johnson, Troy Williams, Yogi Ferrell