A non-conference player-by-player breakdown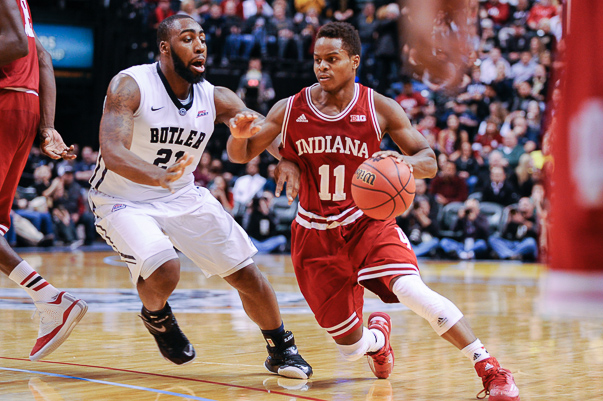 The non-conference portion of IU's schedule is complete and the Hoosiers are 10-3 heading into Wednesday's Big Ten opener in Lincoln.
Here's a player-by-player look at how each Hoosier performed in the non-conference portion of IU's schedule:
Yogi Ferrell – 17.2 ppg, 4.8 apg, 3.7 rpg, 56.1 effective field goal percentage
The junior from Indianapolis has been remarkably consistent as he's scored in double figures in 12 of IU's 13 games and his 3-point shooting is up to 47.5 percent. Ferrell is second on the team in scoring, first in assists, first in free throws made and second in 3-pointers made.
His assist-to-turnover ratio is better than 2-to-1 and as the team's point guard, he must be given credit for leading the way in improving the turnover issues that plagued last year's team. Ferrell came into the season with major expectations after a breakout sophomore campaign and he's met them so far. As the Hoosiers enter the Big Ten, they'll rely heavily on his experience to navigate a schedule that is front loaded with tough games.
James Blackmon Jr. – 17.9 ppg, 5.2 rpg, 57.1 effective field goal percentage
Touted as arguably the nation's best incoming shooter, Blackmon Jr. has lived up to the billing. His effortless stroke has been effective from both the perimeter (44.3 percent on 3s) and the foul line (87 percent). Like Ferrell, Blackmon Jr. has scored in double figures in 12 of IU's 13 games. His even keel demeanor and approach to the game are uncommon for a freshman and he rarely gets rattled. Via Shot Analytics, here's a look at Blackmon Jr.'s shot chart through 13 games: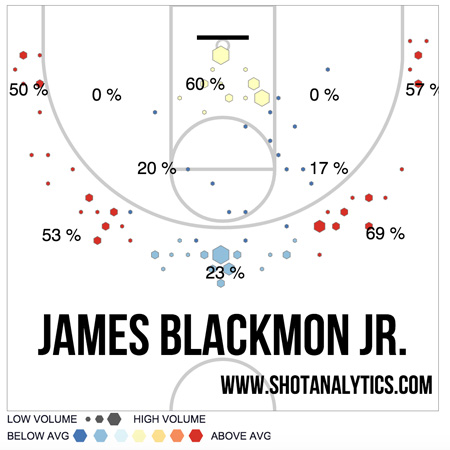 If there's been a downside for Blackmon Jr., it's been his defense. Beyond Ferrell, Indiana hasn't developed consistency with its perimeter defense and like many freshmen, there remains plenty of room for growth in this area for Blackmon Jr.
Troy Williams – 13.6 ppg, 6.0 rpg, 59.5 effective field goal percentage, 9.4 offensive rebounding percentage
Arguably the best pure talent on the roster, Williams appears to be hitting his stride just in time for the start of conference play. Over his last three games, he's averaging 17.6 points, 8.3 rebounds and is shooting 61.7 percent from the field. Williams has also dropped his turnover percentage by nearly eight percent from his freshman season and while he's still careless at times with the ball, the high octane nature of his game is a joy to watch.
While Ferrell remains Indiana's best player, the emergence of Williams may ultimately determine where the season ends up for the Hoosiers. If Williams can continue to improve on the glass and plays smart, efficient basketball, Indiana will continue to be one of the toughest teams to cover in not only the Big Ten, but the entire country.
Robert Johnson – 9.5 ppg, 3.9 rpg, 3.0 apg, 56.9 effective field goal percentage
Like Blackmon Jr., Johnson's demeanor is uncommon for a freshman. He's not easily rattled and he typically makes the smart play rather than going for the home run. His offense has slowed down considerably in recent weeks (double figures just once in IU's last five games) and he's also committed 11 turnovers in that same span, but the positives have far outweighed the negatives.
Johnson is hitting 41.5 percent of his 3s and 52.8 percent of his 2s. As IU enters Big Ten play, they'll need Johnson to do a better job of taking care of the ball (25.4 turnover percentage) and also become more reliable from the foul line (69.6 percent).
Hanner Mosquera-Perea – 7.8 ppg, 5.2 rpg, 1.8 bpg, 63.9 field goal percentage
The transformation hasn't happened over night, but the Colombia native continues to improve in his third collegiate season. His rebounding numbers still aren't where they need to be, but Mosquera-Perea has 11 blocks over IU's last three games and his instincts are improving as he gains experience. Indiana doesn't ask Mosquera-Perea to score much, but he's converting on the opportunities he's receiving for the most part.
He's struggled from the free throw line (57.1 percent), which is a bit of a surprise after he hit better than 70 percent last season. The rebounding piece remains the pivotal piece for Mosquera-Perea, who has proven he can hold his own against top level competition, but now must do it consistently.
Nick Zeisloft – 6.8 ppg, 2.6 rpg, 62.5 effective field goal percentage
Zeisloft was a starter to begin the season due to suspensions, but is now coming off the bench as a 3-point specialist. Of his 68 field goal attempts, 62 have come from behind the 3-point line and he's making 40.3 percent.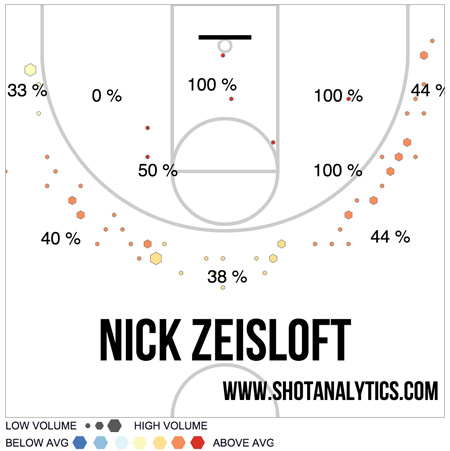 Beyond the shooting, Zeisloft seems to have emerged as a leader on a team that desperately needed one. In the aftermath of the Devin Davis accident, it was Zeisloft who addressed the media despite just joining the program over the summer.
Collin Hartman – 4.8 ppg, 3.8 rpg, 66.2 effective field goal percentage
Not only has Hartman overcome a major injury, he's emerged as one of the better stories on this IU team. Many, myself included, wondered if he'd even have a role on this team. Not only does he have a role, he's emerged as a player that Tom Crean trusts in key situations. In IU's win over Butler, Hartman started the second half and played down the stretch. He's improved his outside shot (45 percent on 3s) and his offensive rebounding percentage (12.9) ranks in the top 100 nationally. On the negative side of things for Hartman: In 33 combined minutes against Louisville and Georgetown, he took no shots and scored just two points.
Emmitt Holt – 5.0 ppg, 2.8 rpg, 1.1 bpg, 80.0 field goal percentage
Holt's shining moment so far was his performance against Pittsburgh when he came off the bench for 15 points and five rebounds in 19 minutes. Since then, he's struggled a bit in limited minutes. In IU's last two "marquee" games, Holt has played just 11 minutes and was scoreless with two rebounds. With Mosquera-Perea as the clear starter at the five, Indiana needs Holt to rebound and challenge shots when he's in the game. His playing time will likely be tied to both of those factors as Crean has shown in recent weeks that he's comfortable going with smaller lineups while Mosquera-Perea gets a rest.
Stanford Robinson – 3.4 ppg, 2.0 rpg, 1.8 apg, 28.2 effective field goal percentage
Robinson's transition from a left-handed shooter to a righty has been a struggle. He's making just 48.4 percent of his free throws, 34.4 percent of his 2s and has missed all seven of his 3-point attempts. As a result, Robinson is a fringe rotation player at this point, and it's tough to justify playing him more with much better offensive options ahead of him. If Robinson is going to carve out a bigger role on this team, he's going to have to finish at the rim, shoot better from the line and separate himself as a defender.
Max Hoetzel – 3.5 ppg, 2.0 rpg, 54.5 effective field goal percentage
Hoetzel wasn't highly ranked coming out of high school, but he plays as if he knows he belongs, which is a big reason that Crean hasn't been afraid to throw him in the mix. He's making just 35.3 percent of his 3s, but does a pretty good job on the defensive glass (16.8 DR%) and is also making 56.2 percent of his 2s. He's behind Zeisloft and Hartman on the depth chart, but looks like a candidate to continue playing 5 to 10 minutes per game as long as he continues to do so confidently.
All tempo-free stats via KenPom.com.
Filed to: Hanner Mosquera-Perea, James Blackmon Jr., Robert Johnson, Troy Williams, Yogi Ferrell