What to Expect: Butler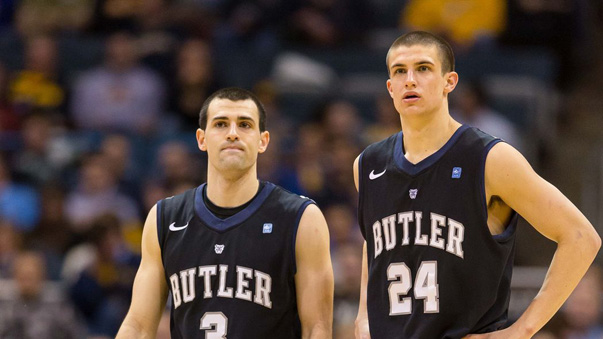 After a week hiatus, Indiana returns to the floor following a week of final exams for a meeting with No. 23 Butler in the Crossroads Classic at Bankers Life Fieldhouse.
The game will tip at 2:30 p.m. ET and will be broadcast on Fox Sports 1:
Whether you're a fan of the event or not, the Crossroads Classic returns for a fourth year on Saturday and will continue for the foreseeable future. Billed as a showcase of the state's top four programs, Indiana, Butler, Purdue and Notre Dame come together each year for a day in late December in the state's capital.
It's an event that is heavily reliant on Indiana fans to sell tickets and the program's long term involvement in such an arrangement raises some questions. Chief among them is the fact that Indiana's participation in the Crossroads Classic forced the program to miss out on the CBS Sports Classic, which was formed with the goal of bringing together the four programs with the most national championships. With Indiana out, the event moved on to Ohio State and now the Buckeyes, North Carolina, Kentucky and UCLA will play a national showcase on CBS this weekend while Indiana takes a backseat on Fox Sports 1.
Nonetheless, the Crossroads Classic moves on as an event that feels stale, offers very little in terms of national buzz and puts the Hoosiers in a no-win situation. Win, like the program did in year one of the event over Notre Dame, and it's ho hum. Lose, like the program has the last two years to Butler and Notre Dame, and it's, "what's wrong with Indiana?"
A LOOK AT BUTLER
After a disappointing 14-17 campaign, expectations for Butler coming into this season weren't high. Second year coach Brandon Miller took a leave of absence prior to the season and with his return unlikely, the keys to the program have been handed over to Chris Holtmann, who is off to an 8-2 start and is making a solid case to become the permanent head man after Miller's situation is formally resolved.
The Bulldogs are battle tested through 10 games with wins over North Carolina and Georgetown and losses to Oklahoma and most recently, a loss at Tennessee, which set the program back eight spots in the latest Associated Press top 25 poll.
Butler's eight-man rotation is led by junior guard Kellen Dunham, who averages a team-high 16.8 points per game. Dunham is hitting 45.5 percent of his 3s and is doing a very good job of getting to the foul line, where he's converting at an 87 percent clip. After failing to eclipse 35 percent shooting from distance in his first two seasons, Dunham finally seems to have found his groove and Butler is benefiting greatly as a result.
Joining Dunham in the backcourt are junior Roosevelt Jones, who missed last season with an injury, and senior Alex Barlow, who has transformed from a walk-on to a savvy floor general. Jones, powerful at 6-foot-4 and 227 pounds, is a solid distributor (30.3 percent assist rate) and essentially tries to bully his way to the bucket for easy looks. He's not particularly efficient from the field (41.5 percent) or the foul line (60.9 percent), but his physicality could present problems for Indiana if the Hoosiers fail to match it. As for Barlow, he's a pesky defender (4.7 percent steal rate), but isn't much of a threat to score and when he does shoot, 65 percent of his attempts are 3s where he's only hitting 30.8 percent.
Freshman Kelan Martin comes off the bench and is the team's second leading scorer (10.8 ppg) and uses 29.9 percent of the team's possessions while on the floor. Martin is making 59.1 percent of his 2s, but is making just 33.3 percent of his 3s.
Up front, senior Kameron Woods is Butler's tallest player at 6-foot-9 and he's complemented in the lineup by 6-foot-7 sophomore Andrew Chrabascz. Woods averages a team-high 9.1 rebounds per game and ranks as one of the top 30 defensive rebounders in the country according to KenPom.com. His length also allows him to challenge, alter and ultimately block a fair amount of shots (5.1 block percentage). His 49.1 shooting percentage on 2s isn't particularly good for a player of his size and he checks in as an average free throw shooter (61.1 percent). Chrabascz is fourth on the team in scoring at 8.5 points per game, but isn't particularly efficient (49.3 eFG%). He's shooting less than 60 percent from the foul line and just 29.4 percent on 3s.
The frontcourt backups are junior Austin Etherington and freshman Tyler Wideman. Etherington, like he did in his time in Bloomington, has struggled from the perimeter (29.4 percent on 3s) while Wideman, who is 6-foot-8 and 245 pounds, can carve out space, is a solid defensive rebounder and finishes the opportunities he receives as he's making 60 percent of his 2s.
TEMPO-FREE PREVIEW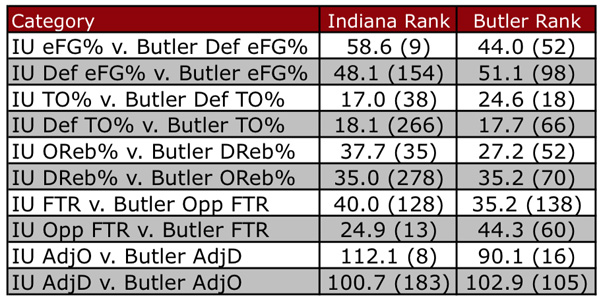 Indiana's elite offense will receive a stiff test as Butler rolls out a top 20 defense nationally that has been limiting teams to just 25.6 percent shooting on 3s. The caveat on the 3-point defense is that the Bulldogs haven't played a team ranked better than 153rd nationally in 3-point shooting and IU currently checks in at No. 11 nationally in that regard.
Turnovers will also loom large as both teams take care of the ball well, but Butler is doing a much better job of forcing turnovers than the Hoosiers. The same holds true for rebounding, where both clubs do a nice job of hitting the offensive glass, but the Bulldogs do a much better job of hitting the defensive boards.
As for where Butler is most effective offensively, here's a scouting report from our friends at Shot Analytics: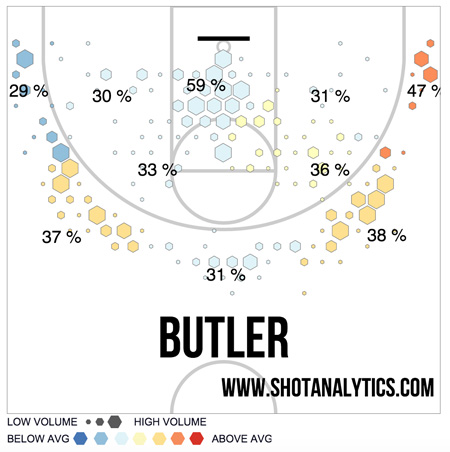 The right corner 3 is a strength of Dunham (67 percent), but he's taking a much higher volume of his 3s from the right (43 percent) and left (42 percent) wings. It'll be interesting to see how Indiana approaches this game defensively as a zone could be effective if Dunham is accounted for given that he's the only player on the team making better than 33.3 percent from distance. That said, if Indiana can't contain dribble penetration from guys like Dunham and Barlow, the defense deployed may not ultimately matter.
WHAT IT COMES DOWN TO
The Pomeroy prediction likes Butler by two with a 43 chance of an IU win while the Sagarin rating likes Butler by close to six.
Indiana's game against Louisville should be helpful going into this one as Butler is physical on defense, but don't have near the size or athleticism that IU saw against the Cardinals in Madison Square Garden. And given that Indiana put up 74 points on Louisville, the nation's top ranked defense, limiting Butler on the glass and taking care of the ball will likely determine the outcome.
With just three games remaining prior to Big Ten play, this is a game that would help solidify Indiana's chances at 10 non-conference wins and put the Hoosiers in the conversation as a potential NCAA tournament team. A loss would amp up the pressure for a win over Georgetown on Dec. 27 at Madison Square Garden and also mark the program's third defeat in four tries at the Crossroads Classic.
Filed to: Butler Bulldogs