News and notes from Tom Crean's weekly radio show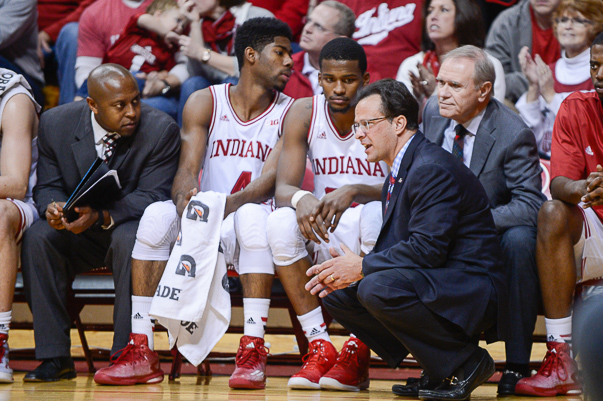 On Monday evening, Indiana coach Tom Crean spoke at his weekly radio show hosted by Don Fischer and recapped the Hoosiers' games against Louisville and Grand Canyon, while also looking ahead to finals week and the Butler game on Saturday.
Below are news and notes from what the Hoosiers' coach had to say:
· Heading into Indiana's game against Grand Canyon, Crean took note that it appeared his team did not lose focus by the lower-quality opponent following the game against No. 4 Louisville on Tuesday. When teams get distracted and don't take each opponent seriously, Crean said, the team loses sight of improvement and the distraction starts to seep into practices. But against the Antelopes, the Hoosiers maintained focus. And Crean said it's important the team continues to show that moving forward.
· Indiana's second-half performance against Grand Canyon was exactly what Crean was hoping for, especially after a first half in which the Hoosiers went 5-of-15 from plays through the paint. In the first half, the Hoosiers took too many shots after relaxing instead of playing for the best shot, and they led just 42-31 at the break. But in the second half, Crean noted, his team "dug a bit deeper" and played to get the best shot. The result: a 28-point win and a 37-of-43 rate from plays that went through the paint in the second half.
· Crean said that he has seen freshmen James Blackmon Jr. and Robert Johnson go "through walls already" in their short time in Bloomington, and that the two (along with freshman Max Hoetzel) don't stop working. In fact, Crean found the three on the court on Sunday — an off day — in a full sweat in between study halls.
· When asked about Blackmon's continued improvement, Crean said he is a great learner. After each practice, Crean said he asks "What did you learn today?" And the Hoosiers' coach always enjoys to hear his responses. As far as what Crean hopes Blackmon will improve on most: stepping back more – allowing more spacing for his 3-point shots.
· The second caller of the show asked Crean about Louisville's mannerisms on the court on Tuesday and how Crean dealt with it. He responded that the reason he always bring referees into practice is not just for calling fouls but also to make sure things aren't about themselves. To try to curb selfishness. Crean noted that there is a fine line of competing and really being an aggressor, and that Louisville is aggressive. But Crean said the Cardinals have earned it, that it's part of their persona and that teams have to deal with that. On Tuesday, Crean said, the Hoosiers were not on the glass the way they needed to be, and that Louisville deserved to win. But he also said, in response to the question, that he always tells his players beforehand that he does not want to play the next game without them — a warning to not put themselves in that position.
· Crean said there has been no decision on whether Devin Davis will play this season, and that plans are in place one way or another. The Hoosiers are not sure if Davis will be able to use a redshirt, but Crean said he is making sure all steps are taken so that he could if he does not play this season. Crean noted Davis has had a great attitude and that he is working "extremely hard" in rehabilitation in Indianapolis, and that the next step in his recovery is to be cleared to sit on the bench during games. But Davis's long-term health is Crean's biggest priority, and he hinted that he is in no rush to get Davis back on the court.
· One caller asked how the Hoosiers will prepare for bigger teams like Ohio State, Michigan State. Crean's response: "Make them catch us. Play even faster." Crean said in those games, like any game, the Hoosiers can control block-out effort and getting better at the offensive glass. And that will be the biggest priorities in having success against teams that have a size advantage against the Hoosiers this season.
· Crean was asked about Troy Williams' improvement, but the Hoosiers' coach went on to compare the sophomore to Victor Oladipo. "There's no question he goes too fast sometimes," Crean said. But the Hoosiers coach noted he would rather have that than him not pressing teams. As part of Williams' continued improvement, Crean said he must become a great basketball player inside of his athleticism. He can make dunks, Crean said, but finishing is the biggest priority. In fact, during Monday's practice, Crean forced Williams to finish only with layups. Through their first 40 games, also, Crean noted Williams and Oladipo share quite similar statistics. But Oladipo learned how to be complete and efficient. Williams, Crean said, is on that same path, though he cautiously noted there are no guarantees the result would be the same.
· Crean offered a bit of a preview on Saturday's Crossroads Classic battle against Butler, saying the Bulldogs are "the real deal. There's no doubt about that." He noted that Butler is an older team that has a lot of experience, that it is physical on both ends of the court yet is disciplined and also has a very good team dynamic. On Saturday following the Grand Canyon game, he also noted the Bulldogs present multiple match-up issues. "It's going to be a very, very challenging game for us," Crean said on Monday.
· Finally, as it is final exam week in Bloomington, this week's practices are flexible based on when the team has free time. But Crean made sure to note that the priority is classes, and that his players are prepared mentally for their exams — through having time off and not having long, exhausting practices this week. That said, Crean said he must get his team to be efficient and improve through the shortened practices while also installing a game plan for Saturday. Crean said he already is excited to play when Saturday comes. The Hoosiers will finally not have much else on their minds.
Filed to: Tom Crean