Five takeaways from Indiana's win over Grand Canyon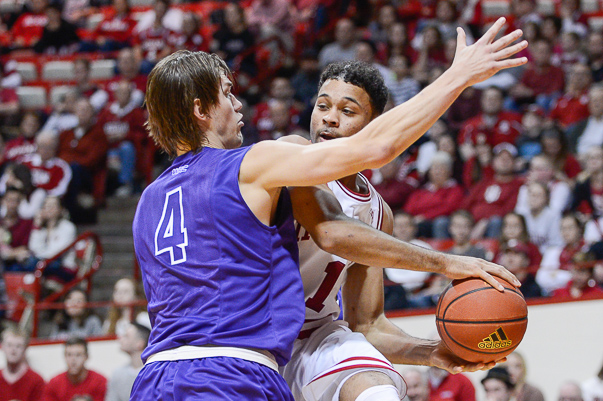 Indiana moved to 8-2 on Saturday night with a comfortable 94-66 win over Grand Canyon at Assembly Hall. Here's a look at five takeaways from the win over the Antelopes:
· The Hoosiers delivered a remarkable performance in taking care of the ball: Four total turnovers for a turnover percentage of 5.7. Those are numbers that would have been unthinkable a season ago, but Indiana has made significant strides in curing a problem that was the storyline of last season.
Through 10 games, Indiana ranks 37th nationally in turnover percentage according to KenPom.com and fourth among Big Ten teams (Illinois, Wisconsin and Michigan). Saturday's performance in taking care of the ball included zero turnovers in the second half and earned strong praise from Tom Crean.
"Crazy. Beyond belief," Crean said. "We'll have to go back through the tape, see if that's actually accurate, because, man, I never coached a team that had that few."
· Troy Williams bounced back from a tough game against Louisville: Sophomore wing Troy Williams, who struggled in Indiana's loss to No. 4 Louisville, came back with one of the better games he's played in an IU uniform.
Williams was under control while still being aggressive and finished with 14 points, eight rebounds, two assists and no turnovers in 21 minutes. The raw, natural ability of Williams has never been questioned, but his decision making has been and after the win, he said it felt good to not be a "turnover machine."
"I've definitely gotten better since last year, definitely matured more since last year, since I've been working out over the summer and to now, like you said I can see more," Williams explained. "I don't have just the tunnel vision to the room, I see corner to corner, all 96 feet. Just grateful for it."
· Blackmon Jr. gets back on track: It wasn't that James Blackmon Jr. played poorly against Louisville, but his shooting percentages were lower than what we've seen to date and he struggled from behind the 3-point line (1-of-8).
With an important stretch of games coming up that includes neutral court showdowns with Butler and Georgetown, Blackmon Jr. hit 50 percent from the field against Grand Canyon. And while he still connected on just 1-of-5 from distance, he said it was a snowball effect for him after halftime in terms of scoring.
"I feel like I got an easy one to go," he said. "So after I get the ball to go, the rim gets bigger and bigger for me. And my teammates set me up on a couple of easy back doors. So they got me going."
· Mosquera-Perea a bright spot once again: Following arguably his best offensive performance to date in an IU uniform against Louisville, Hanner Mosquera-Perea came out aggressive again on Saturday night and finished with 11 points and seven rebounds in 22 minutes.
Mosquera-Perea also had two blocks and just two fouls and while he's still a ways off from where the Indiana staff hopes he will be down the line, the Colombia native believes he is making steady progress.
"I realize that the best thing I can do right now is just slow down and let it come to me," he said.
· Indiana's schedule is about to get kicked up a notch: With just one guarantee game remaining (University of New Orleans), the Hoosiers have 20 games left that will ultimately decide the direction of the season. The aforementioned neutral court games against Butler and Georgetown loom large and those will be followed by an 18-game Big Ten schedule that suddenly doesn't seem as intimidating based on how the rest of the league has played in recent weeks.
Following the Grand Canyon win, Crean was asked to assess where his team is at just 10 games in and where he'd like to see the most improvement heading into the make or break part of the season.
"The bottom line this week is improvement," he said. "Everybody's got a laundry list of things that they need to get better at. But at the same time we've got to focus on school. And last week was a very busy week for them academically. It always is at Indiana before exams. And it is a busy week this week. But at the same time we want to focus, get a game plan together but let them catch their breath so to speak and get re-energized a little bit. Because this team — in answer to your question, they're giving — they're giving a lot right now. And some of them are realizing that they had more in them than they thought. But they really want to be good. And so as long as we continue on that path, we will improve."
Filed to: Hanner Mosquera-Perea, James Blackmon Jr., Troy Williams