Hoosiers kill turnovers in rout of Grand Canyon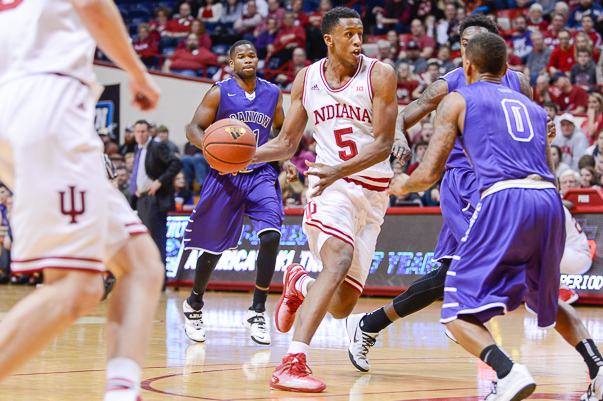 Following Indiana's 94-66 win over Grand Canyon on Saturday afternoon, Tom Crean was asked about his team's turnovers.
The Hoosiers coach paused. He smiled.
"Crazy," Crean said. "Beyond belief. We'll have to go back through the tape, see if that's actually accurate, because, man, I never coached a team that had that few."
He hadn't.
Indiana's four turnovers on Saturday were the fewest ever by a team coached by Crean. The turnover percentage: just 5.7.
After ranking No. 330 in the nation last season in turnover percentage — averaging a 21.8 percent rate — the Hoosiers thus far this season are now ranked in the top 40 in the NCAA (17.0 percent, No. 37). It's a number that, more than anything, shows promise to Crean.
"It's a fast paced game and we wanted to play fast," he said. "So I think that's a big step. What that does is put the pressure on players to know they can do it."
All four Indiana turnovers against the Antelopes came in the first half — one in which the Hoosiers struggled to pull away despite a 1.17 points per possession rate. It was the second half in which the Hoosiers dominated.
Not turning the ball over a single time, the Hoosiers attacked the basket at a much more efficient rate — scoring 30 of their 52 second-half points in the paint — while becoming less reliant on the three (the Hoosiers had 20 first-half attempts from behind the arc compared to 10 in the second half). It's what Grand Canyon coach Dan Majerle called the difference in the game.
"They took a lot of threes early and our guys got lulled to sleep," Majerle said. "They came out in the second half and just attacked us. We didn't guard at all. Like I said, once they got it rolling, it was hard to stop them."
After the game, Crean said attacking the basket in the second half was the plan, that the Hoosiers not forget the benefits of moving through the paint. The improved turnover percentage, though, was not as expected.
The four turnovers on Saturday night came from one each from Hanner Mosquera-Perea, Yogi Ferrell, Stanford Robinson and Emmitt Holt. The Hoosiers had been averaging 12.9 per game beforehand.
It's a welcome change, though — especially to Troy Williams, who was averaging nearly two per game. He had zero turnovers for just the fifth time in his career.
"It feels good not to be a turnover machine," Williams said. "Just capitalize on it."
Filed to: Tom Crean