The Minute After: Grand Canyon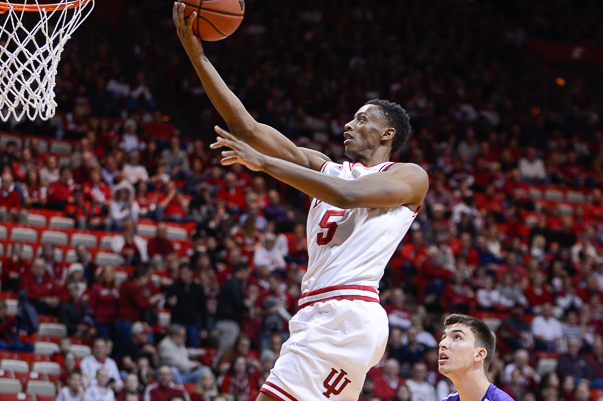 Thoughts on a 94-66 win over the Antelopes:
I. The first half was an atypical one for the Hoosiers. They didn't shoot it particularly well (46.3 eFG%), relied too much on the 3-point shot — even for them — and didn't share the ball as well as we've come to expect so far this season. Yet, going against a team that isn't a strong rebounding squad, they excelled where they've had issues so far this season, rebounding 42.3 percent of their misses. While the Hoosiers still scored 1.17 points per possession despite not shooting it that well, Grand Canyon was within nine in the final minute of the first half before Indiana took an 11-point lead into the break.
But Indiana started getting more buckets at the rim to start the second half and a couple minutes into the half the rout was on, as Indiana cruised to a 28-point victory.
And get this: Despite a frantic pace in which it attempted 75 shots by game's end, the Hoosiers didn't turn the ball over once in the second half. It also ended the game turning the ball over on just 5.7 percent of its possessions, the lowest total ever in the Tom Crean era. That's impressive, especially as this is the type of game where Indiana has tended to get sloppy with a quick pace against an inferior opponent. The Hoosiers entered this game with the 85th best turnover percentage in the country, per KenPom. The days of last season, where they were one of the worst teams in the country in this regard (330th), appear to be over as Big Ten play nears.
II. In 21 minutes of action, Troy Williams posted a nice line of 14 points, eight rebounds and two assists. His best play might have been his last of the contest. Williams grabbed a defensive rebound, took it up the court himself, put it behind the back to get past a defender and dished to Ryan Burton for the score. The sophomore still has his Troy-being-Troy moments, and his ball-handling skills aren't on par with those of Yogi Ferrell, Robert Johnson or James Blackmon Jr. But like those three, he's still getting the green light to grab the rebound and go. And his speed, athleticism and improved decision-making can make him devastating to the opponent in such a role if he keeps improving at it.
III. Hanner Mosquera-Perea put up another spurt in the second half similar to his start against Louisville. In the span of just over a minute of game time, the junior had two buckets, two offensive rebounds and two blocks. In 22 minutes of action, Mosquera-Perea had 11 points and seven rebounds. Maybe, as some thought, Emmitt Holt's emergence has given Mosquera-Perea a kick in the butt of late. Between this game and the loss to Louisville, he seems to be bringing more of a killer instinct to the court, and Indiana is better from it.
IV. A few other items of note: Indiana again hit the double-digit mark for 3-pointers (10), but it came on 30 attempts. … Indiana had just four total turnovers this evening with no Hoosier having more than one (Ferrell, Mosquera-Perea, Holt and Stanford Robinson). … Speaking of turnovers, the Antelopes were nearly as good as Indiana tonight, as they had just six of their own and turned it over on just 8.6 percent of their possessions.
Filed to: Grand Canyon Antelopes