Crean faces old friend Dan Majerle in bout against Grand Canyon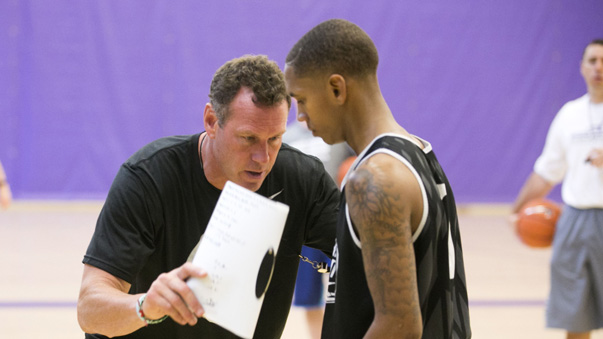 Back when Tom Crean was a student at Central Michigan University in the late 1980s, the Chippewas at the time had a star basketball player in the making.
6-foot-6 Dan Majerle was just a year older than Crean and went on to have a 14-year NBA career that featured three All-Star Game appearances, an Olympic medal and a gold medal at the 1994 FIBA World Basketball Championship. Of course, Crean immediately went into coaching following his time at CMU.
"He was a heck of a lot more popular in what he did," Crean joked on Friday. "We got to be friends and I've enjoyed following his career for a long time."
Later this afternoon the two will meet as Grand Canyon — led by Majerle in his second season — plays Indiana at 5 p.m. in Assembly Hall.
And even though the Antelopes have gotten off to a 4-5 start this season, Crean knows exactly what challenge the Hoosiers are in for.
"I am a big fan of his career," Crean said. "One of the most competitive people I've ever had the privilege of knowing or watching. He brought that out in the way that he played and really was a great example for me for all the years as a coach because here's a guy that came into college, is basically an inside player, but because of his hard work and because of all the extra time that he spent shooting the ball and working on his game, he made himself into a NBA guard. That's an incredible thing.
"One of the all-time leading 3-point shooters in the NBA, he's played in the NBA Finals, numerous wins. I don't think it was any question to people who knew him that if he chose to coach, he would be a very, very good coach and I think he's showing that."
From the time Crean started watching tape of the Antelopes this season, one of the first things he noticed was that "they play with a personality, they play with poise." He noted he wasn't surprised since Majerle was coaching them.
One aspect of the game that stood out to Crean was the Antelopes' road shooting — in fact they are shooting 42.6 percent on 3-pointers in their road games compared to just 27.2 percent at home. They will get even more help tonight.
5-foot-11 guard DeWayne Russell will be making his debut for the Antelopes tonight after transferring from Northern Arizona before its first game last season and just being cleared this past week from GCU. In his lone freshman season at NAU, Russell averaged 14.4 points per game.
He also scored double figures against Oregon, UNLV, Arizona and Colorado. So naturally, he said "I'm not intimidated" by making his Antelopes debut at Indiana.
"I'm not intimidated by that," Russell told AZCentral.com. "If anything, it makes me want to do even better. I just want to play hard and come out with a win."
Though Crean has never faced Majerle, the Hoosiers coach said he has an immense amount of respect for his former classmate.
He said he knows Majerle will have his team ready for tonight's game.
"They're young in some places, a little bit older in some, but they're starting to mesh — you can see it," Crean said. "They pass the ball extremely well and I don't think it's any accident. I think he's an outstanding coach, I think he's added some really good older people in to his program to blend with the younger people that he has.
"They play a very challenging schedule and everybody that's out there is capable of making plays. That's a reason I think they'll have an outstanding year and one of the reasons it's such a challenging game for us."
Filed to: Grand Canyon Antelopes