Indiana and Louisville set for 'a hell of a game'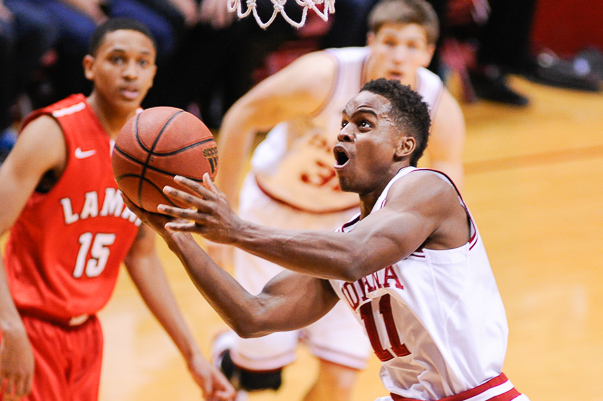 Indiana's preparation through its first eight games this season has all led to tonight.
The Hoosiers (7-1) scheduled SMU for the Mustangs' defensive pressure and steals it forces. It focused on Pittsburgh's defense in the days leading up to the ACC/Big 10 Challenge meeting. But Indiana coach Tom Crean acknowledged none of Indiana's eight prior opponents compare to No. 4 Louisville (7-0).
The two teams play tonight at approximately 9:30 in the Jimmy V Classic at Madison Square Garden.
"This is a really big, athletic, mobile team that can rebound well," Crean said. "They can post up. They can drive it. Their pressure is really strong.
"For us, we are going to have to play out of our minds."
As with most Louisville teams under Rick Pitino, this year's Cardinals squad is already establishing itself as one of the top defensive corps in the country led by 6-foot-8 junior Montrezl Harrell. As of Monday evening, the Cardinals ranked No. 2 in the nation in defensive efficiency, allowing 0.84 points per possession. Opponents are also shooting just a 35.2 effective field goal percentage (No. 2 in the nation) and are being forced into an average 27.7 turnover percentage (No. 4 in the nation).
The Hoosiers were tested on Saturday against Savannah State, which pressed and forced an IU 20.6% turnover rate. Louisville will do the same tonight. But Indiana has yet to experience a defense the caliber of Louisville.
"They have as good of a pressure defensive team as I have seen to this point," Crean said. "Our offense is going to have to be outstanding, because they are going to do different things, defensively, but you really have to be able to run your zone offense and run it crisply and sharp and get movement."
Defensively, the Hoosiers once again will have to deal with a team that will challenge them on the boards. The Cardinals are averaging a 41.4 offensive rebound percentage — the 11th best rate in the country — and their effective height ranks No. 33 in the nation, as well. They also are shooting 54.1 percent in the paint.
The numbers have Indiana's attention. The Hoosiers know they have to be at their best on both ends of the floor.
"We have to make good decisions on offense and on defense," junior Yogi Ferrell said. "They attack and put pressure on you the whole game so you have to be ready."
Louisville also faces a challenge against the Hoosiers, Pitino said following the Cardinals' 82-57 win over FIU on Friday.
He admitted Indiana is a better shooting team. He admitted the Hoosiers are a better passing team. But he also admitted the Cardinals will have to focus most on defending the three.
"Tom and I got together before the season started at a function, and he said he's going to take anywhere from 25 to 35 threes per game," Pitino said. "And they shoot it really well. So we've got to extend our defense and play much better than we did with that second unit tonight giving up those threes.
"It will be a hell of a game."
Crean said he has seen his team make progress through the first three and a half weeks of the season.
The Hoosiers, over their past two games, have allowed two of their three lowest effective field goal percentages this season. The offense continues to click and ranks No. 12 in the country.
That improvement will be put to the challenge tonight. As Crean said, "they will get severely tested."
"I have as much respect for (Pitino) as I can possibly have," Crean said. "He is very, very hard to prepare against. But you look forward to it because you know you are going to have to play extremely well against his teams."
Filed to: Louisville Cardinals